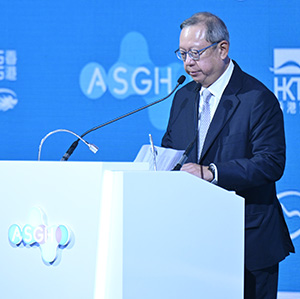 Hong Kong's population – well-educated, technologically sophisticated and simultaneously growing richer and older – underlines the situation in Asia as a whole, which has driven the rapid development of biotechnology and medical technology in the region.
The sudden appearance of COVID-19 at the beginning of 2020 greatly accelerated this process and led Hong Kong Trade Development Council Chairman Dr Peter K N Lam to propose launching a new signature conference – the Asia Summit on Global Health (ASGH) – to join the Belt and Road Summit and Asian Financial Forum in forming a trio of such conferences organised by the Government of the Hong Kong Special Administrative Region (HKSAR) and the HKTDC.
Ideal platform
Opening the inaugural event held at the Hong Kong Convention and Exhibition Centre this week, Dr Lam paid tribute to the international cooperation which the COVID-19 pandemic sparked. He said Hong Kong was an ideal platform for such global collaboration on healthcare. The city had the potential to become the world's largest centre for funding biotech and medtech research, he said.
The ample resources of the Guangdong-Hong Kong-Macao Greater Bay Area (GBA) could further drive development, with policy initiatives to harmonise regulations in the region.
Summit delegates could explore possibilities in Association of Southeast Asian (ASEAN) countries as well as the GBA, Dr Lam said.
Building on Hong Kong's strengths in connectivity, the summit also offered Deal Flow Matchmaking, partnering healthcare projects and investors.
Addressing the ASGH opening, Carrie Lam, Chief Executive of the HKSAR (main picture), said the COVID-19 pandemic had taught us that governments must follow a science-based approach in responding to the pandemic and strive for collaboration rather than confrontation. They needed to promote research and development (R&D), she said, and render support to scientists cooperating internationally in the race against time to find the right vaccines and cures. It was also important to pursue inclusive and sustainable development and make sure nobody is left behind.
"Against that backdrop, this summit, under the theme 'Shaping a Resilient and Sustainable Future', provides a timely and invaluable forum for government officials, scientists, healthcare practitioners, corporate leaders and investors to exchange views on a wide range of issues, such as developments and trends in global public health, medical technology, digital health, health equity, healthcare innovation and investment, and many others," Mrs Lam said.
She said Hong Kong, which has long played a connecting role between Mainland China and the rest of the world, stood ready to embrace healthcare development.
High-quality health services
Another factor making Hong Kong an ideal global hub for health tech development was the city's high-quality public health and hospital services.
"Hong Kong's health indicators in terms of infant mortality rate, maternal mortality rate and life expectancy at birth are amongst the world's best," Mrs Lam said.
"Over the years, Hong Kong has established a solid foundation in research through world-class universities and technological infrastructure. To start with, we have five universities among the world's top 100, and among them two excellent medical schools. Indeed, according to the latest Times Higher Education World University Rankings, the University of Hong Kong has risen to the world's number 20 in clinical and health subjects.
"We have an enviable group of world-renowned experts in biomedical research who frequently won local and overseas science awards. They include Professor Dennis Lo, a speaker today, who pioneered the development of non-invasive prenatal diagnostic tests for multiple genetic disorders, which benefits millions of pregnant women worldwide every year, and Professor Tony Mok, also a speaker today. [He and his team were] the first to confirm clinical application of precision medicine for certain types of lung cancer, which has been conducive to the development of multiple generations of targeted therapy," the Chief Executive said.
She pointed out that Hong Kong had ploughed a great deal of resources into innovation and technology, especially the biotech and healthtech fields.
"The Hong Kong Special Administrative Region Government has invested heavily with a total commitment of over HK$130 billion [US$16.7 billion] thus far, and our flagship innovation and technology initiative is the establishment of the InnoHK research clusters. The two research clusters comprise 28 research laboratories jointly set up by local universities and world-renowned universities and research institutes, and among them, 16 are focusing on biomedical and healthcare-related technology. These R&D centres have commenced operation at the Hong Kong Science Park progressively."
Mrs Lam said Hong Kong had a vibrant ecosystem for start-ups, including those focusing on health-related areas. Underlining the point, the ASGH included the InnoHealth Showcase and Exhibition, which presented cutting-edge technologies from about 100 start-ups and international projects.
"Indeed, we can see that exciting new businesses are emerging, particularly in the digital healthcare sector in which many promising new AI [artificial intelligence] applications are being developed in the field of internet healthcare, big data, etc," Mrs Lam said. "Currently, there are more than 200 health technology-related start-ups in the Hong Kong Science Park. Through its Corporate Venture Fund, the Hong Kong Science Park has invested in six such start-ups, with a total investment of HK$67 million. At the same time, these start-ups have attracted significant investment from the Science Park's co-investors, which amounts to over HK$1.1 billion."
Fund flow
These start-ups should have little problem finding the financial services and equity that they need, as, since April 2018, the Hong Kong Stock Exchange has introduced a new regime including rules to allow the listing of pre-revenue or pre-profit biotechnology companies.
"As at mid-November this year, 45 pre-revenue or pre-profit biotechnology companies have been successfully listed on Hong Kong Exchange, with a total of some HK$110 billion raised through initial public offerings," Mrs Lam explained.
She said the government plans to expand this expansion and roll out further initiatives shortly.
"First, we will boost our healthcare R&D infrastructure. The Hong Kong-Shenzhen Innovation and Technology Park in the Lok Ma Chau Loop will be completed by phases from 2024 onwards. One of the priority development areas of the Park will be healthcare technologies, and we plan to set up an InnoLife Healthtech Hub there. This new hub will bring together the current 16 life and health-related laboratories in the InnoHK research clusters that I have just mentioned, and the eight State Key Laboratories in life and health disciplines in Hong Kong. It will focus on R&D of biomedicine, physics, engineering, artificial intelligence and so on for application in the fields of prevention, diagnosis, pathology tracking, medicine, surgical micro-robots, advanced treatment, rehabilitation, etc. With some HK$6 billion earmarked for its operations in the next few years, we expect that InnoLife will become a prominent platform in attracting and gathering start-ups or large enterprises in life and health disciplines from around the world.
"Hong Kong-Shenzhen Innovation and Technology Park in the Lok Ma Chau Loop is only about 87 hectares in size, which is obviously not sufficient for our promising future. Thus, in my Policy Address, I announced the Northern Metropolis Development Strategy, which will develop the northern part of Hong Kong, about 300 square kilometres in size – that is, about one-third of Hong Kong's landmass – into a vibrant metropolis. Innovation and technology will be the economic engine of this metropolis, and an area called the San Tin Technopole, which is near the Lok Ma Chau area, will provide another 150 hectares of land for innovation and technology, which will be disposed of in a strategic manner to accommodate research and advanced manufacturing industries."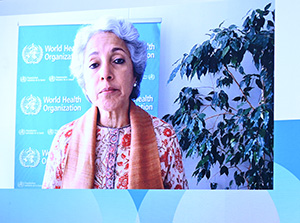 Another key speaker at ASGH was Dr Soumya Swaminathan, Chief Scientist at the World Health Organization (WHO), who addressed the opening of the summit by video link. She said COVID-19 had brought unprecedented global cooperation in the 23 months following the beginning of the outbreak, with vaccines available in less than 12 months.
The pandemic had also underlined the imbalance of healthcare in the world, with Africa producing less than 1% of the vaccine supply. Addressing this, the WHO had set up a vaccine technology transfer centre in South Africa. Conversely, Asia had much more capacity, Dr Swaminathan pointed out.
Related link
ASGH