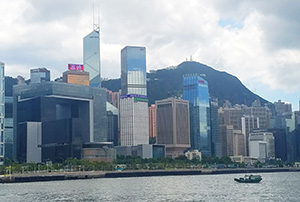 London and Hong Kong have long functioned as hubs for massive geopolitical regions – the North Atlantic comprising Europe and North America, and Asia-Pacific.
The COVID-19 pandemic has interrupted physical communication between these historically connected hubs but key players in both centres see a bright future for Hong Kong. The "Discovering and realising new opportunities in Asia" webinar co-organised by the Hong Kong Trade Development Council (HKTDC) and British Chamber of Commerce in Hong Kong heard that the city remains the perfect launch pad for ventures in Mainland China and East Asia, especially the Association of Southeast Asian Nations (ASEAN).
Optimistic outlook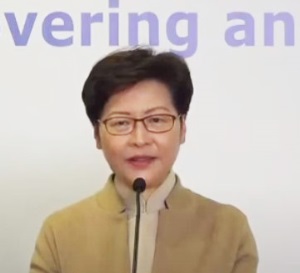 The HKTDC traditionally holds a dinner every year in London but, in line with COVID restrictions, the event was held as a webinar this year. Giving the keynote address, Carrie Lam, Chief Executive of the Hong Kong Special Administrative Region, said she had addressed the dinner in London in September 2017, early in her term. She had told the 2017 gathering that she was optimistic on Hong Kong's future.
"The theme of my speech, which was also supplemented by a four-minute video screened for the first time during that occasion, was 'the best of Hong Kong is yet to come'," she said. "More than four years have gone by and today, you have to forgive me, I am going to convey the same message that the best of Hong Kong is yet to come. But on this occasion, I am conveying that message to you with more certainty, more confidence, and more optimism." The chief executive gave two principle reasons for her optimism.
Firstly, the National Security Law and improvements in the city's electoral system ensured stability for people and businesses to carry on with their work unimpeded.
The second reason for her optimism was that Hong Kong's traditional core strengths remain in place. "If any, they have been strengthened – as I have mentioned about law and order, safety and so on. Hong Kong's strengths and core values - I know them very well, you know them very well - they are the rule of law, the independence of the judiciary, the freedoms and the rights, as well as our international connectivity and the robust regulatory regime in the financial systems and in other areas, which are not interfered by the Government."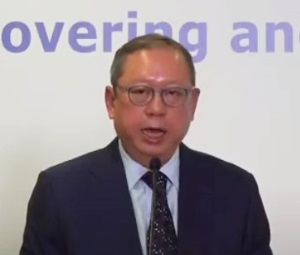 She pointed out that Hong Kong was still ranked as the world's freest economy by the Fraser Institute this year. "We have regained the world's No3 position as a global financial centre, which we have lost in the last two years, but now this year the latest index gave us back the world's No3, after New York and London. And we are the sixth-largest trading economy in the world and in terms of foreign direct investment, both inflow and outflow, we are the world's No3 and No4."
In opening remarks, Dr Peter K N Lam, Chairman of the HKTDC, said business planning for the future needed to look to Asia, and the mainland is the largest economy in Asia, and second-largest in the world. Hong Kong is a global hub for finance, trade and logistics with a stable infrastructure and free flow for finance, and people, he pointed out.
The Guangdong, Hong Kong, Macao Greater Bay Area offered even more potential, he said. Those looking to do business in Asia also needed to consider the advantages offered by Hong Kong's Free Trade Agreement with ASEAN.
Innotech and biotech focus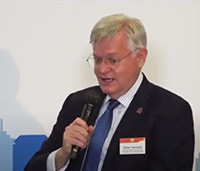 Ms Lam fielded queries during a question and answer session moderated by Peter Burnett, Chairman of BritCham. Asked how she saw Hong Kong's innovation and technology prospects, the chief executive said that during her tenure she had paid a great deal of attention to the city's strengths on innotech, driven by such factors as top-notch universities, connectivity and the rule of law. The government had invested heavily in innotech, committing HK$130 billion as well as land resources. The Hong Kong-Shenzhen Innovation and Technology Park, covering 150 hectares on the northern border, would be a site for an advanced manufacturing centre as well as research, she said.
Ms Lam pointed out that biotechnology was becoming a key research area in Hong Kong. The planned Northern Metropolis, outlined in her most recent
policy address
, would include a biotechnology and health technology hub. The inaugural
Asia Summit on Global Health
, held on 24 November, would explore this further.
The webinar also heard from industry leaders in three thematic sessions - Capitalising on New Opportunities of the Financial Sector in Asia; The Future is Now: Expanding Your Business in Asia; and Winning the Healthcare Sector in Asia.
COVID travel restrictions
Another questioner asked Ms Lam when Hong Kong's borders would reopen to quarantine-free travel. The chief executive replied that Hong Kong had been very successful in limiting the spread of COVID-19. She sought patience as authorities boosted Hong Kong's vaccination rate and made plans to open borders with the mainland and overseas.
Related link
Full webinar