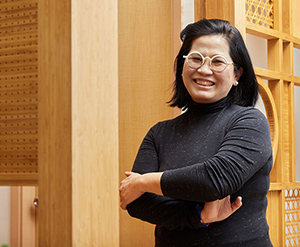 Bamboo International (Group) Co. Ltd. has been in the bamboo business for almost two decades and entered the Hong Kong market eight years ago. Its business scope ranges from product design, development and production to construction materials.
The company's signature products include a patented structural technique which can produce vertical frames as high as 8.5 metres. These materials bring possibilities for large-scale architectural designs, especially in Asia, where eco-friendly construction materials are used relatively less. Bamboo International could be described as a pioneer in bringing bamboo into architecture.
Tradition-breaking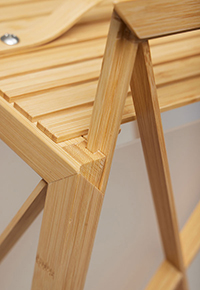 Designers often emphasise that form follows function. Versatile bamboo materials give room for more variety in design.
"Our company finds a lot of uses in bamboo, including raw materials in building, wall panels, flooring and furniture. In addition, our patented composite eco-plastic technique helps us make longer and stiffer products with bamboo. This gives architects and designers more flexibility," Jo Leung, Chief Operating Officer at Bamboo International, said.
The bamboo materials Bamboo International makes are often found in museums, restaurants and large governmental projects. They are environmentally friendly as they are easy to mould.
"Bamboo grows very fast, at a rate of close to a metre per day [for some varieties]. As such, while it is just as natural as wood, it is better from an environmental perspective," Ms Leung said. "But in Chinese tradition, there is a hierarchy in materials, which puts bamboo under wood and overlooks its advantages."
Creative possibilities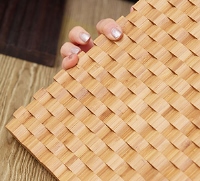 In addition to selling bamboo materials, Bamboo International seeks to change customers' long-held perceptions. A product designer in the company, Henry Ho (main picture) uses bamboo to create many models with a mortise and tenon structure.
"Mortise and tenon is a traditional Chinese architectural technique reserved for wood. The switch to bamboo proves that what works on wood also works on bamboo – we can even treat the surface better with the latter. Its application is wider too. Furniture and lighting devices are some of the examples," Mr Ho said.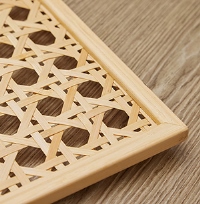 Another product designer, Elanne Wong, has designed a door with woven bamboo strips, which is impossible with hard wood. Both Mr Ho and Ms Wong said designers have to pay attention to the pattern and colour while using bamboo.
"Bamboo patterns are directional. The way different parts are combined could affect the ultimate aesthetic and thickness. Its colour comes from the roasting process, which is divided into four levels. The function of the bamboo materials is often determined by its colour. In our exhibits at DesignInspire, we tried painting on the surface of bamboo to achieve a new effect."
Promotion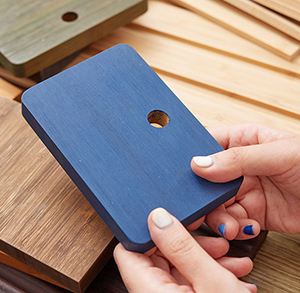 Mr Ho found the DesignInspire "Design for Good" theme very timely, considering the global pandemic is still raging. "We hope that despite the adverse situation, there is still something good that we can bring to the audience," he said.
Other than what is good for design itself, Ms Wong is also concerned with factors that are good for the people. User-friendly designs are a way to manifest the "for good" concept. With their first participation in DesignInspire, Ms Leung hopes they can use the platform to promote bamboo to a wider group of people.
Related links
Bamboo International (Group)
DesignInspire