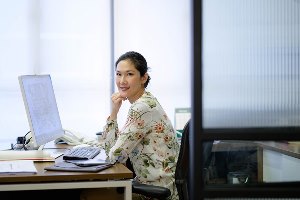 Hong Kong-born Natasha Usher attributes her fascination with interior design to a love for beautiful bathrooms. "Since I was a child, I've always loved craft and creative objects. I was always sketching and making things with my hands in woodwork and origami."
She has always been interested in travelling and five-star hotels. Even as a teenager, she would save money from summer jobs to stay at luxury hotels across Asia and admire the décor. That fuelled a passion for interior design that led Ms Usher to become more than just a hotel guest.
The former head of interior design at Shangri-La Hotels and Resorts International has designed for major players in hospitality and real estate. Her clients include Swire Properties, Sino Group and New World Development but the list does not end there.
Liveable spaces
Ms Usher has continued to diversify her portfolio since starting her own design and consultancy firm named "nude" -- standing for Natasha Usher Design Enterprise – in 2000.
"Originally, it was just an acronym and a bit tongue-in-cheek," said the designer, who is also recognised for chic interiors around Hong Kong such as Elgin Street Italian restaurant Posto Pubblico and Pure Fitness, the retail and fitness gym at Kinwick Centre and IFC Mall.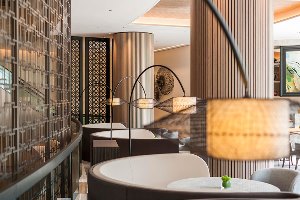 "My design DNA is about relevance for the project. You have to meet the client's brand image so whether it's a hotel, restaurant or an institution or your home, there's a brand story you're trying to illustrate in these spaces," she said.
So when an early childhood development centre commissioned Ms Usher, she focused on creating a fun yet serene environment for children fitted with an indoor tree house and swings. Some commentators have even described that space and its use of natural materials carry a Nordic feel. That atmosphere stands in sharp contrast to most Hong Kong nurseries which are heavily decorated with bold primary colours. Ms Usher found success with the Victoria Kindergarten and Victoria Playpark re-branding project and has won multiple International Design Awards annually since being commissioned in 2016 for the group.
Creativity challenge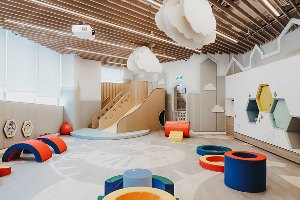 Ms Usher's business thrived with projects spanning Asia – until the COVID-19 pandemic hit.
"We started feeling the pinch last year," she said. "The coronavirus has reshaped the way people interact and designer's approach to creating spaces. Such challenges pose difficulty especially seen in Hong Kong restaurant-design projects," she said.
"Stricter social distancing considerations cannot be resolved solely with divider screens or partitions. It encourages people to sit further apart but you only have limited space to work with," she explained.
Nevertheless, Hong Kong designers stand out when it comes to creatively using small spaces and Ms Usher proved this with a challenging residential project in Wan Chai.
Star Studios on Wing Fung Street boasts cosy apartments where some studio units measure just 206 square feet (19 square metres) in saleable area. Such tiny studios may prove a headache for some designers but Ms Usher recalls this project as a "fantastic challenge" from local property developer Swire Properties.
She defines a good designer as one who can "successfully pair design with function" particularly when faced with space restrictions. Never one to compromise on style, comfort and practicality, Ms Usher believes that "to focus solely on aesthetics has a diminishing return if you can't store your personal belongings beyond a few nights like in hotel rooms".
Ms Usher has spent more time in Hong Kong during the pandemic. She joined the Hong Kong Trade Development Council's DesignInspire exhibition of creative works last year, when the event was held online. "I would never say no to exposure obviously because it's good for business."
She is also participating in this year's edition, which comprises a year-round online exhibition as well as roadshows in Hong Kong and Mainland China's Guangzhou city to be held in November and December respectively.
Related links
DesignInspire
nude