Along with shoppers in many countries, consumers in Kazakhstan – the largest economy in Central Asia – abruptly shifted online during the COVID-19 pandemic as social-distancing restrictions limited options for physical shopping.
This move was off a low base, however, and the e-commerce penetration rate is relatively low, meaning there are still plenty of vacant niches for specialised products, with little or no competition. There is also ample room for expansion.
These key takeaways on Kazakhstan came from two e-commerce experts in Almaty (main picture), the country's largest city, who addressed a Hong Kong Trade Development Council (HKTDC) webinar on Kazakh e-commerce held last week.
Asia-Europe link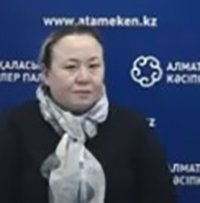 Akerkin Eraliyeva, the HKTDC Consultant in Almaty, said Kazakhstan is a resource-rich economic powerhouse in Central Asia and a land bridge between Asia and Europe.
"All the elements on Mendeleev's periodic table are there and the country has an attractive tax regime," she said. The overall tax and social security rate in Kazakhstan is just 28% against 46.2% in regional peer Russia and 31.6% in Uzbekistan.
COVID boosted online sales to 382 billion tenge (US$898 million) in the first nine months of 2020, almost 100% up year-on-year. The pandemic-led e-shopping craze led to the development of an online ecosystem and 60% of the country's online business happens within Almaty, which is home to 2 million of the country's 19 million people.
Daria Terkina, Head of Cross Border Business Development at Kaspi.kz, the largest e-commerce site in the country, suggested that new-to-the-market sellers work through the largest partner or marketplace as this gives them the greatest exposure.
She said the average purchase on Kaspi was US$50, considerably higher than the US$21 in Russia, indicating that Kazakh consumers were comfortable spending large amounts online. The e-commerce market in the country was projected to be worth for than US$2 billion for this year, up from US$1.4 billion last year.
Boosting turnover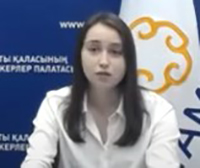 Kaspi is also a bank offering consumer credit such as payment instalment plans to shoppers. The Kaspi.kz retail and banking app has more than 10 million active users, according to Ms Terkina.
The firm had an initial public offering in London a year ago and now has a market capitalisation of US$22 billion.
Sellers trading on Kaspi did not have to be legal entities within Kazakhstan, she said and commissions for sales ranged from 5% to 15%. In tandem with the pandemic-triggered logistic constraints and the marketplace's fulfilment pledges, items needed to be held in warehouses in Kazakhstan or Russia and delivered to the buyer's door, with Kaspi Logistics providing the domestic delivery services. Kaspi has about 15 vendors from Mainland China and Hong Kong at present and some use warehouses in Russia since this gives a further unfettered access to the 184 million-strong Eurasian Economic Union (EAEU) market, Ms Terkina said. Others use warehouses in Almaty since this permits rapid delivery to Kazakh customers.
Starting point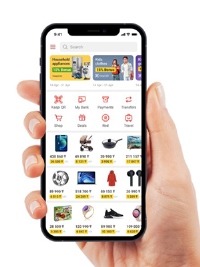 Ms Terkina recommended that anyone seeking access to Central Asian markets start in Kazakhstan or Russia as other e-commerce markets in the region are relatively small or less developed. It was not necessary for overseas brands to localise themselves by, for example, taking on a Kazakh or Russian brand name or marketing tagline since foreign brands are popular there.
Noting that Kazakhstan is the world's largest landlocked country, Ms Eraliyeva said the main import route was by rail, followed by road and then air. There are some Caspian seaports receiving goods from fellow Caspian countries such as Russia and Iran. Direct flights between Hong Kong and Almaty give the country a further advantage over other countries in the region in terms of being Hong Kong's first port of call in Central Asia.
Related links
Kaspi.kz
Full webinar
HKTDC Research