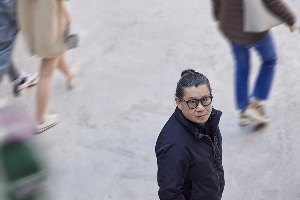 Architects and interior designers need to walk a fine line between addressing clients' needs and asserting their personal style. Yet the latter seems to be more prominent in the approach of creatives such as Charles Kwan.
"It's not like I don't care about what the clients think, but I know my strength is using lines, lighting and materials," said the founder of Hong Kong interior design firm half AND half Studio.
He added it would not work for him to take up a commission unless he is positive he can meet the client's expectations with his own style.
Mr Kwan is happy to handle projects of all shapes and sizes, including residential interiors, sales and exhibition spaces, and large development projects. Scale is not a limiting factor for his creativity.
Line, light, shadow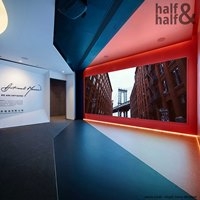 The designer has a particular interest geometry, structure and material, which he had focused on even before opening his own studio in 2016. His expertise in these disciplines has been applied in various projects, including a recent commission to redesign the home of a calligraphy lover in Hong Kong.
"The project required a large amount of plywood, which was even used in the ceiling; the door frames were made with individual wooden planks. There was also a specially designed magnet in-lay panel. A lot of time was spent on testing and refining the wooden texture on the surface," he said.
"The materials and colour scheme might be ordinary, but the overall design offered a sense of harmony in appearance, with additional consideration to functionality."
Breaking through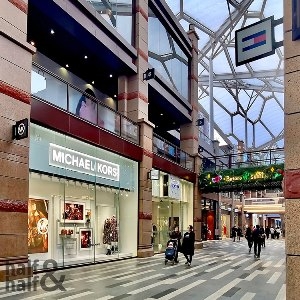 In recent years, Mr Kwan has taken part in business missions organised by the Hong Kong Trade and Development Council (HKTDC) and has made forays into Mainland China's Xi'an city, where many projects are large-scale mixed-use development projects.
Given the hot weather in the locale, Mr Kwan decided to make a break from the conventional skyscraper form in favour of a multiple-cube design with differently oriented levels. The innovative structure benefits from extra outdoor greenery and activity space, while the higher levels also create shading for the lower ones.
Reaching for the sky
Mr Kwan recalled another project that is memorable for its location near the Xi'an airport.
"There are height limitations near the airport, which means that any building can't be too high. A design shaped like a terraced field allows each unit to have a better view, some even with their own gardens. I want to come up with different effects through simple, pure design."
New platform
He said the mainland presents him with new opportunities, such as conceptualising underground stations (main picture).
"That was a call for metro station design in Guangdong province. The brief asked for something that feels differently, and thus we tried to preserve the local history, reimagining the architectural style there through the curves, round windows and the overall shape of the station. Although we weren't chosen, it was a new attempt that gave us some fresh perspectives about designing public spaces."
Mr Kwan took part in DesignInspire for the first time in 2020, using it as a platform to reach out to more potential clients. The event included a year-round online exhibition of creative works under the theme "Design for Good".
To the designer, what is "good" could be quite subjective. Rather, "improvement" is a more positive and objective criterion. As he said, "improvements are objectively good."
DesignInspire now comprises a year-round online exhibition.
Related links
DesignInspire
Half & Half Studio