This story is a part of the Hong Kong Means Business "Powered by HSBC – Bridging the GBA" series.
There is no age limit for entrepreneurship, which is not confined to young people. Even when close to retirement age, young-at-heart entrepreneurs can relaunch themselves.
Just ask the three co-founders of DeepTranslate. With rich experience and relatively abundant capital, they developed an artificial intelligence (AI) Chinese-English translation system targeting the financial sector. The concept took just two years to become a business, which launched in August 2018 and has since built up a clientele that includes such big names as banking giant HSBC, alongside a number of listed companies and professional translation firms.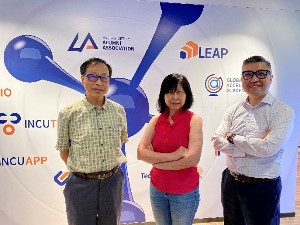 DeepTranslate was among the winners of a pitching competition that selected start-ups into this year's Start-up Express development programme. Run by the Hong Kong Trade Development Council (HKTDC), the programme aims to help start-ups accelerate business expansion and open up new markets.
The company was set up by Francis Chin, an emeritus professor of computer science at the University of Hong Kong; his former UBS analyst wife Beth Chan; and Colin Hong, who has worked in the financial printing and translation industry for more than 20 years.
The firm's eponymous translation system, which took about a year to develop, saves the cost for translating first drafts and reduces the need for checking numbers, improving efficiency and accuracy. This helps meet the financial sector's massive demand for translating prospectuses, annual reports and listed company documents.
Reprised model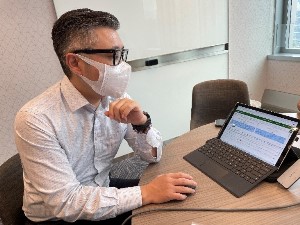 The team does not believe age is a problem for entrepreneurship.
"The most important thing is to find a unique position and understand market needs, and the business will grow," said Mr Hong, the company's CEO.
In traditional financial publishing, during the peak season for production of documents such as financial announcements and initial public offering (IPO) prospectuses, work piles up and a large amount of translation work needs to be completed within a short time.
Noting these "pain points", the trio developed the DeepTranslate system, which uses technology to innovate translation workflows.
He said manual translation of a 600-page IPO prospectus would usually take one month, but the system can supply the first draft in one hour, with the subsequent manual fine-tuning and proofreading likely to take only about one week.
"The result is a streamlined process with greatly improved efficiency," explained Mr Hong. "The translation of financial documents is usually given a tight timeframe and every second counts."
"We are not taking the route of disruptive innovation," he stressed. "This system is not meant to completely replace manpower, but only to automate some procedures and hence speed up the entire process. Man-machine translation" can increase productivity by up to 30%."
Accuracy boost
For each task, DeepTranslate can accomodate multiple rounds of translation using user's feedback inputted after each round, thus building a translation memory that enables it to achieve more accurate translation over time. The client can also upload a customised glossary to the system and generate translations that conform to the writing style of their company.
Mr Hong said a client told him that after using DeepTranslate, the number of annual reports the financial printing company could process a year increased from 40 to 50 while overtime for employees was greatly reduced, boosting profits.
Rising to the challenge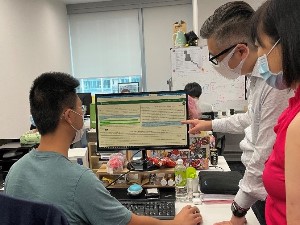 Business may be brisk at the start-up at present, but it has experienced its fair share of challenges.
Just about a year and a half after launch, COVID-19 hit, the global economy stalled and many enterprises were affected.
"But crisis comes with opportunity. It was a good time for companies to innovate business models, and we felt that they became more willing to try our services," said Mr Hong.
Addressing challenges seems to be the forte of the firm, including United States-born co-founder Ms Chan, who has a PhD in computer science and has been a barrister and an investment banker. She leverages her knowledge, contacts, and practical experience to help DeepTranslate resolve difficulties.
"For example, with a large company we have to meet many departments to get a contract. From the first meeting to introduce our services, to officially becoming their service provider, it can take half a year or more," she said, adding that the team has nevertheless succeeded in securing a number of big clients.
The company counts more than 20 regular clients at present, including a number of leading financial firms such as HSBC Private Banking, Guotai Junan Securities (Hong Kong), China Unicom and, China Success Finance Group; as well as financial printers, professional translation companies and law firms. In operation for just three years, the business has already achieved breakeven.
"More importantly, we have received positive feedback from many customers," Ms Chan shared.
"Some have told us, 'The translation adopts the original format of the document, reducing the time needed for formatting and tidying up.' Others have said, 'The system is great to use, as we can choose a writing style that suits our company.'"
"These comments have brought us immense satisfaction," she smiled.
Taking off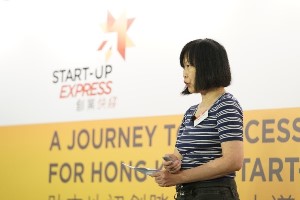 Ms Chan believes specialisation and customisation have enabled the company to rapidly gain a foothold in the market.
"We have also greatly benefited from taking part in Start-up Express, which helped us improve our pitching skills and gain a better understanding of market needs," she said. "We plan to participate in other HKTDC events, such as the Asian Financial Forum, to increase our exposure, build contacts, find investors and expand our market."
As the firm is applying for a patent for the innovate parts of the DeepTranslate system, it expects to grow fast over the next five years and raise the customer count to several hundred.
The team hopes that eventually half of Hong Kong-listed companies, especially those from Mainland China, will adopt its services. It also plans to expand into Singapore.
Greater Bay Area
The company sees new opportunities in the gigantic mainland market under the 14th Five-year Plan and Guangdong-Hong Kong-Macao Greater Bay Area (GBA) policies.
"These policies support the consolidation and promotion of Hong Kong's status as an international financial centre, strengthen the interconnection of the financial markets in the Greater Bay Area, and expand the scope for cross-border investment," said Mr Hong.
"As such, it is expected that more mainland companies, including those in the Greater Bay Area, will be listed in Hong Kong, expanding the local market for translation of financial documents. This will present us with additional opportunities."
Meanwhile, DeepTranslate is already benefiting from the soaring demand for cross-border banking services in the Greater Bay Area. With help from the HKTDC, the company is exploring collaboration with the HSBC VisionGo platform to provide bilingual market intelligence for businesses in the GBA that are interested in expanding into the Association of Southeast Asian Nations (ASEAN) market, another growth region that is attracting much interest.
HSBC is one of the largest international banks in the Greater Bay Area and the only foreign bank in Guangdong with a presence in 21 prefecture-level cities, connecting customers to its global network. HSBC aims to become the international bank of choice for customers in the GBA, playing the role of their "super-connector" to the international market. HSBC is committed to helping companies of all sizes in the region who wish to expand their business across borders to seize the opportunities and meet their cross-border banking needs, providing a seamless service experience. The bank has recently launched the GBA Payment Connect, Credit Connect, Account Connect and Service Connect, providing a full range of information and services to enable enterprises to enter Mainland China.
Follow us for updates on the GBA and HKTDC: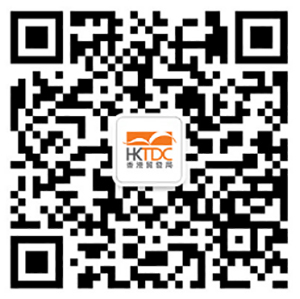 Related links
DeepTranslate