Just as COVID-19 appeared out of nowhere and swept across the world, some fleet-of-foot companies adapted quickly and moved to fill recently created markets.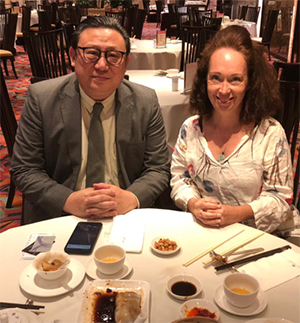 Among them are Hong Kong energy and environment consultant BillionGroup Technologies and German cultural exchange specialist Bridge2Culture, which have teamed up to move into a business new to both — to introduce an innovative disinfectant from the city into the country.
BillionGroup Chairman Steve Wong and Bridge2Culture Managing Director Olivia Merz-Fischer met late last year through an introduction by the Hong Kong Trade Development Council (HKTDC).
The meeting resulted in talks and eventually an agreement to set up a German joint-venture, AULife, which will distribute in Germany a Hong Kong-developed disinfectant designed to be effective for about 90 days.
Getting connected
The disinfectant was developed by Hong Kong brand GERMAGIC, of which BillionGroup is the Global Development Partner charged with developing global markets for the brand, including handling the required registration and certification as well as marketing and sales.
The deal marks a business diversification for both BillionGroup and Bridge2Culture.
BillionGroup specialises in energy, environment, waste management and transportation infrastructure consultancy and implementation services.
Bridge2Culture provides mainly cultural training and translation services to Germans who live in the mainland or work with mainlanders.
"Since April 2020, we have been receiving more and more enquiries about personal protective equipment [PPE] and if we could get them from our sources in Mainland China. So we started to import PPE from the mainland," recounted Ms Merz-Fischer of Bridge2Culture.
Having learnt that the company planned to find a Hong Kong partner for its PPE business in Germany, the HKTDC's Director for Germany and Central Europe, Winsome Chan, introduced Ms Merz-Fischer and Mr Wong to each other during the German businesswoman's visit to Hong Kong last October.
"We discussed several business opportunities as Mr Wong is involved in several business fields including energy, environment protection and more," said Ms Merz-Fischer. "We established a trustful relationship."
The two parties subsequently reached an agreement to form AULife, which is undergoing establishment procedures.
"We are still exploring cooperation in a few other projects," advised Ms Merz-Fischer.
In January this year, Ms Merz-Fischer transferred Bridge2Culture's import business concerning PPE and other innovative products, including the collaboration with BillionGroup, to its sister company EnergieReich Consulting in order to separate the import business from cultural and language services.
More partnerships
Through the HKTDC, BillionGroup has forged other business collaborations, including one with German waste management consultant Umwelttechnik & Ingenieure GmbH (U&I).
"Since the early 2000s, the HKTDC has been inviting us to speak at various events to share our successful experiences in energy efficiency improvement and environment enhancement in Hong Kong, Mainland China, Asia, Europe, Canada and the United States," said Mr Wong.
"This included a session in Germany's Dusseldorf in 2014, after which U&I invited us to be its partner. BillionGroup eventually became a significant shareholder of U&I," said Mr Wong.
"This partnership combines the best of both worlds: the advantages of Germany and Hong Kong. The two places are respectively a gateway to Europe and Asia. BillionGroup helps U&I develop Asian markets while U&I helps us expands into Europe," he added.
"We are grateful to the HKTDC for the help it has rendered us over the years," said Mr Wong.
Cross-border sourcing
For German companies doing business with the mainland, Ms Merz-Fischer recommended working with reliable partners.
Using the example of a German buyer sourcing from the mainland, she said: "To avoid problems, I suggest using platforms such as the HKTDC's sourcing platform where you can find trusted and pre-checked companies."
Ms Merz-Fischer was referring to the hktdc.com Sourcing platform, which partners with international renowned organisations such as Dun & Bradstreet and TUV to offer suppliers an optional third-party information authentication service.
"There are many more steps until the products are finally in Germany. Therefore I recommend working with partners, who are familiar with business communication and cultural behaviour in Mainland China and Hong Kong," she added.
Related links
BillionGroup Technologies
Bridge2Culture