The COVID-19 pandemic has fast-forwarded technology-driven transformation across the globe and many commentators have said since much technology work can be done anywhere geographically, technology hubs are declining in importance.
Contrary to this view, however, a recent study by business services firm KPMG has revealed that more than twice of industry leaders see hubs retaining their importance.
"Engineering talent and intellectual property are the lifeblood of the tech industry, and retaining top talent is a strategic imperative," Alex Holt, Global Head of Technology, Media & Telecommunications at KPMG, said in the survey report "Technology Innovation Hubs".
"Employers know this and are striving toward flexible work arrangements, permanent hybrid workforce models or even all-remote models. As the workforce disperses geographically, new hotbeds of technically skilled workers will emerge. In person collaboration will still occur, just in more locations," he added.
"Meeting the needs of a more dispersed workforce and homing in on the cities that tech leaders consider leading innovation hubs should be considered when seeking to acquire a company, entering a joint venture, expanding operations, building a new office or innovation centre, or developing a new workforce model."
Most respondents to the KPMG survey — 61% — expected the pandemic would shake up the global distribution of innovation hubs, expecting a new crop to emerge, partly as a result of hybrid and all-remote work models appearing.
The list of top-10 cities the leaders believed would be leading innovation hubs in coming years (excluding Silicon Valley in California) included three in China and four in the United States. Hong Kong ranked ninth while Beijing was fourth and Shanghai sixth. The US hubs in the top 10 were New York City, Austin and Seattle.
Considering a broad range of factors, including tax incentives as well as the university community, funding and regulatory environments, respondents said the United States and China were leading innovators in terms of country.
Listing factors which make a city a technology hub, technology firm leaders said the first requirement was an urban local that attracts young professionals; a pipeline of skilled talent; modern infrastructure, including high speed bandwidth; research-intensive universities; growing demography; generous tax and other benefits and available investment funding.
Hong Kong is strong in all these factors, especially education and career development. These strengths were on display last week at the 30th edition of the HKTDC Education & Careers Expo organised by the Hong Kong Trade Development Council (HKTDC). The expo was held concurrently with the HKTDC Hong Kong Book Fair, HKTDC Hong Kong Sports and Leisure Expo and HKTDC World of Snacks, all taking place at the Hong Kong Convention and Exhibition Centre.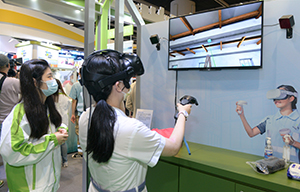 Open to the public free of charge, the Education & Careers Expo held from 15 to 18 July provided comprehensive information on both education and job opportunities.
Ingrid Yeung, Permanent Secretary for the Civil Service of the Hong Kong Special Administrative Region (HKSAR) (main picture, second left), officiated at the expo's opening ceremony, where HKTDC Executive Director Margaret Fong (main picture, third left) delivered welcoming remarks.
"Entering its 30th edition, the Education & Careers Expo is a one-stop platform for students and jobseekers looking to review a broad range of education opportunities and career options," said Ms Fong.
"This year, we are delighted to welcome 800 exhibitors, including educational institutions, government departments, public organisations, professional associations and private enterprises representing 14 countries and regions."
Six education-themed zones
Educational zones at the expo included the Tertiary Academy Zone, Vocational and Professional Education Zone, Continuing Education Zone, Creative and Educational Support Services Zone, International Exchange Village and the newly launched Self-Betterment Zone, featuring a wide range of courses and self-enhancement programmes offered by educational institutes for students, especially Hong Kong Diploma of Secondary Education Examination (HKDSE) graduates looking to chart a pathway according to their interests and capabilities.
The expo's education-theme days highlighted studying in the US, France and Canada, with representatives from consulate-general offices on hand to introduce the prerequisites for admission, application procedures, information on campus life and more.
Visitors also met representatives from various officially recognised bodies to gain first-hand information on studying abroad. Participating institutions include Advantage Austria Hong Kong (or the Austrian Trade Commission in Hong Kong), as well as Jinan University and Huaqiao University from Mainland China.
Celebrities share practical tips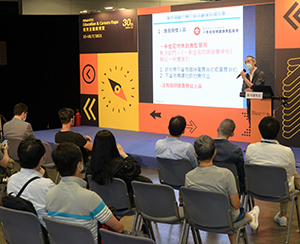 The expo featured more than 90 on-site events, including fire investigation dog performances, seminars on further education, career opportunities, immigration information, working holidays and management trainee programmes, as well as sharing sessions on working in the mainland. Various celebrities also offered their experiences and insights.
Jayden Lam, a renowned HKDSE tutor, shared his tips on entering the tutoring profession and the prospects it presents. Dominic Tong, Senior Lecturer from the Department of Physics at the Chinese University of Hong Kong, described intriguing ways to understand physics to spur people's learning interest along with interesting thoughts on exploring potential. Bonnie Wong, a DJ from Commercial Radio Hong Kong, described her career experience after graduation and how she made her dream come true by seizing the opportunity to become a television and radio host. Education expert Jeffrey Hui advised participants on studying in the United Kingdom and offered tips on how to put together an impressive CV.
Related links
Education and Careers Expo
Full KPMG report