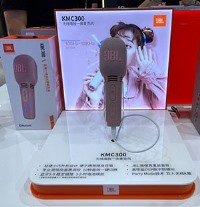 The recent Guangzhou International Professional Light and Sound Exhibition presented a variety of new products across an array of related fields, including entertainment, architecture, commerce and cultural tourism. Overall, miniaturised, integrated and portable intelligent products dominated, while outdoor items – unsurprisingly given the pandemic – also showed considerable growth.
The exhibition attracted a large number of manufacturers of home sound equipment boasting multiple functions, a sector where consumer demand is currently strong. It was, however, the small portable products that appeared to attract the most attention.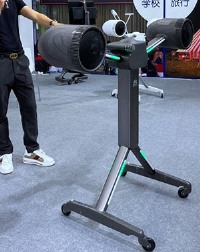 In the case of Xiamen's Lingrui Intelligent Technology, it was its Meiyin Superman portable karaoke (KTV) audio system, which can fold into the trunk of a car at the push of a button, that caught the imagination of many. Resembling a figure with outstretched arms and legs once fully assembled, it features aircraft engine‑shaped speakers at the end of each arm, as well as a centrally mounted microphone-stand and touchscreen music library. Perhaps understandably, with KTVs, dance halls, cinemas and other public‑entertainment venues largely shuttered during the pandemic, sales of outdoor and home‑use audio‑visual entertainment have soared over the same period.
Another company to benefit from this particular trend was Chengdu‑based Xiaochang, which was showcasing its range of Yinchuang branded audio‑visual entertainment products. Looking to turn the focus onto its H81Plus smart entertainment console, Ao Qunyan, the Head of the company's northern Guangdong office, said: "This smart entertainment console features a music library with more than 200,000 songs and has access to another one million‑plus tunes via its cloud library.
"We believe its rich variety of songs will satisfy the demands of both men and women across a variety of groups. All in all, we are very optimistic about the future of home KTV products, as the pandemic had generated sustained demand for such items."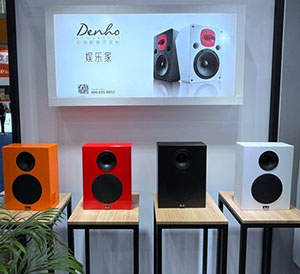 As demand for home‑audio equipment has increased and the sector has become increasingly competitive, it was clear that many exhibitors were looking to build and retain market share by continually upgrading their designs. Acknowledging this, Tan Yachao, General Manager of Guangzhou‑based Denho Acoustics, said: "In terms of home‑audio products, not only do consumers expect advanced features and good sound quality, they also want such items to complement the look and style of their interior decor overall. At a time when aesthetic awareness is higher than it's ever been before, visually appealing audio products grab the attention of young consumers and sell very well indeed."
Cultural tourism
The cultural tourism sector has boomed in Mainland China over recent years, generating a huge number of new opportunities for the light and sound sector. At the same time, however, the pandemic‑related cancellation/rescheduling of many major events has inevitably hit stage‑lighting manufacturers hard.
According to Cao De, a Representative of Guangzhou's Caitu Technology, a manufacturer of professional‑standard stage lighting equipment, the widespread cancellation of many events last year had a major negative impact on the company's bottom line. Outlining how the cultural tourism industry's own uptick had helped mitigate this, he said: "As more rural areas embrace countryside tourism, there has been growing demand for scenic spot lighting over recent years.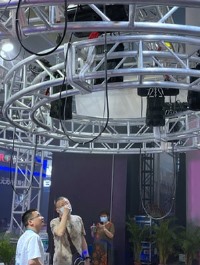 "In order to capitalise on this, we have launched a series of waterproof outdoor lighting products, with those with rich lighting effects proving particularly popular. For our part we will take every opportunity to launch beautiful new products in a range of configurations in order to keep winning orders."
Another trend apparent at this year's event was the move by some companies to switch their focus to the mainland's domestic market after previously focusing on export‑only products. One company embracing this particular approach was Hangzhou‑based Jentan Machinery. A specialist in the manufacture of stage hoists for sound and lighting equipment, the company was keen to promote its electric chain hoist, which is said to have a lift capacity of up to 3,000 kilograms.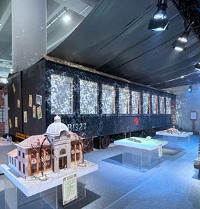 According to Xiang Jinjie, the company's Vice‑President, Jentan had primarily targeted clients in North America but had now set up branches across Southeast Asia, while also looking to raise its profile on the mainland. Outlining the company's current positioning, he said: "As a manufacturer of stage machinery and equipment, we understand that our customers are now looking for integrated, portable and intelligent products that can control all equipment – whether lighting or audio – and that outdoor products must be both durable and reliable to the max."
The 19th Guangzhou International Professional Light and Sound Exhibition took place from 16 to 19 May 2021 at Guangzhou's China Import and Export Complex. The event attracted more than 1,300 exhibitors.

Related link
HKTDC Research