Babies head a long list of firsts – first bath, first tooth, first word, first day at school. Family and friends mark many of these firsts with a gift – preferably a personalised and affordable one.
After having trouble finding just the right gift, French-born Hong Kong expatriate Myriam Tzinmann-Rebibo realised there was an opening for an online babies' and children's boutique in the city. She teamed up with compatriot Lucie Veron to set up mimi et lulu, a bespoke baby products provider which launched at the beginning of this year despite uncertainties created by the COVID-19 pandemic.
Growing market
While the firm concentrates on baby products at present, it intends to grow with its customers.
"Right now, we are focusing on the 'first moments' of a baby's life – first sleep, first meal, first bath – but will cover other stages of a kid's life. Our goal is to grow with the child," said Ms Tzinmann-Rebibo.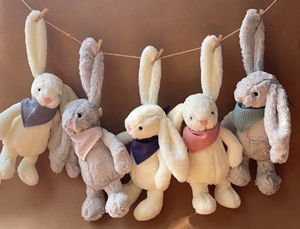 "Actually, some of our products, like the personalised bunnies and bibs, are already being used by older siblings!"
Ms Tzinmann-Rebibo moved to Hong Kong about four years ago, leaving New York along with her husband and three daughters to pursue opportunities in Hong Kong, having worked in the luxury, beauty, fashion and jewellery industries in the US.
With more than 17 years of experience in e-commerce, mostly in the United States, she found it easy and straightforward to set up an e-commerce website in Hong Kong.
Ms Veron arrived in Hong Kong two years ago, having been drawn to the city following a visit early in 2019. She had worked in Vietnam previously, giving her a taste for life in the region. She also worked in countries as diverse as France, Spain, the United Kingdom and India.
Both grew up in families with four children and put family at the heart of their business.
Digital first
The firm operates entirely online at present. "With our digital and e-commerce expertise, it was natural for us to start with online sales channels," Ms Tzinmann-Rebibo said.
Rent on retail spaces and a customer reluctance to enter physical premises as the pandemic lingers reinforced their decision. "That being said, we are hoping this is a temporary situation and we do not know what the future holds for us! For now, this is the right decision for mimi et lulu, but we are open to consignment, pop ups or physical stores at a later stage."
Ms Veron said heavy use of social media by young families has set much of the direction of the firm's marketing. "People love to share their experiences and what they love on social media. Images speak more than words nowadays. We already have clients who are sharing pictures of what they received on our Instagram account."
Regional expansion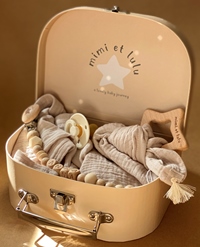 In addition to the home city of Hong Kong, mimi et lulu delivers to customers in Macao, Singapore and Taiwan, but is setting its sights further afield. "We are already opening some European markets like France, Germany, Spain and Italy. Mainland China is also on our short-term list," she said.
"We source our product [materials] in Asia and Europe," Ms Veron said. "The most important thing for us is [to maintain product quality and safety] while protecting the environment. We work closely with textile professionals from International fashion companies and test our products to make sure clients will be happy."
She said mimi et lulu would be interested in joining the Hong Kong Trade Development Council's HKTDC Hong Kong Baby Products Fair in January as an opportunity to meet new partners, new clients and discover new products.
Related link
mimi et lulu