Nationally and internationally regarded as the capital of Mainland China's lighting industry, Guzhen – a town just to the northwest of Zhongshan city in the Guangdong-Hong Kong-Macao Greater Bay Area – has been particularly hard hit by the ongoing COVID-19 crisis. In response, all three of the town's leading lighting malls – Star Alliance Global Brand Lighting Center, Huayi Plaza and the Lihe Lighting Expo Centre – have introduced a one‑stop sales service, while many local small and medium‑sized lighting businesses have refocused on their online sales operations.
Alongside the pandemic‑necessitated changes to business models, many companies have also had to adjust to changing consumer preferences. Of late, this has seen demand for minimalist lighting products surge among younger purchasers, while smart illumination systems are also increasingly being sought, partly because they have become relatively more affordable as the technology has matured.
SMEs embrace O2O
Among the leading local sales hubs for the lighting sector is Star Alliance, a specialist mall that opened in October 2014. With a total floor area of 360,000 square metres, it positions itself as both a hypermarket for international and professional lighting products and an interface for the industry's various subsectors and ancillary players.
According to Star Alliance's senior management team, Guzhen was the birthplace of the mainland's lighting industry and currently has a domestic market share of more than 70%. Within its precincts, are some 400 leading domestic and international lighting brands, collectively offering a wide selection of home, commercial and engineering lighting products, as well as lanterns, illuminants and switches.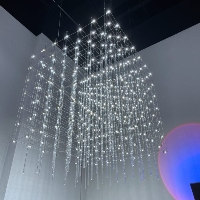 One of its longest‑standing tenants is Yiwe Lighting, a specialist in the designer‑lighting sector. According to Zhang Zhide, who heads its sales operations, Zhongshan's lighting industry has suffered considerably due to the COVID-19 outbreak, with many of the town's small and medium‑sized enterprises (SMEs) bearing the brunt.
Summing up the situation, Mr Zhang said: "Star Alliance has had relatively low customer footfall over the past 12 months. This has put all of its tenants under significant pressure, with many obliged to try to expand into new markets and find innovative ways to boost their businesses via both online and offline channels.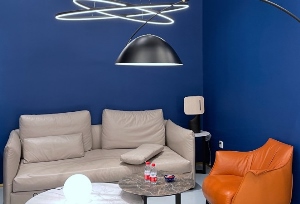 "Many of the big lighting brands have also looked to step up their one‑stop sales services, while leveraging on and expanding many of their long‑established marketing channels. Others have prioritised delivering a premium, bespoke after‑sales service to customers at both the county and township level, a move that has actually allowed them to increase their overall sales levels."
Many SMEs, though, have not been quite so fortunate, with Mr Zhang saying: "A number of such businesses have actually gone under, while others have moved out of the lighting sector entirely. Those that have remained have become increasingly reliant on online sales."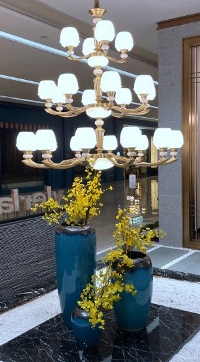 One Star Alliance‑resident SME that has clearly favoured the latter route is Jingzhipin, a business with a focus on less conventional and more stylised lighting products. Outlining its response to the necessarily restricted trading conditions, Sales Representative Ms Huang said: "We immediately looked to expand our online marketing channels and took to using WeChat to send sample images and quotations to customers.
"We also had to contend with rising prices for many of our raw materials, a particular problem for us in that many of our products were fashioned from copper. This led us to switch to a more refined product range, a change that, along with our growing reputation for delivering bespoke solutions, we believe has assured the company's success over the long term."
Smart, distributed lighting
One of Star Alliance's key competitors is the Lihe Lighting Expo Centre, which has 550,000 square metres of operational space and is currently home to more than 500 businesses. Among the most prominent of these is Germany Ziyuan LED Home Lighting (Ziyuan), a specialist in the smart‑lighting sector.
Outlining her take on the trends driving the sector, Sales Representative Ms Peng said: "Smart lighting is one area that is definitely growing in popularity, particularly among younger customers, partly because the related costs have been falling. At present, one of our best‑selling items is a Nordic‑style smart lamp, with its remote‑controlled luminosity ideal for creating a variety of moods within the owner's living environment.
"As well as being compatible with conventional remote‑control units, many such products can also be operated via smartphone apps. This gives users the option of setting on/off times, specifying luminosity / mood and activating a sleep facility directly from their handsets."
A number of vendors also noted that real-estate developers have been swift to pick up on the appeal of smart lighting, with many now looking to install it as standard in new properties. Confirming this, Ting Ting, a Sales Representative with Dengmofang, again a tenant of the Lihe Lighting Expo Centre, said: "It's fair to say that smart lighting is now a default fixture in many new homes. At the same time, there is also a move towards eschewing ceiling‑mounted lighting altogether, with many now favouring the use of linked, recessed spotlights to deliver more evenly distributed lighting."
Typically customised in line with the proportions and usage of specific rooms, many such distributed‑lighting solutions are on show from a variety of Zhongshan vendors. Overall, their appeal is said to lie in their facility to be customised in line with exact consumer specifications.
Minimalist designs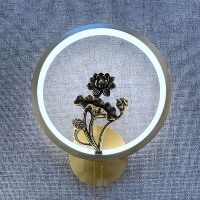 Turning away from technology and looking more at design preferences, vendors singled out four styles as currently proving particularly popular – contemporary minimalist, Nordic, traditional Chinese and light‑luxury.
Summarising her own company's experience, Dengmofang's Ting Ting said: "With a younger generation now being the principal purchasers of lighting products, there has been a distinct shift in demand preferences. It's now minimalist lighting and beautiful, easy‑to‑clean compact designs that are the big sellers."
Underlining this, staff at Veluce Lighting, a Star Alliance tenant specialising in neo‑minimalist luxury art lamps, said their best‑selling item was an open‑loop lamp with a delicate dangling crystal feature. This is, apparently, in line with the general preferences for highly stylised lighting products.
Traditional Chinese‑style lighting products is a sector reportedly doing well for many Star Alliance tenants, including Chinese Link Lighting Pavilion (Shuimo Lanting). Its most popular range is a series of products derived from the pine trees of Anhui's Jiuhua Mountain, which have long been believed to bring good fortune.
The standout product in the range is said to be a lamp styled after the mountain's famous moon gate, with a centrally recessed miniature pine‑tree motif. The lamp base itself, meanwhile, is fashioned from cloisonné in an elegant purple shade said to be emblematic of nobility and distinction.
The Hong Kong Trade Development Council will run the HKTDC Hong Kong International Lighting Fair (Autumn Edition) and HKTDC Hong Kong International Outdoor and Tech Light Expo on 27-30 October 2021.
Related link
HKTDC Research