The COVID-19 pandemic pulled the entertainment industry in two very different directions – on the one hand live performances and cinema shows were shut down for much of last year (and in many places remain closed or heavily restricted) while the demand for home offerings jumped.
Demand for over the top (OTT) services, including subscription video on demand (SVOD), jumped as viewers sought to compile their own entertainment without having to rely on the schedules drawn up by broadcasters or cable providers.
Home cinema
OTT prospects featured in discussions on the entertainment industry at this year's HKTDC Hong Kong International Film and TV Market | Online (FILMART Online) organised by the Hong Kong Trade Development Council (HKTDC), which attracted some 7,900 industry participants from 81 countries and regions over four days, with the release and promotion of some 2,200 film and television productions. Having become more familiar with doing business through online platforms, exhibitors and buyers used the online meeting function at FILMART Online to participate in more than 2,000 meetings.
Running from 15 to 18 March, FILMART Online saw 27 online events staged, including nine conferences.
One of the webinars, titled "Content Still King? Betting on the Future of OTT in Asia", examined prospects for the format in Asia as the pandemic-driven OTT surge cools off. The session was moderated by Jean Noh, Deputy Asia Editor and Korea Correspondent for British film magazine Screen International.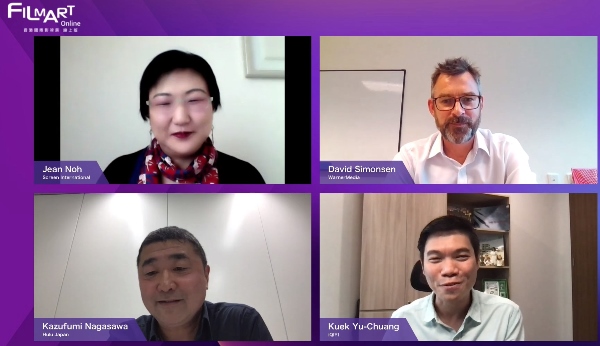 Crowded stream
Kazufumi Nagasawa, Managing Director and Chief Content Officer at video streaming service Hulu Japan, told the panel discussion that the streaming market in Japan is crowded with more than 20 platforms including global ones such as Netflix.
Hulu Japan is owned by Nippon TV, and most other broadcasters in the country also have streaming services. The service concentrates on Japanese drama and anime, and is very selective when sourcing content from overseas but is the most aggressive overseas acquirer in Japan. Overseas sources include Russia, Spain, Turkey and Brazil but overseas continent accounts for just 30% of viewing.
David Simonsen, Senior Vice President – Business Development and Digital Distribution, Asia for WarnerMedia, a United States-based multinational mass media and entertainment conglomerate – said his firm had consolidated, with Warner Bros, Turner and HBO all joining together. The firm plans to launch HBO Max in Asia but no firm launch date has been announced.
Mr Simonsen said authenticity was the key ingredient in producing OTT content. "Authenticity will carry content globally," he said. If the content sits well in its home community, it has more chance of succeeding overseas.
Asia focus
Kuek Yu-Chuang, Vice President for International Business at Beijing-based online video platform iQIYI, said the service carries a wide range of content including long-form storytelling and short-form content, as well as user-generated material.
Within Mainland China, the distributor picks up demand signals for content and services from around the globe. Elsewhere in the world, the model is simple – iQIYI content is available through its app or website.
Being based in the mainland, the biggest entertainment market in world, has generated strong tailwinds for iQIYI. The company also has a strong diaspora business in Southeast Asia, including the giant Indonesia and vibrant but competitive Thailand markets. Favourable demographics made Malaysia and Singapore strong while Vietnam was also interesting, said Mr Kuek.
Producers pitching to iQIYI needed to understand its Asia content focus and have an authoritative grasp of Chinese content, he advised. They also needed to offer a predictable experience that fitted in with its pan-Asian content strategy.
In another presentation, Kaichen Li, Head of mainland technology conglomerate Tencent's WeTV video streaming service and iflix video on demand (VOD) service, described the development of OTT programming at the firm.
"We have spotted early signs of an upward trend for Chinese and Thai content," he said. "For Chinese content, it's not only the costume dramas but also modern dramas that have resonated well with the Asian audience. We believe that we are going to see a continued boom in Asian local content."
Brand culture necessary
Addressing the dynamics of streaming media, Ali Hussein, CEO of India-based OTT platform Eros Now, said the streaming media business should not focus on purely being transactional. Rather, it should seek to identify the culture for each brand, which is very important once brands start working at a slightly higher level. He said Eros Now will launch English-language services in the second half of 2021, in addition to its content with ErosSTX. The company is also working with other content providers around the globe which will give it a more widespread network and allow it to optimise its customer base.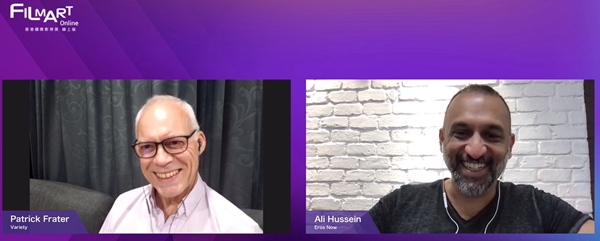 Prosumers step forward
"Prosumers", a term coined by futurologist Alvin Toffler to refer to those who produce as well as consume, apparently play a leading role in streamed content since production and distribution costs are low and the potential audience is vast.
Speaking at another FILMART Online webinar, Saurabh Doshi, Head of Entertainment Partnerships for Asia Pacific at Facebook, said about one in four people globally created and uploaded videos to social media during the pandemic. "This was huge among millennials aged 25-34 years old, and the behaviour was even more true in Southeast Asia, where 66% created or interacted with videos on social media and messaging platforms during the first half of 2020," Mr Doshi said.
Online platform runs until 18 May
While FILMART Online closed on 18 March, the online platform on which it was held remains open until 18 May. During this period, industry members can continue to make use of the different features of the platform to connect with exhibitors and buyers and also review the content of previous events.
Related link
FILMART