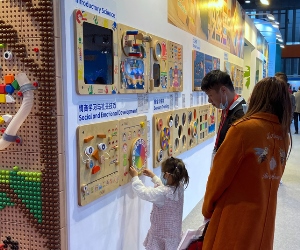 More than 500 brands from all across Mainland China took part in the 11th International Kids' Education Expo, which recently took place at Guangzhou's Poly World Trade Center Exhibition Hall. This saw in excess of 10,000 different products and services on show, extending across such areas as early childhood education, childcare, kindergarten environmental design, and related courses and accessories.
In particular, the expo attracted a large number of exhibitors offering child‑care services, early childhood education products or teacher training, indicating something of an optimistic take on prospects for the childcare sector's development. In the face of the COVID-19 pandemic, meanwhile, many firms were also keen to showcase their investment in online teaching and educational software products.
Surging demand for childcare
Many exhibitors were also at pains to stress that the current demand for early childhood education professionals and pre‑school childcare in the mainland far exceeds supply. In specific terms, pre‑school childcare refers to services related to taking care of children aged three and below, including whole‑day, half‑day, hourly, and temporary care.
During the course of the expo, the Guangzhou‑based Evergreen International Education Group launched its "child care + training school" service model. This focuses on establishing business partnerships dedicated to running childcare centres and providing teacher training, as well as developing educational hardware and software products.
Outlining the scope of the concept, Yan Minyao, the company's Vice‑president for Investment and Development, said: "The provision of childcare service has freed up working parents and hard put‑upon grandparents, but it still has huge room for growth when it comes to meeting the demands of a new generation of young mums and dads."
For its part, Evergreen now operates more than 100 childcare centres in some 30 cities across the country, including Guangzhou, Shenzhen, Wuhan, Xiamen, Nanjing and Changsha. Apparently, despite concerns over the ongoing COVID-19 outbreak, calls on its services continue to be robust.
Optimism was also in evidence on the part of Li Jiao, a member of the sales team on the stand of Qingdao Space Baby Education Technology. Significantly, she also noted that, in light of the demand for childcare services, some kindergarten teachers were switching to childcare training in preparation for changing jobs.
Expanding upon the reasons behind this, she said: "The sector has now come of age, which is definitely good news for dual‑working‑parent families. In line with this, consumers are recognising that well‑trained childcare professionals can help them take better care of young children and even help them improve their own parenting skills."
In another sign of this growing trend, Chen Yang, a Designer with the Family of Childhood Group, maintained that more and more clients are now looking to build well‑designed childcare facilities. This has clearly been good news for the Guangdong‑based company, which specialises in design and planning services for kindergartens, while working with clients in Beijing, Guangdong, Sichuan, Zhejiang and Gansu.
Highlighting one of the company's projects in particular, Ms Chen said: "In the case of the Xiaofeixiang (Little Flying Elephant) childcare centre in Foshan, we were commissioned to design a 1,000‑plus square metre centre. This saw us put considerable thought into the design concept and selection of materials, taking into particular consideration the needs and preferences of young children. For us, overall, while business was slow in the first half of 2020, commissions for new projects surged during the second half of the year."
Online education products
With many in‑person classes suspended during the pandemic, online education grew rapidly last year out of necessity. Inevitably, then, it was no surprise that there was a notable surge in the volume of online teaching products debuting at the expo.
One such range was the Kakaf Note Fairy, which came courtesy of the Beijing Colef Education Group. Outlining the thinking behind the product, sales manager Wang Yusen said: "Basically, this music education product covers four major areas – voice, rhythmic movement, instrumental music and perception. Designed to be accessed anytime, anywhere, it primarily deploys games and animation to encourage learning and help young children gain musical knowledge."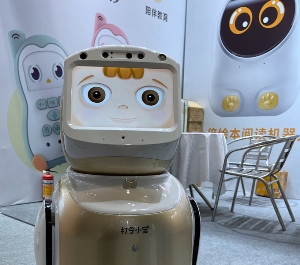 A related innovation was on offer from Shenzhen Xinyue Cloud Technology, which launched its robot Xiaobao Laoshi (Teacher Xiaobao) at the expo. Similar in size to the average kindergarten student, the robot has been designed to help out with daily operational tasks – including patrolling the childcare centre compound and carrying out facial recognition and body temperature monitoring – and is also able to assist with teaching activities. Programmed with a vast range of built‑in early learning knowledge, it can tell stories and even teach nursery rhymes.
Acute teacher shortages
One theme that kept on recurring throughout the event was the soaring demand for early education professionals. In a bid to help meet this particular challenge, Mr Yan said Evergreen International Education, in addition to cooperating with existing colleges, had also set up dedicated childcare teacher‑training schools in Guangzhou and Zhengzhou. Expanding upon this, he said: "Although we have already trained more than 30,000 specialist teachers, we estimate that the mainland's shortfall in terms of such professionals may be as high as one million."
Taking an alternative approach, meanwhile, Mr Wang said Beijing Colef Education was putting greater emphasis on product design as a way of assisting with the acute shortage of teachers. Outlining how this works in real terms, he said: "In the case of music education, for instance, teaching materials have to be designed in a way that teachers can quickly understand the content and objectives even if they are not well versed in the particular subject."
Looking to tackle a different issue, meanwhile, many exhibitors were also putting an emphasis on teaching students according to their abilities and avoiding a one‑size‑fits‑all approach to education. With this in mind, Mr Yan said Evergreen had been inspired by the Montessori model, which requires teachers to instruct each and every child according to their particular abilities. Citing the acknowledged success of this strategy, he said: "When using this approach, there are no fixed teaching materials and teachers can freely prepare individual lessons in accordance with the specific needs of each child."
The 11th International Kids' Education Expo took place from 9 to 11 December 2020 at Guangzhou's Poly World Trade Center Exhibition Hall.
Related link
HKTDC Research