"It was the best of times, it was the worst of times," for many lines of business, the COVID-19 pandemic called to mind the second part of the opening quote to Charles Dickens' Tale of Two Cities, not so much the first.
But for the entertainment industry, the pandemic has definitely had two wildly different results. In most markets across the world cinemas were shut for many months during 2020 and even after reopening, social-distancing measures and audience wariness crimped box-office takings.
Work, study, play at home
At the same time, audiences stuck at home turned to screens of all shapes and sizes for television shows, streaming, online games and more, greatly expanding audiences for these media. Mainland China, being the first major economy to emerge from the pandemic, has also become a centre of gravity for this transformation.
Attendees at the 25th HKTDC Hong Kong International Film and TV Market (FILMART), running online for the second year, were brought up to date on industry developments. Organised by the Hong Kong Trade Development Council (HKTDC), this year's FILMART Online runs from 15 to 18 March and brings together nearly 7,000 industry participants, including representatives of more than 670 exhibitors, from 81 countries and regions. More than 2,000 film and television productions are being released and promoted to potential buyers from around the world.
Global audience
FILMART Online receives strong support from production companies from Hong Kong, the mainland and across the globe. Participating Hong Kong companies include Edko Films Limited, Emperor Motion Pictures, Golden Scene Company Limited, Mandarin Entertainment, Media Asia Film, Mega-Vision Project Workshop, Mei Ah Entertainment Group, One Cool Film Production, PCCW Media Limited, Sil-Metropole Organisation, Sun Entertainment, TVBI, and Universe Films Distribution.
Film companies from the mainland actively participating in the online exhibition include China International Television Corporation (CITVC), iQiyi Pictures and Bilibili Inc.
Other mainland regions such as Beijing, Chongqing, Hangzhou, Jiangsu, Ningbo, Shandong, Shaanxi, Shanghai, Wenzhou and Haining are also represented, along with Taiwan, Canada, the European Union, Finland, Japan, Korea, Malaysia, the Philippines, Thailand and the United States. A number of countries, including Fiji, Jordan and Portugal, are introducing their hottest film-shooting locations and preferential policies for filmmakers.
The Hong Kong-Asia Film Financing Forum (HAF) continues its efforts to create business exchange opportunities for film workers by exhibiting 28 HAF film projects in the development stage and 20 work-in-progress film projects.
Online conferences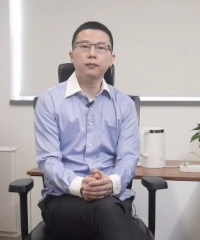 In addition to the exhibition, FILMART Online hosts a number of online conferences. On Monday, business leaders from Facebook, Tencent's WeTV and iflix and Eros Now discussed the latest film and TV viewing trends in the Asian market and introduced their companies' key growth markets and business strategies. An afternoon session featured a distinguished panel of speakers from Hunan TV, Muhwa Broadcasting Corporation (MBC) and Fremantle Indonesia, who discussed how to create popular programme formats through co-production and export innovative TV programmes to the global market.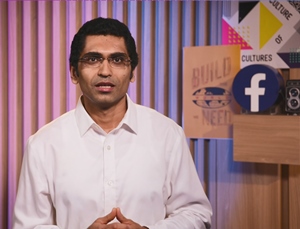 In the first morning session on Monday, Saurabh Doshi, Director Entertainment Partnerships, Asia-Pacific at Facebook, said the company had seen a massive increase in video consumption, through live or video-on-demand feeds, and these audience patterns will continue even after the pandemic is over. Mr Doshi also shared numbers for Facebook Watch, a video-on-demand service operated by Facebook,. "We now have more than 1.25 billion people visit Watch every month since its launch in 2018, with close to half a billion people using Watch each month in the Southeast Asia region."
At the afternoon session, Lester Yangzi Hu – Head of Formats & International Business, Hunan TV – told delegates how the broadcaster took advantage of the spread of mobile communications to launch a unique dating show.
"Since your phone and its apps know all about you, more than you can imagine – choice of music, restaurants and so on – could this information help you find a match?" he asked. The show places singles on each side of a giant screen representing a smartphone that browses through photos and information to select potential matches.
Mr Hu said it was the most popular show in its time slot and 8% of the younger demographic tuned in. Hunan TV looked forward to seeing how international audiences take to the format.
Moving abroad
Leading mainland online film and video streaming website iQiyi also showcased its line-up for 2021 including Wisher and Who is the Murderer from the Lights On franchise.
iQiyi also introduced its recently opened international headquarters in Singapore and is set to launch the debut feature for the international streaming service, based in Southeast Asia – The Ferryman Legends of Nanyang.
iQiyi said its streaming service already has 100 million paying subscribers and is growing quickly, creating original features exclusively for its subscribers all over world.
Another 2021 feature from Singapore, which iQiyi described as the most ambitious and creative drama, is Rainless Love in Godless Land – an apocalyptic story of love between the rain god and a mortal girl. The show was produced in association with Three Phoenixes Production from Taiwan. Previews have been drawing attention on social media at present.
Technology focus
As the industry prepares for a post-pandemic comeback, filmmakers and visual effects (VFX) veterans have been breaking new ground in filmmaking during the lockdowns. The "Digital Entertainment Summit" on the morning of 17 March, with the theme "Virtual Production: Immersive Pathway to Future-Proofing Filmmaking", features VFX experts from Disguise, Reel FX and Lux Machina Consulting, who will share insights on how innovative technologies can open up new pathways for film production. Over the next three days, representatives from Discovery Inc., Hulu Japan, iQIYI and WarnerMedia will explore current and post-pandemic opportunities in the film and TV industry.
Related link
FILMART