Inspired by Batman's Alfred and Ironman's Jarvis, two Hong Kong investment bankers set up a home concierge service two years ago to help busy city dwellers like themselves cope with home tasks.
The start-up, Butler, has since come a long way, boosted by increasing consumer attention to home lifestyle resulting from over year's COVID-19-induced home confinement. The company has made it into the top 10 in what is said to be "the world's largest start-up pitching contest".
Enter the butler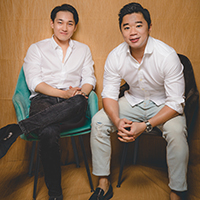 Working long hours and finding it frustrating to spend precious downtime on household tasks, Butler co-founders Angues Chan and Jonathan Lam recognised a need in the city for a trusted home service that could take care of not just standard household chores but also other tasks such as organising handymen or arranging bouquet delivery.
"Working long hours makes you realise how important home is for your lifestyle and health when work is stressful," Mr Chan said.
"Finding good-quality, reliable staff is down to luck, and communication isn't always straightforward when you want someone to clean your home. Then if you need to do something like get your wi-fi fixed, you have to talk to someone else, so it's all very time-consuming," he said. They were willing to pay a premium but still could not always find the right people.
Realising this gap in the market, the pair set up Butler in 2019 to provide an on-demand, personalised home management service on a monthly subscription basis.
Lifestyle-driven
Butler's core services are housekeeping, laundry and closet management, grocery resupply and food preparation. For clients with a helper, the service can assist them to execute instructions more efficiently and handle home management.
"We're very lifestyle-driven based on seasons ¬too – we do Christmas tree delivery and red banner writing for Chinese New Year, for example," Mr Chan said.
With consumers confined largely to their homes for more than a year amid the COVID-19 pandemic, there has been much interest in the company's services. "There's certainly been a change of mindset and greater importance placed on home lifestyle. Overall, it's been very positive and our retention rate is above 90%," Mr Lam said.
Mr Chan added: "With people staying home for so long, there's an increased focus on home living and developers have been more willing to talk to us. A home is no longer just about price and location but the services offered."
In addition to offering a business to consumer (B2C) service, Butler also counts some leading Hong Kong property developers among its clients, including Swire and New World Development.
The start-up is among the top 10 finalists in Jumpstarter 2021, dubbed "the world's largest start-up pitching contest".
Batman's Alfred or Ironman's Jarvis?
Butler have playfully compared themselves to the superhero helpers – Batman's Alfred or Ironman's Jarvis – but which one is most accurate?
"The traditional meaning of a butler is someone wearing black tie carrying a silver plate, and Alfred is a very good depiction. We started off with the concept of Alfred but we're modern-day butlers using tech to empower our staff and clients, so that makes us more Jarvis. Uber and Deliveroo used tech to revolutionise taxi services and home delivery, and we're doing the same with the home," Mr Lam said.
Clients using the Butler app can see what is going on with their home at a glance. There's a booking system, a summary list detailing what tasks have been completed, as well as a payment wallet and suggestion function. There is also a WhatsApp chat linked to the app to enable clients to talk to Butler's home concierge team directly. There are plans to upgrade the app in the second quarter of this year and offer easier access to value-added services, such as instantly buying flowers for Valentine's Day.
Mentor support
The biggest obstacle in taking the start-up off the ground was people not believing in them, shared the entrepreneurs.
"We had a lot of rejections and people doubting us, so you do end up thinking, 'are we wasting our time?'," said Mr Lam.
In the beginning, the founders were both working in investment banking full-time and found it very tiring to run the company at the same time.
"We'd leave work at 8pm, then [run Butler] until 12am, go back to work, and Angues had to be at work by 4am!" Mr Lam recalled.
"What kept us going was having the same vision, and we kept thinking eventually we'll get there. It's been a bit of a roller-coaster ride at times. One day, we might have some terrible news, then by the end of day, we'd be on top of the world."
The start-up has suffered some setbacks but did attract the attention of James Riley, Group Chief Executive of the Mandarin Oriental, who is now a shareholder and mentor in a personal capacity. They met around 18 months ago when he was speaking at a lunch event. "He found the idea of transporting the hotel experience to the home an intriguing idea, so we grabbed a coffee, had more meetings, and now meet once a month. He's helped us prepare for negotiations with corporate clients like Swire and New World Development and introduced us to his network," Mr Chan explained.
The founders said much education is still needed around the concept of home concierge what their business can offer, but they remain hopeful. "People were initially sceptical about Airbnb and staying in a random stranger's house, after all," Mr Chan said.
As for long-term hopes for the business, the entrepreneurs say Hong Kong is a blueprint for worldwide expansion.
"We want to be a global company and hope to duplicate the Butler experience in other cities, like Shenzhen, Beijing, Shanghai, Bangkok and Taipei as well as Singapore, even London," said Mr Lam. "We want to make people realise the importance of their home, and make coming home the highlight of their day, an instant stress reliever."
Related link
Butler