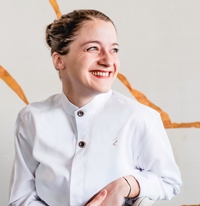 Two Michelin-star Hong Kong restaurant Écriture will unveil a special tasting menu for International Women's Day on 8 March, conceived, developed and executed by its female staff.
French-born Executive Chef Maxime Gilbert has given free rein to his right-hand woman and Chef de Cuisine Heloise Fischbach to prepare a five-course lunch and seven-course dinner on the day. Menu highlights include butternut cuttlefish black truffle, blanc de blanc aveyron lamb and amaebi, almond panna cotta with grapefruit and lavender presented in a seashell.
Ms Fischbach, also from France, said the challenge was to create a menu that not only had structure but was also rich, flavourful and attractive. "It's not just the menu but the entire atmosphere in the restaurant that we hope to change, just for one day," she remarked.
How do you feel, taking over the restaurant to celebrate Women's Day?
It's been a spontaneous affair: we had a lot of ideas running through our heads in terms of products, colours and flavours. The two chefs di partie worked with me on developing the menu and will help me create the dishes, while the assistant manager staff will take care of the decoration of the dining room, the menu and everything related to the front of house. It's very much been a team effort.
What's it like working in a male-dominated industry?
It's definitely an accomplishment to succeed in a profession where women are not necessarily the first pick in a kitchen regarding the key positions. With all the women who have succeeded, like Vicky Lau at Hong Kong's two Michelin-starred Tate Dining Room, and Helene Darroze, who has her own three Michelin-starred restaurant in London at the Connaught Hotel, I think the profession is encouraging more women. We just need to keep heading in this direction more and more.
Executive Chef Maxime Gilbert describes you as one of the most talented chefs he's ever worked with. Why does your relationship work so well?
It's about honesty, respect and freely sharing ideas. He's not the type of chef who will ask me to execute his ideas – I'm free to create what I want. We talk a lot and share the same vision. All of this contributes to a good relationship between us.
Écriture uses a lot of Japanese ingredients. Was this something you were familiar with?
I wasn't familiar with them in France as ingredients like bonito, uni and koji (fermented rice and/or soya beans) are not that common. It was certainly a learning curve but we use a lot of French produce in the restaurant, too, from Aveyron lamb to Brittany langoustines. It's just about using the best produce.
You've worked at two three-Michelin starred kitchens in France — Mirazur and L'Arpege. What were the standout moments there?
At Mirazur, it was taking care of the pastry. I was only a commis chef and wanted to learn more about pastry work but didn't expect that the pastry chef would quit two months after I joined and the chef would put me in charge. Chef Mauro Colagreco challenged and trusted me, and I learned a lot with the support of the entire team.
At L'Arpege, I was free to put forward anything I wanted but I needed to make sure everything was perfect when chef Alain Passard came by to try the food – it was the perfect place to start a culinary career. These two moments were a big part of my career, but there's a lot more to come from me yet.
How has your culinary approach changed since arriving in Hong Kong?
When I arrived in Hong Kong, I was chef de cuisine, so needed to give more than only execute [the ideas of others]. So here I started to be more creative. Working with Maxime, my mind started to become more precise, to find something different and add in little details to make the difference [to a dish]. All the things I learned before stayed in my mind but became sharper.
You left Paris for Hong Kong in 2016. What do you like about being a chef here?
It never stops. The city is always full of people and activity.
As social-distancing begins to ease, how will you draw guests back to the restaurant?
We will continue to protect guests by keeping the restaurant safe and following the rules. We'll also be debuting new menus.
What will be on the new menus?
We will introduce two new menus, one of which will be vegetarian. The spring and summer months are the perfect time to introduce this, as there is so much good produce around. Hopefully it will be well received, as I think people are more open to vegetarian menus now.
Related link
ecriture.squarespace.com