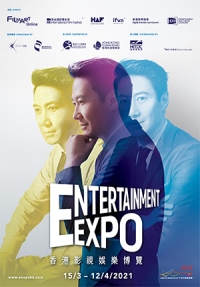 Hong Kong superstar Leon Lai has accepted the Hong Kong Trade Development Council's (HKTDC) invitation to act as Ambassador for the Entertainment Expo once again this year.
"The pandemic has created a new normal for the local film and television entertainment industry. I am proud to act as Ambassador for the expo during this particularly challenging period to continue promoting Hong Kong's entertainment industry," Mr Lai said.
Future gaze
The HKTDC, the expo's coordinator, also enlisted the support of the Tsui Brothers, the renowned multimedia directing duo, to shoot the promotional video for this year's expo, which runs under the theme "Gazing to the Future". The video encourages the public to show support for the local entertainment industry, which has put extra effort into production throughout a difficult year. The video can be viewed on YouTube.
The expo will be held from 15 March to 12 April 2021 and comprises six events covering a global mix of film, television, music and digital entertainment.
The events include the 25th HKTDC Hong Kong International Film and TV Market (FILMART Online), which will follow a completely digital format again this year and runs from 15 to 18 March.
Running concurrently with FILMART Online is the Hong Kong-Asia Film Financing Forum (15-17 March) which will facilitate virtual meetings between filmmakers and investors. The Digital Entertainment Summit (17 March) and the Entertainment Asia Forum (15-17 March) will also take place in parallel.
Another expo component is the 45th Hong Kong International Film Festival (HKIFF45), which adopts a hybrid format with both in-theatre and online screenings and runs from 1-12 April. Albert Lee, Hong Kong International Film Festival Society Executive Director, said a hybrid HKIFF45 would allow audiences to connect through an online platform without sacrificing the irreplaceable big-screen cinematic experience.
"The COVID-19 pandemic had severely disrupted the international film festival circuit last year. Many festivals, including our very own HKIFF44, were either cancelled or forced to move online," Mr Lee said. "With the pandemic showing few signs of abating, we recognise the proactive need to confront the challenges by adding an online component to our festival for the first time."
HKIFF45 will offer online streaming of some of the seminars, post-screening talks, and other events, giving the audiences greater flexibility in choosing how they wish to participate. Mr Lee said the society would announce details of the hybrid event, including its programmes and ticketing arrangements, at a later date.
"The Society will continue to monitor the COVID-19 situation closely and comply with every health measure mandated by the government," he said. "Public safety remains our paramount concern.".
A sixth expo event, the Hong Kong Arts Centre's 26th ifva Awards Festival, will run from 2-14 March.