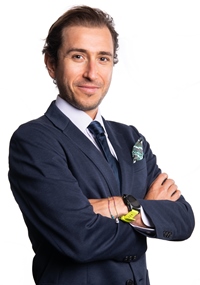 The word "island" conjures up images of palm trees rustling in the wind while waves lap a golden beach – peace and tranquillity. Hong Kong-based serial entrepreneur Stefano Pasarello noticed another feature of tranquil islands –their inhabitants often live long lives.
Acting on this, he and his wife Crystal Lee started a novel health and hospitality business concept combining fitness, food and social living. Launched in 2019, Kapuhala started with a health and fitness centre on Hong Kong's Lantau Island. It has since expanded internationally, setting up branches on the Thai resort island of Koh Samui and in Sicily.
Mr Pasarello came to Hong Kong from Italy one and a half decades ago as an accounting intern and has since made the city his home, launching several ventures.
You have health and fitness centres in three very different places – Discovery Bay on Lantau Island, Koh Samui and Sicily. One thing they all have in common is being on islands. What drew you to set up on these islands?
We have always been intrigued by the concept of health, longevity and the blue zones. There is a strong correlation between longevity and people living on islands and that's why we chose to invest in Sicily and Thailand. Our greater goal is to upgrade the holiday experiences to more than holidays, to life-enhancing experiences that support our mental and physical health. Hong Kong is in the centre of our business, with Koh Samui just three hours away with direct flights and Sicily right in the heart of Europe, making those locations very accessible for respectively the Asian and European continents.
The branch in Koh Samui, and to a lesser extent Sicily, must depend on tourists. Have COVID-19 travel restrictions heavily impacted them?
Interesting point. Yes, we have been affected because of the restrictions in mobility. Luckily Kapuhala not only attracts regular tourists, we are a hub for corporates, biohackers, nomadic entrepreneurs, eco-enthusiasts and whoever you could consider an explorer or forward thinker. Many CEOs and start-uppers were already remote-working way before the pandemic. So, the real issue wasn't the lack of tourism but the reduced mobility.
The Discovery Bay gym needs to be closed for the moment and had to run on a limited basis for much of last year. How did you cope with the restrictions – have you been offering online classes?
As usual, in time of crisis we are tested and experimented to stay alive. It has been hard but we were able to start virtual corporate and fitness programmes and use the gym as a base for our healthy food and wine delivery. As you may know, our three pillars are fitness (from the gym), food (we support plant-based nutrition) and social living (events and co-working). Out of the three, only food was the one we can rely on and our bold move to brand ourselves as a plant-based gym has helped us to keep things going.
Your centre in Sicily includes a winery. Have you managed to sell much of the wine through your operations in Hong Kong and Thailand?
Kapuhala Sicily has eight accommodations, a winery and soon a dedicated co-working space set right inside our wine-production facilities. We will accommodate nomadic entrepreneurs, and incubate and accelerate high-impact start-ups. Our wine is now available in many locations in Hong Kong including five-star hotels and we are very proud to share not just the wine but also the rich Sicilian culture with the local market.
The wine production and activities are inspired by the [classical era] Greek symposium where people were discussing philosophy and sharing ideas while sipping red wine. This brings us back to the social-living aspect, the "third circle" of our logo [which features three circles symbolising our three pillars].
Have you found the "social model" – building communities within which you can sell goods and services – a key to your success?
Yes, we promote social living and we invite people to meet at Kapuhala, enjoy good food, [exercise for] fitness and work away from home in a beautiful environment. Our vision is to bring great minds and spirits together.
In Kapuhala Sicily, our fixed dinner time at 8.30pm has proven to be an amazing experiment. People were reluctant at first, but after a few times they became eager to come and meet others. Our oath is that, anyone who steps into Kapuhala has a 99% chance to meet interesting individuals and become intellectually richer from the interactions that they will go through.
In Hong Kong, we call ourselves a "social gym" and many people who come to work out together discover great friendships. We hosted plenty of social events before the pandemic.
Are you anticipating a strong surge in demand as COVID-19 restrictions are reduced following the vaccine rollout?
I have stopped predicting. We can just be hopeful that … if this year is lost, next year will come. We just need to stay safe, pivot some of our business activities to stay healthy financially, and retain our amazing team. To us, this is the most important priority at the moment.
Related link
Kapuhala