Office-worker dining is an integral part of the social scene in Hong Kong. Between noon and 2pm staff crowd on to the streets of business districts such as Central, Wan Chai or Tsim Sha Tsui, seeking out cuisine ranging from Cantonese dim sum to Italian steak-house, Beijing dumplings or Indian curry.
Social-distancing measures and the work-from-home drive during the COVID-19 pandemic have slowed the daily flood to a trickle, however.
Noting the need for safe in-office or at-home meals, local start-up EC Bento launched a revolutionary "co-dining platform" to deliver hot meals from various restaurants. Customers flexibly choose pickup times and locations, and receive deliveries without coming into contact with staff.
The company won the open-innovation competition IPHatch Hong Kong, co-organised by the Hong Kong Trade Development Council (HKTDC) and investment bank Piece Future, in 2019, earning access to Nokia's patented technology as a prize. Open innovation" refers to an innovation management model that promotes collaboration with external parties.
Apart from satisfying customers' rising demand for contactless delivery amid the COVID-19 pandemic, the intelligent hot meal co-dining platform uses Bento's big data that enables restaurant operators to follow customers' consumption patterns and habits promptly and efficiently, improving quality and efficiency at little cost.
Grasping consumption patterns
With abundant entrepreneurial experience, the three core members of Bento - Jerry Lam, Patrick Cheung and Junho Cho - started the company in April 2019 when they noticed the sharing economy concept had not yet been applied to the catering industry, and that office workers are often snowed under by tasks and will usually plan meals off the cuff.
Bento collaborated with restaurants to set up the co-dining platform, which comprises websites and apps clearly listing each restaurant's menu and enables customers to make flexible meal arrangements, including pick-up times and locations.
The founders also hope the platform can assist catering businesses to reduce operating costs and test out market responses. Participating restaurants can do business without running physical stores, while gathering data on customers' consumption patterns and preferences. Such information helps them improve their food and service quality and develop a more appropriate menu for customers to enhance the dining experience.
Low infection risks
Bento's intelligent hot-meal pickup eases customer pain points as they seek to cut infection risks. Meals are dispensed by machines which are regularly sanitised and insulated to keep the meals warm even if a customer misses a pickup.
Workflow
Restaurants prepare fresh lunch boxes every day as customers' orders arrive. These boxes are left at pickup machines. Meanwhile, restaurants receive assembled data, including customers' consumption preferences and usage patterns analysed by the Bento big-data system.
IPHatch patent win
As an IPHatch winner, Bento won the right to use Nokia's patented Interactive Media Executor technology to develop a more advanced user interface, as well as collect more data on user experiences. As a result, the start-up has developed the EC Bento 2.0 platform by adding a new function to plan meals, aiming to help consumers achieve a planned lifestyle with an eco-friendly meal supply chain.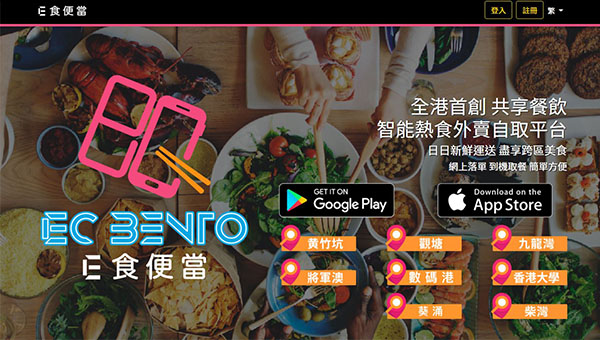 "Gathering order data allows restaurants to adjust menus in line with customers' preferences and health needs. Meanwhile, the company hopes to improve customers' lifestyles by encouraging them to plan meals for the week. Food waste can be lessened as customers select meals," Mr Cho said.
To the team, intellectual property (IP) rights recognise a start-up's endeavour in testing out their products and protect results that could have taken years to achieve. IP rights protect the firm from having its products copied, maintaining a company's unique characteristics and limiting competition from peers.
The team advised entrepreneurs-to-be to seize opportunities in the market to pursue entrepreneurial goals.
The third edition of open-innovation competition IPHatch Hong Kong was launched at the Business of IP Asia Forum on 3-4 December 2020. The first day of the forum featured winning start-ups in the previous year's competition, including Bento, sharing their experiences.
Related link
EC Bento