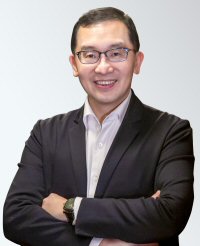 Inspirational design has the power to uplift and transform individuals and communities and after a turbulent 12 months, and Business of Design Week (BODW) later this year will do just that for Hong Kong. Incorporating the Hong Kong Trade Development Council's DESIGNINSPIRE exhibition of creativity, BODW provides a platform for business and creative leaders to exchange ideas, network, and explore new business opportunities.Among major BODW events is BODW CityProg, which will bring nearly 20 anchor-site festivals, more than 50 satellite events and five design education events to the public across different districts in the city in November and December. The event's theme of "20/20 Vision of Post-pandemic World" is a metaphor for being able to see things clearly in the current situation, said Edmund Lee, Executive Director of the Hong Kong Design Centre, which organises BODW and a number of other design-related events. "We hope that BODW CityProg can connect the city's creative powers and lift up the city vibe," he said. The design community has shown resilience in the face of the COVID-19 pandemic and Mr Lee remains confident that Hong Kong creatives can come back even stronger. What is the concept behind CityProg?
We believe in collaborative efforts and are keen to join hands with other creative units, which is why we came up with the idea to curate the BODW CityProg project. It's part of a holistic strategy to build an organic creative eco-system and promote design within the wider community.Applying a bottom-up approach, BODW CityProg is a citywide creative business and community activation programme that activates local neighbourhoods by connecting creative units, business and community organisations through co-creation, exchange, matching and partnership. As new alliances and ideas start to flourish, CityProg engages people of all ages with exciting happenings, enhances public spaces and encourages creativity and design to take flight in the community, fostering the development of local creative ecosystems. We hope that even if CityProg stops running one day, the creative networks and alliances would still continue to work together and inject new ideas into the city. You also organise the Knowledge of Design Week (KODW) conference, which was held as a virtual live event last month for the first time in view of the pandemic. How did it go?
Under the theme of "Designing Digital Futures for the New Normal", KODW 2020 explored how digital transformation and human-centric design can help us navigate uncertainty and thrive during the pandemic. More than 40 local and international speakers shared how design can shape change with empathy, creativity and resilience. Do you expect to host more virtual live events in future?
From an event perspective, a digital platform is more accessible as you can sign up to whatever you want and attendees can still interact and share knowledge, just in a different way. I anticipate that digital events will have a future long-term, but people will want to meet face-to-face too.How would you characterise Hong Kong's design industry and how has it evolved over the past few years?
We are blessed with strong support from the government and design is strongly embedded at policy level. Senior civil servants are spreading design thinking and nurturing creative and design talents, from interior designers to graphic designers. As the government is supportive of spreading good design in the community, this enables us to curate programmes and work with local businesses and brands to programme activities in public places, so residents can experience good design. Our priority is to keep design on the agenda and open up more opportunities for the city. How can the design community overcome the current challenges?
Good designers think like business-people and come up with different ways to keep their businesses going. The pandemic has been here for some time now, we don't know when it will finish and can't wait for that day to come, so let's get business going. The pandemic has enabled us to revisit the role of designers and provide solutions at this critical time to help clients, cities and society build up their capabilities. Are you hopeful that the Hong Kong design community can survive and even thrive during the pandemic?
Yes – we have to be! Design thrives on a dose of optimism and interventions that improve life. It can inspire communities and business, and help create cities that are more inclusive and sustainable. The role of designers is to empower society, and design [can be] very meaningful. It can help people feel more amenable and narrate a better situation [for them].
Related links
BODW CityProg
DESIGNINSPIRE
Hong Kong Design Centre