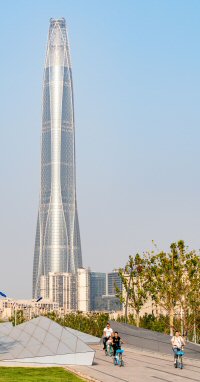 Hong Kong architects are leveraging technology to scale new heights, with a recent design ranking as the world's seventh highest building and China's third tallest, as well as winning a string of accolades.The 530-metre-high Tianjin Chow Tai Fook Financial Centre in northern China's Tianjin, completed last year, was designed by Hong Kong architectural firm Ronald Lu & Partners (RLP) using building information modelling (BIM) technology, which reduced the construction time and cost and optimised the building's hyperboloid winding-glass curtain wall. "Architects have begun using digital modelling to improve efficiency and accuracy, especially during the design and construction of ultra-complex buildings like the centre, as it increases accuracy and reduces resource use," RLP said in a statement.At the start of the construction process for the Tianjin Chow Tai Fook Financial Centre, surveyors had estimated that at least 1,308 pieces of independent asymmetric insulating glass units (IGUs) would be required for its unique curtain wall structure, formed by the intersection of eight irregular curved surfaces, the architects said.However, after performing BIM analysis and using repeated data modelling, the number of independent IGUs needed for the Centre's curtain wall was reduced to 476–a decrease of more than 60%.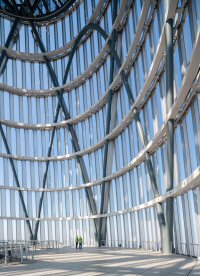 "This not only saved an enormous amount of resources and significantly reduced costs; it avoided the risks inherent in fabricating and transporting these glass panels," said RLP, adding the BIM further simplified cladding construction, helping to further simplify the process. "As a result of this sophisticated BIM analysis and implementation, the project was completed a full four months ahead of schedule."The Tianjin Chow Tai Fook Financial Centre is made up of four basement levels and five podium levels, topped by a 103-storey tower. The Centre includes a shopping mall, office premises, a five-star hotel and serviced apartments."The Centre has been recognised as one of the most complicated skyscraper designs and structural systems ever created in the country, combining both rigidity and flexibility to counter the effect of winds and seismic activity," said the firm. "In delivering this 'vertical city', RLP deployed digital modelling and collaborated with domestic and foreign partners, including Skidmore, Owings & Merrill, the East China Institute of Architectural Design and Research and ARUP."While traditional building design still largely relies on two-dimensional technical drawings, BIM extends these designs into three-dimensional geometry, the architects explained. BIM also incorporates information about time, cost, asset management, sustainability and other important considerations that technical drawings cannot.
"As the technology has evolved, BIM's multiple advantages in terms of construction schedule coordination, clash detection, spatial relationships, geospatial information, quantities and properties of building components, and many other factors have become more apparent and increasingly indispensable," the firm added."Over the past few years, BIM has become widely used in the fields of architecture, engineering and construction. Governments have also introduced BIM-related standards and policies to support these sectors and help accelerate their practices into the digital age,' RLP Vice Chairman Bryant Lu, who has been a champion of BIM for more than a decade."I absolutely believe that the use of BIM across these sectors will become more prominent in the future", he continued. The tower has already won several awards, including the highest honour recognised by the Royal Institution of Chartered Surveyors' China Awards 2020, as well as other internationally prominent awards including the China BIM Certification Alliance's Platinum Award and the Steel Structure Gold Award at the China Construction Metal Structure Association's Annual Outstanding Engineering Awards.RLP has also received several international BIM-related awards for its other desgins, including the Xiqu Centre for staging Chinese Opera performances in Hong Kong's West Kowloon Cultural District.
Related links
Ronald Lu & Partners