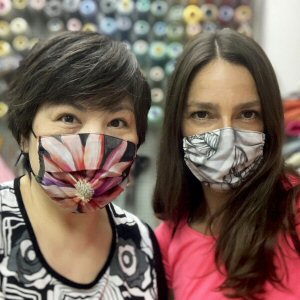 Hong Kong-based artist and fashion designer Leanne Claxton - who made her name with silk scarves and accessories showcasing her floral prints - started making face masks from leftover silk in March as COVID-19 swept through Europe. Incorporating floral designs and also available in bright mono shades such as violet, aqua and fuchsia, they contrast with the standard light-blue surgical masks favoured by most residents. The British-born designer admits her creations are not medical masks but there is a small pouch where users can slot in a medical mask or filter for extra protection. Hand-sewn in Hong Kong, the hand-washable silk face coverings can be used repeatedly. Ms Claxton uses online channels and social media for sales and marketing amid the pandemic.

The idea to create the face masks was to brighten up tough times. Have they also become a significant part of your business?
It was early March when I asked my seamstress [Rebecca Hung of Little Pocket Hand Made Goodies] if she was sewing masks, to which she replied that she'd just sewn up 100 pieces for a client in Germany. By the end of March, we'd developed the first batch of silk masks made from my scrap fabrics. We experiment with different linings and sizes to make the masks as comfortable as possible while still allowing a medical mask or filter to be inserted in the inside pocket. We've been making more than 100 masks a month and traffic to my website in the last three months has increased by 139%. Inevitably this has resulted in us selling more of our other designer products on the website. Each face covering is hand-made in a studio. How does production roll out?
The printed silk is all from my archive of drawings and paintings that have been digitally printed on the fabric. We decided to make plain silk masks when I ran out of my printed fabric and was desperate to send masks to the United Kingdom for family and friends. Which designs have proved most popular – and are you managing to meet demand?
By far the most popular designs have been the brightest-coloured printed patterns with my signature flowers. Black is the most popular in the plain silk masks. We haven't been able to keep up with the demand, and I'm currently trying a new production lead that can make newly designed masks quicker. Rebecca and I will continue to produce masks together each week too. What have been the biggest challenges in creating the face coverings and how have you overcome those obstacles?
The demand with limited stock has been the biggest challenge. In addition to the website, we sell via Instagram, Facebook and WhatsApp. We've just launched a new pre-order system so that everyone has a chance to buy the design they like without it being sold out. Shipping delays have been another major challenge during the pandemic. Luckily almost all my customers have been very patient and understanding and when the masks have arrived, the feedback received is that they are very comfortable. We recently added a range of new designs with a three- to four-week delivery on the site. Even though it's a long lead time, I'm already receiving lots of enquiries. Could masks end up being something we reach for along with our bags, keys, scarves and other accessories before we leave the house?
Yes – I've been wearing mine daily here in Hong Kong for six months. I tend to have two in a cute zipper bag that I also designed. As it's very hot at the moment, I often need a clean mask by lunchtime. I'm thinking of launching a small zipper bag to keep masks and filters in. With social distancing measures back in place, how do you reach out to customers?
I've missed the pop-ups and exhibitions to meet my customers in person and dress them up, or talk to them about my drawings and paintings. Updating my website will never give me as much joy as planning and putting up an exhibition. Luckily, from my previous exhibitions like London Fashion Week and PMQ pop-up shops, I have a big database of customers that I reach out to via my newsletters. They tend to shop online, by email or WhatsApp, or call me up to directly place orders.You've been using Instagram to share customer photos - has this helped drive business to your site?
Instagram is a brilliant gallery platform to showcase products and share customer photos. It always helps to promote my work, but I rely on my website and newsletters more to drive sales at the moment. This year has been extraordinarily challenging for many independent businesses like yourself. Why are you staying positive?
It has been bittersweet because I love nothing more than seeing people wearing my artworks but I never ever imagined I'd be covering up people's faces with my designs. But if it makes wearing a mask more comfortable and even slightly enjoyable, then it's got to be a good thing.
Related link
LeanneClaxton