The COVID-19 pandemic has shut schools, bringing the classroom into homes. Learning is not a matter of simply absorbing information, however, and students need professional guidance and explanations from teachers when they encounter difficulties. This is fuelling demand for online tutorial services.Helping to fill this gap is Snapask, a Hong Kong-based education technology, or "edutech", start-up that provides an online tutoring platform in the form of a mobile app. Students can use the app to photograph and upload homework questions and the system will match them with the appropriate tutor.
Homework becomes business opportunity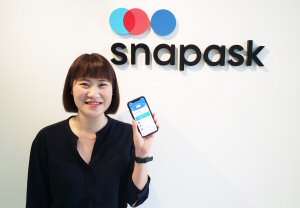 The system was launched in 2015, after company founder and CEO Timothy Yu, a tutor at that time, found that students still had many homework questions after attending his cram school. He had initially used videos for "frequently asked questions" and used Facebook messaging to communicate with students. The response was very enthusiastic and the questions poured in. "We've all been there. Despite school and tutoring, students frequently still have questions before going back to class the next day. In the past, some of the options included asking a classmate or posting questions on online forums, but there was no assurance of the accuracy or quality of the answers. Snapask was created exactly to solve this pain point," explained Chief Marketing Officer Katherine Cheung.The question-and-answer (Q&A) format was a new concept, which set Snapask apart from traditional tutoring services, according to Ms Cheung. The novelty meant that Snapask initially encountered students who were unfamiliar with using the app and had to spend more time on user education. However, with the growing popularity of online learning and widespread usage of smartphones and mobile apps, students soon became familiar with Snapask's learning model.
Snapask's services have since expanded from Hong Kong to seven other Asian markets - Taiwan, Singapore, Malaysia, Japan, Korea, Thailand, and Indonesia. The epidemic and efforts to control it further boosted global demand for online learning and Snapask has added 1.3 million users so far this year. The platform now hosts 350,000 teachers in eight Asian markets, and has a subscription base of 3.2 million students. In Hong Kong, there are 40,000 teachers and 200,000 active users, mainly high-school students, especially secondary-six students who need to take public examinations, followed by junior high-school students. Parents also use the platform to assist their children with schoolwork.
Tutor evaluation
To ensure the quality of answers provided to students, Ms Cheung said the company has very strict requirements for screening tutors. Subject teachers must have high scores in public examinations and undergo training in Q&A-based learning methods. Following a probation period and positive evaluations by students, they will be formally hired.
"We moved the critical elements of school -- good teachers and good learning materials -- onto our online platform. In addition to quality tutors that are readily available, we also produce learning videos, study notes, and practice questions," remarked Ms. Cheung.Snapask invited locally renowned author Chip Tsao to make a video teaching Chinese essay writing, showing students how to examine questions, structure an essay and avoid common missteps. After watching the video, students can practise writing an essay in a mock-examination setting. Snapask further partnered with the Hong Kong Examination and Assessment Authority to review the practice essay and the entire review process is recorded and made available to the student. This allows students to better understand the issues with their writing and find out how best to improve, according to Ms. Cheung.
Night holds no terrors
Snapask offers several subscription plans based on the number of questions asked per month, and customised options are also available. The average user asks about 60-80 questions per month and some "super users" ask as many as 800 questions in a month.Students and tutors can communicate using photos of homework and text messages. Students are free to ask questions in any subject and are matched with appropriate tutors, who will guide them through their problems. Each Q&A session will remain open until the student is satisfied that the question has been answered. There is no time limit.Help is also at hand for students stuck on an issue when studying late at night. Snapask's Q&A service operates round the clock, meaning students are not limited by tutor schedules or locations. Most tutors and students are active on the app from 8pm to 12pm, but 6am to 7am, just before the school day starts, is also a popular time for asking questions on Snapask.
Vietnam beckons
Ms Cheung said Vietnam will be a big focus for Snapask in the future as the company tries to address the country's disparity of education resources between bigger cities and remote rural regions by providing quality teachers and learning materials through its online platform. And as Snapask users mature, the firm will also expand its services to offer courses on the soft skills students will need when they enter the workforce. In Taiwan, the company has already launched courses in communication, decision-making and job application knowhow.Snapask will participate in this year's HKTDC Entrepreneur Day, organised by the Hong Kong Trade Development Council (HKTDC), as an exhibitor. "We hope to meet companies that are interested in education technology," said Ms Cheung, who is a guest speaker at the event's forum, where she will talk about the challenges the education sector will likely face post-COVID-19. She will also share Snapask's latest initiatives in marketing, product development, and her thoughts on how companies can tap into new opportunities in the digital era.Snapask is participating in a technology promotion campaign organised by the HKTDC in collaboration with the Hong Kong Special Administrative Region Government from June to August. The three-month campaign promotes Hong Kong companies in healthtech, medtech, e-learning, e-business and smart-city technology, showcasing their products or solutions to overseas markets.Related link
Snapask