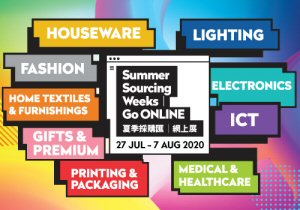 For hundreds of thousands of suppliers and buyers looking to continue with business despite COVID-19-induced travel restrictions, a convenient solution is at hand. The Hong Kong Trade Development Council (HKTDC) is running the Summer Virtual Expo until 24 July, providing an effective channel for more than 22,000 suppliers to connect with some 500,000 global buyers. This is the second of four HKTDC quarterly online virtual expos planned for the year. Hosted on the HKTDC's award-winning online marketplace, hktdc.com Sourcing, the expo series was launched in April to enable suppliers and buyers from around the world to market and source while being unable to travel amid the pandemic. It started with the Spring Virtual Expo."Our Spring Virtual Expo in April was successful in helping local businesses win new orders in the face of significant challenges," said HKTDC Deputy Executive Director Benjamin Chau. "We hope the Summer Virtual Expo can maintain the momentum and help our suppliers connect with 500,000 buyers from around the world, while buyers will get the opportunity to replenish stocks to meet expected consumer demand in the second half of the year."
Cool collections
Key products featured at the Summer Virtual Expo include consumer electronics, gifts, kitchenware, medical supplies, outdoor activity equipment, garments and clothing accessories, and much more. To further enhance the effectiveness of the business matching process and meet different sourcing needs, the HKTDC sends personalised product recommendations to global buyers through various channels such as social media, online advertising and email, encouraging them to view products and make enquiries.Weekly product themes include Tech & Innovations, Home Sweet Home, Lifestyle, and Smart Health. "Buyers can make enquiries and connect with suppliers with just one click, helping them to seal deals more quickly," Mr Chau said.
Vibrant marketplace
To increase business activity at the marketplace, the HKTDC's 50 offices around the world are encouraging participation from influential global buyers, particularly those that work with mega chain stores and e-tailers and have previously sourced at trade fairs in Hong Kong. Mr Chau added that the hktdc.com Sourcing platform has won multiple international awards for its effectiveness in bringing suppliers and buyers together. The site currently features about 130,000 quality suppliers and two million international buyers, with over 24 million business connections made each year. Suppliers' information on the site is verified by third parties. "Buyers are more confident to source products from suppliers when the relevant information can be verified by third-party organisations," he said.
Go online
As part of its anti-pandemic measures, the Government of the Hong Kong Special Administrative Region (HKSAR) announced on 2 June that the compulsory 14-day quarantine for persons arriving in Hong Kong from overseas will be extended until 18 September. This development means that overseas exhibitors and buyers would have great difficulty joining Summer Sourcing Week in July. Following discussions with industry representatives, the HKTDC has decided to migrate the physical exhibition to a virtual platform, Summer Sourcing Weeks | Go ONLINE, enabling companies to continue exploring business opportunities. Running from 27 July to 7 August, Summer Sourcing Weeks GO ONLINE will feature a wide range of products, including lighting, electronics, information and communications technology (ICT), medical and healthcare items, houseware, home textiles and furnishings, fashion, gifts and premiums, as well as printing and packaging.Summer Sourcing Weeks | Go ONLINE is supported by a brand-new artificial intelligence (AI)-enabled business matching platform, Click2Match. Featuring tailor-made virtual meeting, meeting planner, live chat, instant video conferencing and online expert talk functions, this self-service platform offers buyers and suppliers a hassle-free online sourcing, marketing and networking experience.
Related link
Summer Virtual Expo