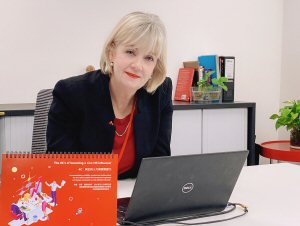 With meet-and-greets, face-to-face interviews and networking events key to its business, the recruitment industry could have been knocked sideways by the COVID-19 outbreak. Instead, it has embraced a new digital way of working, with virtual interviews and meetings now at the forefront – practices that look set to stay even after the pandemic, according to Janet Pottinger, Managing Director for Hong Kong and Macao at recruitment firm Adecco.What key changes has the COVID-19 outbreak brought?
The recruitment process has switched to an online approach, with more digital platforms for screening new candidates and so on, which has been a big change. Staff have had to adapt to remote working and the leadership contract has changed, as managing remote workforces poses different challenges. We've also been addressing social protections, such as how people can stay in employment. Some universities and organisations such as Cyberport and the University of Hong Kong have held virtual career fairs – do you expect to see more virtual events?
Traditionally, career fairs are an opportunity for recruiters to meet people face to face. But these virtual fairs are cost-effective and have worked well in the short term from a health and safety point of view. I still think there's a place for offline career fairs once it's safe to meet again, and that these virtual events will prove to be more of a stopgap. Once things have returned to normal, do you expect some firms will prefer to interview candidates online instead of face to face?
We've been actively encouraging this since January, both for our own people and clients, as it's safe and effective, especially at the early stage, when there's more flexibility. Having said that, you can only go so far with virtual interviews. Do you think certain practices such as shaking hands before an interview will be cast aside? What other customs within recruitment might change?
I think people will definitely be more cautious about shaking hands but I don't think it will be forgotten for good. People will also be more aware about washing their hands. As for practices, there will be more of a focus on online processes and hiring through online tech rather than face to face. Are you planning any offline events later in the year?
Yes, I think so – we're tentatively planning to host some events in July or August, but it depends on numbers. It would be nice to have events where clients can socialise face to face but we need to be careful to avoid a third wave [of infections]. Offline social interactions have perhaps been taken for granted. In a post-pandemic world, I think we'll be more appreciative of them. Can Adecco and other recruiters recover from the pandemic?
There have been lots of disruptions and changes but people have proved adaptable and flexible. Now social restrictions have been lifted, mental health has to be taken in consideration. We are confident the industry will recover from this, and we can begin to address people's mental well-being once our customers are fully operational.What is your motivation for staying positive?
Hong Kong people are very resilient. Like many companies, we have a continuity plan in place so we've been able to continue operating and keep staff safe as our employees continue to work with clients. We need to be able to adapt to a new way of working and keep evolving. What recruitment trends do you predict for 2021?
Moving into next year, technology will be the main influence, and we'll be using it much more than in the past. The types of skills we'll need from workers will also change. People will upskill and perhaps be deployed to different areas. How will the pandemic change people's approach to work?
Employees will be looking for companies that put people first. They will want to be protected and looked after, not just financially but also in terms of their well-being. As people work in a more virtual way, they will need to adapt to these changes and we expect companies to focus on reskilling and upskilling staff. A wide range of recruiters will attend the HKTDC Education & Careers Expo, organised by the Hong Kong Trade Development Council, in July.

Related link
Adecco