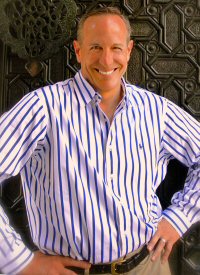 Bangkok-based American architect and hotelier Bill Bensley, Creative Director at Bensley Design Studios, made waves in the hospitality industry with his white paper, Sensible Sustainable Solutions, launched at the Thailand Tourism Forum in Bangkok in January. The paper makes a passionate plea for the hospitality industry to fight climate change, with 20 suggestions for hotel designers, owners and operators covering three core pillars: build with a purpose, think locally and sustainably, and build sensibly."Those of us in hospitality have the power to reach thousands of people through our hotels and spread this message of purpose. We should shoulder more responsibility concerning issues such as education, clean accessible water, energy consumption, food waste and wildlife conservation," he said. Planned projects include turning the traditional concept of a zoo on its head with a hotel in Wuchuan, western Guangdong, where the guests will be in luxurious cages while animals roam free in a park.What inspired you to write the paper?
As an architect that has built more than 200 sensibly sustainable hotels, I've had to work with dozens of hotel building standards. These documents, produced individually by more than 300 major hotel companies globally, can be hundreds of pages long. I re-read the dozens of building standards stacked in my office and realised that none had anything to do with sustainability. So I feverishly wrote Sensible Sustainability Solutions, which covers topics such as cross-ventilation and utilising natural light. It speaks on how to operate a more sustainable hotel without costing more money. It also addresses my belief that no new hotel should be built without having a social purpose. Hilton, Accor Thailand and Shinta Mani hotels, which I co-own, have already added the white paper to their building standards. Some hospitality schools have made the paper mandatory reading. What is the most significant barrier to sustainability for hoteliers?
As a hotel owner, I understand that this industry is 99%-plus about making money. The perception of sustainability in the hospitality industry right now is that it will cut into profits. So why do it? My suggestions speak on ways to save and make money sustainably, as we have, so hopefully this will give the paper more legs.

In the paper, you assert that luxury is dead. Do you think that many people feel the same?
I think the hospitality industry understands the idea that we need to provide more than just a good bed of Frette sheets. Guests are looking for experiences and some want to help. We get a huge helping hand from guests at Shinta Mani in Cambodia with our many community hand-up programmes. Many want to learn something new. This is a great way for hotels to make an impression and be more marketable. Why should hotels embrace sustainability, and how have you done it?
After designing more than 200 hotels in the past 37 years I can tell you the hotels of the future that teach, engage with the community and lead the discussions of all of those issues that mankind should be discussing will be the most financially successful. Travellers of the future will make "giving back" more of a standard than an exception.At the Four Seasons, we created farms to grow food and a sanctuary for the elephants that used to roam Bangkok streets in Chiang Rai. It has taught so many about the intelligence of our big friends.At The Siam in Bangkok, many items were upcycled or recycled. And at Shinta Mani Siem Reap, we have a free hotel school, supply wells and run clean water programmes for neighbouring villages. In doing so, the hotel has a clear purpose and place in the community. What role should hotels play in 2020?
We know hotels are where many people gather to socialise, work and learn. All hotels have the potential to be the community centres, village pubs, or the temples of today but too few do so. No new hotel should be built unless it can prove a meaningful purpose, big or small, that can add positively to society. Make hotels the churches of today.
Related link
Bensley