Asia's cultural creativity and innovation have developed vigorously in recent years, with more and more companies using intellectual property (IP) systems to protect IP rights. Multinational companies have also begun to seek greater opportunities by sharing rights to patented technologies – a move that could help to promote economic growth.At the recent Business of IP Asia Forum, organised by the Hong Kong Trade Development Council, experts from across Asia were invited to discuss IP rights developments in different industries. Among the various breakout sessions was one titled "The Future is Here: IP Developments in Asia".
Enhancing competitiveness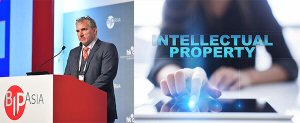 Hosting the forum, Dan Plane – Committee Member of the International Trademark Association (INTA) Anticounterfeiting Asia Committee and Partner at Simone Intellectual Property Services Asia Ltd – pointed out that the recent focus of industry discussions has been on anti-counterfeiting and the influence of Association of Southeast Asian Nations (ASEAN) countries in the global economy.Soh Kar Liang, President of the ASEAN Intellectual Property Association, said that ASEAN member countries Singapore and Malaysia ranked second and 25th in the 2018 Global Competitiveness Report, while ranking second and 24th respectively for IP protection. In the 2019 report, Singapore's global competitiveness status had risen to first place while the city state's protection of IP rights remained in second place, reflecting the direct relationship between the protection of IP rights and global competitiveness.He went on to point out that most enterprises in ASEAN countries were small and medium-sized enterprises (SMEs) and micro-enterprises, which accounted for as much as 90% of jobs in some countries. He said that many ASEAN countries had introduced multinational IP protection laws with the purpose of encouraging SMEs and microenterprises to apply for patents on their IP rights, simplify procedures, reduce application fees, and allow a single application for multinational recognition.
Patent applications soar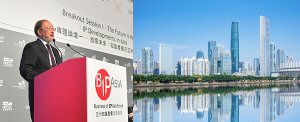 Hirohito Katsunuma, President of the Asian Patent Attorneys Association, said the association currently has about 2,500 members across the continent, including from ASEAN countries, India and Oceania. Data indicated that from 2008 to 2018, about 70% of the world's patent applications came from Asia, with Mainland China accounting for a high proportion of those.There were more than 1.55 million patent applications in the mainland in 2018, against just 300,000 in Japan and Korea. India, meanwhile, has seen a 40% increase in patent applications each year over the past four years, and its potential could not be ignored, Mr Katsunuma said.He explained that the mainland had internet courts in Hangzhou, Beijing and Guangzhou, and was a pioneer of similar courts handling online copyright-related litigation. He added that the mainland had revised its approval provisions. Patent applications on properties as diverse as industrial graphic-design interfaces, game screen displays and backgrounds, as well as algorithm technology have all been accepted. Mr Katsunuma believed the mainland has taken important steps in patent protection.
International technological cooperation grows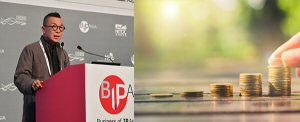 In the past, patented technology was one of the keys to market success for companies, which led firms to keep their IPs to themselves. However, savings on research and development costs and improved returns meant enterprises could achieve greater value by sharing IP, which is why the market is now seeing an increase in the sharing of IP rights across borders and between enterprises, helping to create more opportunities.At the plenary session titled "Future-proof your IP Strategies: Promoting Partnerships and Sustainable Growth", speakers familiar with sharing IP rights were invited to share success stories and analyse the risks and opportunities to help enterprises grasp market trends and drive their businesses further.Keynote speaker Kenny Wong – Chairman of the IP Committee of the Law Society of Hong Kong – said that in recent years, cross-enterprise and multinational innovation and technology cooperation had increased significantly, pointing to the cooperation between Mercedes-Benz and Swatch to launch smart cars, and the joint development of electric vehicles between Tesla and Toyota."The technologies involved in smartphones requires the sharing of patented technology with third-party units, because it can save development time and costs," Mr Wong said. He explained that not every technology is suitable for open sharing, but IP cooperation can bring valuable changes. Innovative technology provided an open platform and brought opportunities for business cooperation between enterprises, he said, adding that it was necessary to carefully review the terms of cooperation, not to rush forward, and think twice about the issues.
Sharing creates value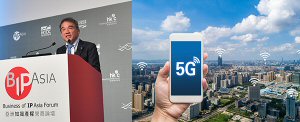 Kenichi Nagasawa, Managing Director and President of the Intellectual Property and Legal Department at Canon, gave his company's IP cooperation as an example of opening up technology to other firms. This cooperation included Nano Imprint Technology and the Free Viewpoint Video System.Mr Nagasawa explained that as technology advanced rapidly, companies rarely developed individual technologies from scratch. Sharing patented technologies with customers or other companies could shorten the development time and was becoming a general trend."In the past, electrical plugs were standardised in Hong Kong and the United Kingdom while Japan followed the American standard," he said. "Then jpeg appeared in the standardisation of image formats, and mp4 for video. On the other hand, since the advent of the Internet in 1995 and the coming of cloud technology in 2006, today's network technology has become a technology infrastructure, comprising the backbone of the company."The next phase will be the sharing of intellectual property technology brought by the Internet of Things (IoT) and artificial intelligence (AI) in different industries driven by 5G technology, which will trigger more technological innovation."Mr Nagasawa said competition among enterprises was the main hindrance to IP rights sharing, but such sharing could bring new business opportunities. Rather than spending huge fees suing companies for infringement, it would be better to establish IP rights cooperation strategies to create value, he said. Cross-enterprise and cross-industry cooperation driven by IP sharing was not limited to the Asian region but was a global phenomenon, he believed.
Open data promotes development

Winnie Yeung, Assistant General Counsel, Corporate, External and Legal Affairs at Microsoft, said the company agreed that open data can bring technological progress and create business opportunities. Strategies are needed to encourage IP sharing while protecting IP rights. For example, she pointed out that AI applications need to read countless images when learning how to analyse them, but the images themselves have copyright.
Therefore, Articles 3 and 4 of the European Union Text and Data Mining regulations state that if the images are used for AI training, then the usage is exempt from copyright terms.She said sharing data could improve privacy protection during the transmission process. For example, when conducting a census, mask data can be used to change the actual data of family members, such as age and family income, and put it into a certain range. This means data on a 35-year-old person with a monthly income of HK$50,000 is recorded as 30 to 40 years old and a monthly income of $40,000 to $60,000, preventing statisticians from breaching personal privacy.She emphasised that Microsoft was open to data IP sharing and would provide platforms and tools to other companies or research and development institutions with the hope of bringing AI applications to everyone.
Related link
BIP Asia