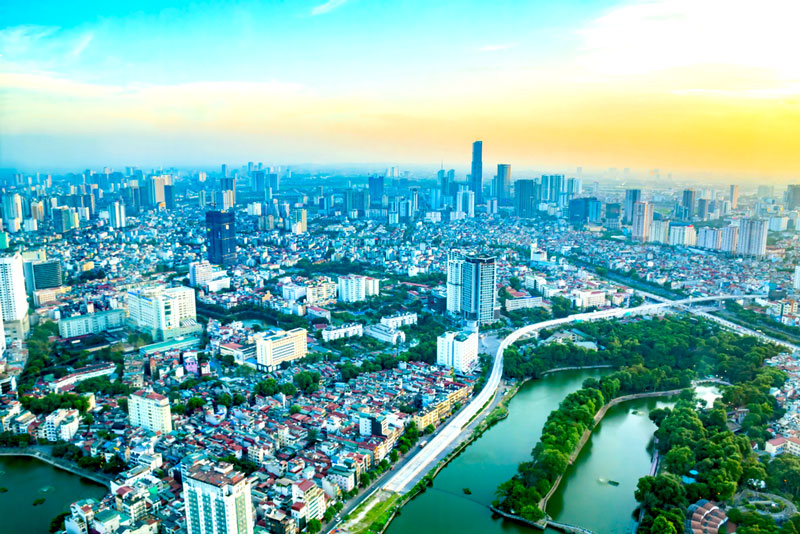 https://hkmb.hktdc.com/en/1X0AK4SW
Northern Vietnam: A Magnet for Foreign Investment
Vietnam has attracted increasing foreign investment for the past decades against a background of trade and investment liberalisation. Up to the end of 2019, total registered investment capital had reached US$363 billion, with 60% being manufacturing investment.
Regional Infrastructure Gap Closing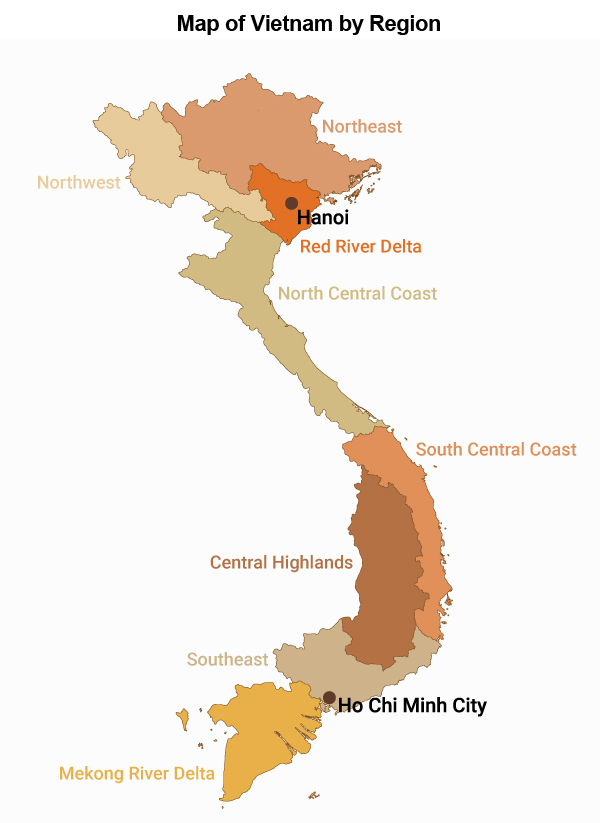 Whilst developing as a manufacturing hub, however, Vietnam has become a victim of its own success, as businesses have started to complain about congested ports and roads, and rising costs for land and labour. The 68 provinces and cities of Vietnam are grouped into eight administrative regions. The Southeast region, consisting of Ho Chi Minh City and five neighbouring provinces, has attracted the most FDI to date. It is the most developed region in the country, but also the most congested.
In order to reduce the congestion and achieve a more balanced growth among different regions, the Vietnamese government has given a massive push to the infrastructure sector. A number of key infrastructure projects in the North have now been completed, with the deep seaport in Hai Phong opening in 2018 and two international airports – Cat Bi and Van Don – commencing operations in 2016 and 2018 respectively. There have also been significant improvements in the region's road network as well as electricity and water provision.
On the Radar of Foreign Investors
These infrastructure investments have been paying off. Lately, the Northern provinces have become more attractive to foreign investors. In 2019, Hanoi attracted US$8.5 billion of investment, surpassing Ho Chi Minh City to become the top FDI province or city, while in terms of cumulative FDI it ranked third behind Ho Chi Minh City and Binh Duong. Another two Northern provinces, Bac Ninh and Hai Phong, were also ranked higher in attracting FDI during 2019, compared with their cumulative investment position by the end of that year.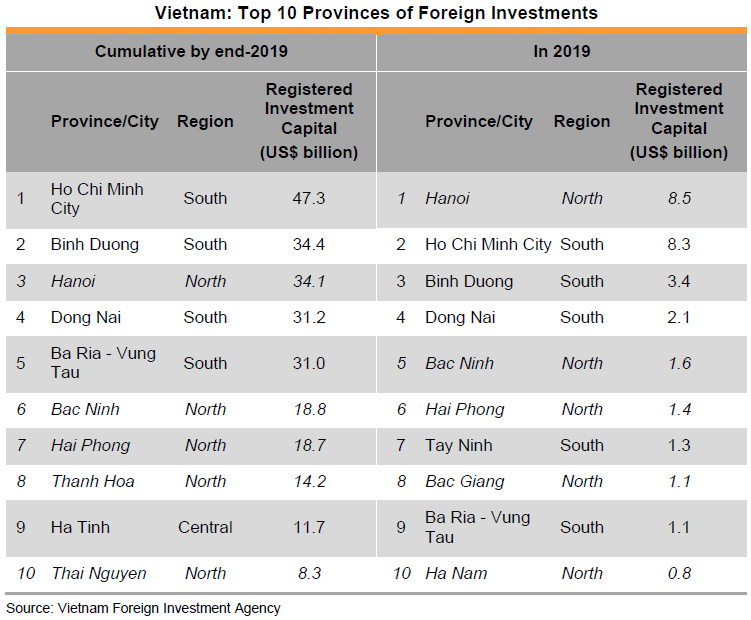 South Korea and Japan have been the dominant investors in Vietnam as a whole. In 2019, Hong Kong ranked as the second largest investor in Vietnam with a registered capital of US$7.9 billion. While this reflects the influx of manufacturing investments from Hong Kong as well as those from Mainland China via Hong Kong for diversification, a major investment from Hong Kong in 2019 was through the acquisition of Hanoi-based beer maker Vietnam Beverage by Beerco Limited, which is a Thai company subsidiary based in Hong Kong.

Electronics Cluster Taking Shape
In Vietnam, Samsung is perhaps the most prominent foreign investor, reportedly exporting goods worth over US$60 billion annually from Vietnam, accounting for one-fourth of the country's total. Its factories in Bac Ninh and Hai Phong produce half of all the cellphones that the Korean giant supplies to the global market. It even owns a cargo terminal at the Cai Bi International Airport and has created over 160,000 jobs nationwide.
Other large electronics manufacturers are also expanding aggressively in the North. LG Electronics set up a major production complex in Hai Phong in 2015 to produce televisions, cell phones, washing machines, air conditioners, etc. Japanese laser printer manufacturer Canon has also invested substantially in Bac Ninh. Foxconn and GoerTek, contract manufacturers for Apple, are reportedly setting up in Northern Vietnam as well.
Amid the prolonged Sino-US trade conflicts and the uncertainty about factory resumption in China created by the Wuhan coronavirus outbreak, it is expected that manufacturers will continue shifting or extending their supply chains from China to other countries including Vietnam. An electronics cluster is taking shape.
As part of the socio-economic development plan, the Vietnamese government has established four Key Economic Regions in the North, Central, South and Mekong Delta respectively. With an aim to better utilise the resources of each region and ensure a balanced regional development, the government offers different incentives in certain geographical locations and specific industries to foster the development of industry in the form of cluster.
The Northern Key Economic Region comprises seven provinces or cities, namely Hanoi, Hai Phong, Quang Ninh, Hung Yen, Hai Duong, Bac Ninh and Vinh Phuc. According to Vietnam Provincial Competitiveness Index 2018 Report, computer, electric and optical products dominate in the Northern Key Economic Region (accounting for 25% of the total). This is followed by machinery and equipment (15%) and fabricated and metal products (12%).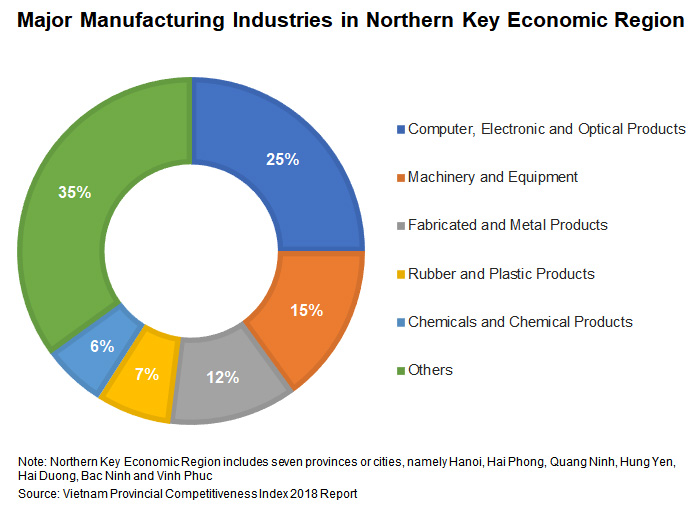 Besides electronics, Vietnam is also strong in textile and garments. In recent years, there has been a growing presence of manufacturers of garments and accessories in Northern Vietnam. For instance, Japanese zipper manufacturer YKK Corporation has set up a production plant of 51,000 sqm in Ha Nam with a total investment of US$60 million. Hong Kong-based TAL Apparel and Regina Miracles have also set up garment factories in Vinh Phuc and Hai Phong respectively.
With its proximity to China, Northern Vietnam is particularly suitable for industries that need supplies of raw materials, parts and components from the Southern part of China. However, as low cost is no longer the most competitive factor for Vietnam (although wages in Vietnam are still substantially lower than China), the region may seem less attractive to labour intensive industries.
Electronics & Electrical Appliances
Viet Nam
Southeast Asia
ASEAN