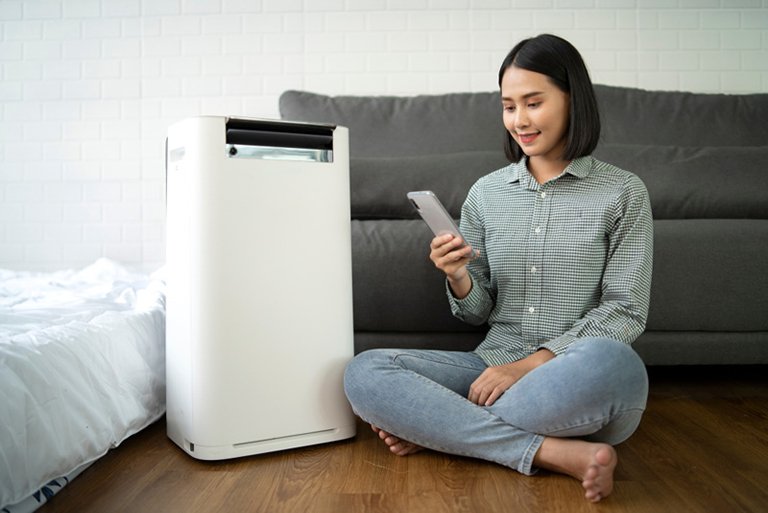 https://hkmb.hktdc.com/en/1X0AJYQG
The Philippines' Housewares and Home Appliances Market: Purchasing Patterns and Entry Strategies
Rapid urbanisation and rising consumer affluence have been driving the demand for household products in the Philippines. Thanks to the strong inflow of remittances and steady economic growth supporting consumption, the growth in retail sales of housewares and home appliances has accelerated in recent years. Given the country's 100 million-plus population and substantial unmet market demand, the growth prospects for housewares and home appliances are robust. In view of the rising export potential in the Philippines, the HKTDC has commissioned Euromonitor to conduct a study on the consumer market opportunities in six ASEAN countries. This article presents the key findings on the houseware and home appliances market in the Philippines.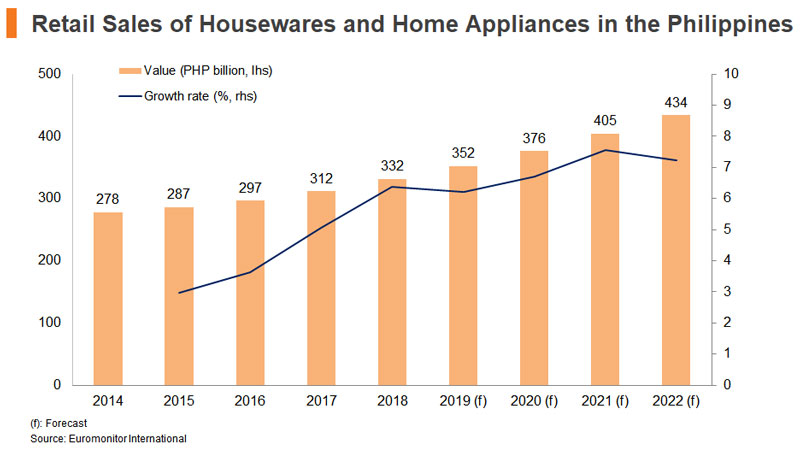 Modern Lifestyles Create Demand for Innovative Home Appliances
In the Philippines, the market penetration of small home appliances, such as coffee machines and food processors, is relatively low. This offers great potential for foreign brands targeting the mid-end or premium markets. In recent years, the rising purchasing power among Filippino consumers has boosted sales of home appliances with premium features, such as side-by-side or French door refrigerators, split-type air conditioners and large cooking appliances. For example, Samsung caters to different market segments by offering standard double door refrigerators for the mass market at around PHP20,000 (US$390), as well as side-by-side door refrigerators with energy-saving functions that sell for over PHP100,000 (US$1,970) targeting the upper class market. Furthermore, as more young urban families with busy lifestyles are living in smaller homes, there is a growing demand for compact and multipurpose appliances. Some non-essential appliances, such as hair styling tools, portable air conditioners and mini fans, are also popular. Hong Kong exporters may find good opportunities by introducing new products to the existing small home appliances market in the Philippines.
Case Study 1: Strategies for Selling Innovative and Premium Products
American Technologies Inc (ATI), a Filippino distributor of electronic gadgets and appliances, is the exclusive distributor of a Korean slow juicer brand Hurom. The brand was introduced by ATI to the Philippines in 2012. The juicer uses Slow Squeeze Technology that squeezes ingredients slowly at high pressure to preserve their natural flavours and keep their nutrients intact. As Hurom slow juicers are more expensive than traditional juicers in the local market, ATI found a niche market for Hurom's products and targets health-conscious consumers who are willing to pay a premium for the new technology. ATI distributes Hurom through upscale retailers including Rustan's, S&R and Landmark.
To provide more details about Hurom's product features, ATI maintains a website where products can be purchased with free delivery nationwide. In addition, ATI has organised roadshows and participated in key food expos, such as World Food Expo Philippines (WOFEX), where Hurom is also marketed to the commercial buyers, including hotels and restaurants. To create buzz for the brand, ATI leverages its website and social media for marketing. Apart from promotional content, customer reviews are available to attract potential customers. The company also frequently posts online videos and recipes that can be made using Hurom products, highlighting options other than juice, such as smoothie bowls and baby food.
Preference for In-store Shopping Experience
When buying housewares and home appliances, Filippino consumers prefer to try out the products before making their purchase decisions. Consequently, they tend to seek assistance from in-store salespeople in choosing the brands and models that best suit their needs. Filipinos also like to arrange delivery of big-ticket items directly from the store. At present, specialist retailers are the dominant distribution channel for housewares and home appliances. Hong Kong suppliers planning to enter the Philippines market can partner with local retailers or distributors and leverage on their sales network.
Examples of Major Home Appliances Distributors in the Philippines
Abenson Ventures Inc
Founded in 1970, Abenson Ventures is a key distributor of electronics, houseware and home appliances, with over 100 retail stores across the country. The company maintains an online shop which offers a wide range of international and domestic brands. Apart from its retail business, it also sells to corporate customers.
Concepcion Industrial Corporation (CIC)
CIC is a leading supplier of air conditioning equipment and refrigerators in the Philippines. Through its subsidiaries, the company also engages in manufacturing, sales, distribution, installation and delivery services. CIC is active in forging partnerships with foreign brands, such as Carrier, Toshiba and Midea for sales and distribution in the Philippines.
On the other hand, establishing showrooms is a good promotion channel for premium brands which target high income consumers. For example, Gorenje, a Slovenian kitchen appliances manufacturer, has opened its flagship showroom in the Philippines to promote its stylish kitchen appliances, such as refrigerators, dishwashers and ovens. An Italian home appliance manufacturer, SMEG, has launched showrooms in Makati and Cebu, showcasing its designer collections of built-in and free-standing kitchen appliances. These showrooms highlight the growing importance of immersive shopping experiences, in which consumers can get to know more about the unique designs and latest models of a new brand. Nevertheless, it is becoming usual for Filipino consumers to visit brick-and-mortar stores to experience a product but then purchase online through third-party shopping platforms, like Lazada, which frequently offer discounts for a wide range of brands.
Case Study 2: Creating Brand Awareness through Social Media
Social media is a cost-effective way for marketing home appliance products in the Philippines. Today, it is typical for brands to use Facebook and Instagram to raise product awareness and communicate with their target consumers. Launched in 2010, the Canadian brand of multi-functional cooker Instant Pot specialises in programmable cookers that incorporate several functions, including pressure cooker, slow cooker, rice cooker, yoghurt maker, sauté/searing pan and steamer. The appliance first gained traction in the US with strong sales on Amazon and positive user reviews. In the Philippines, the demand for Instant Pot is most notable among working professionals with busy lifestyles and increased health-awareness.
Initially, customers bought the product when they travelled overseas, or ordered online from overseas suppliers. Sensing an opportunity for the product in the country, the brand tested the market in the Philippines in 2018 by offering online pre-orders which required a minimum number of orders for an official launch. During the pre-order phase, customers could purchase the product at a cheaper introductory price. After the official launch in June 2019, customers can order directly through the official website with several payment options, including bank transfers and cash-on-delivery. The company also partnered with Coleman, an outdoor gear retailer, to sell its products, gaining exposure to customers who prefer to shop in bricks-and-mortar stores.
To reach out to its target market before the official launch, Instant Pot created an official Philippine website, along with social media accounts, such as Facebook, Instagram and YouTube, where recipes and cooking videos were posted, highlighting that the product would soon be launching in the Philippines. The company partnered with influencers and bloggers in order to increase its reach. For example, it has partnered with Louisa Mercado who runs the site artofbeingamom.com. This influencer posts recipes that are attractive to Filipino mothers and promotes Instant Pot by describing how much easier cooking has been with the use of the multicooker.
Household Products
Electronics & Electrical Appliances
Philippines
Southeast Asia