Everywhere you looked at Medica 2019, the huge medical trade fair held in Düsseldorf, Germany, people were staring at hand-held devices. It wasn't simply a case of attendees updating their Instagram feeds or checking the Medica app on their smartphones, however. As the show proved, hand-held terminals are being developed for use in everything from infrared brain scans to testing blood-glucose levels and examining patients' retinas. The Internet of Things (IoT), the arrival of 5G, artificial intelligence (AI) and big data are driving a hand-held boom as technology gets smaller, smarter and closer to the patient.Nadia Tsao, one of the presenters at the show's Innovation Forum on the opening day, said she was well aware of the openings this was presenting. "The ubiquity of mobile phones as well as miniaturised and flexible electronics means there's now a huge opportunity in the intersection of electronics and healthcare," she said.
Ms Tsao is a consultant on emerging technologies in the medical industries with IdTechEx, a company with premises in Boston in the United States, Cambridge in the United Kingdom, and Tokyo. She forecasts a bright future for artificial body parts – bionic eyes, intelligent implants and exoskeletons – and the use of 3D-printing techniques for their manufacture.
Digitally printed bodies
Some of the current medical applications of 3D printing were being demonstrated by Stratasys, a company based in Eden Prairie, Minnesota. Yet according to its Product Manager Ben Klein, the possibilities go much further. "We call this additive manufacturing – where we build up a structure – whereas traditional subtractive manufacturing starts with the tooling and so has high start-up costs," he explained. "We have two manufacturing techniques, one called FDM, which uses thermoplastics, such as polycarbonates, for hard, long-lasting parts, and most commonly has applications in the automobile and aerospace industries. The second is Polyjet, which allows us to use materials that are more like tissue. This is inkjet-based and allows us to build up multi-coloured visual models – all under digital control."These textured, coloured models are being used for medical-device training, and for surgical training – students can practice on realistic models with the feel of the real thing. But in some cases, we are moving towards materials and models that can be used for pre-clinical testing by those who are developing medical devices."Mr Klein demonstrated a model of the arteries and veins around the brain, which is being used to train surgeons on the extraction of blood clots. "To create a model like this using silicone would cost three times as much," he said.A similarly advanced piece of technology on show was a robotic exoskeleton from Ekso Bionics, which has a presence in Hamburg, Germany and Richmond, California. Designed to help patients learn to walk again, the exoskeleton provides much more than simple assistance.Company Representative Hannes Fischer explained that the EksoNR can provide complete motor-assisted walking, with either the physiotherapist or the patient initiating each step. "But if the patient has some muscle function, the sensors detect this and allow the patient to use their own muscle strength. The sensors function in real time so that the motor assistance can vary from zero to 100%. Both halves of the body are monitored and can function independently." The software also helps with training exercises such as bending and lifting, before the first steps are taken.
Monitoring in miniature
The trend of miniaturisation and moving testing closer to patients was demonstrated by more than 40 companies promoting "wearable technologies". These included wristbands and armbands for blood pressure and fertility monitoring, an earpiece to monitor five variables including heart rate and blood pressure, and a ring to detect atrial fibrillation.
Process Engineer Linda van de Peppel of the Holst Research Centre based in Eindhoven, the Netherlands, demonstrated a wireless, hand-sized patch that records an ECG trace and monitors breathing. "Our industrial partners came to us with a question and we have developed a solution," she explained. "The challenge was to create this little circuit and attachment, which is sweat-proof, waterproof and flexible."
The patch has a Bluetooth connection so that monitoring by the doctor or clinician can be carried out remotely. "The patch is designed to monitor patients prior to heart surgery, to see if they are strong enough for the operation and then to continue monitoring them after the surgery," added Dr van de Peppel.
Heart-smart shirt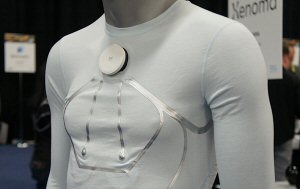 Similar developments are being incorporated into clothing using conductive textile fibres, with Tokyo-based Xenoma demonstrating a shirt that provides continuous ECG monitoring. While it has the look and feel of a normal casual shirt and allows the patient to move freely, it monitors the heart via five electrodes without the need for any cables or external batteries. Other applications of the technology relate to motion sensing, with the shirt fitted with stretch and strain sensors.
Elsewhere, a system from Korea's 1drop demonstrated a similar move towards instant testing through its use of the iPhone to administer rapid health checks. As Marketing Manager Kobong Choi explained, the system uses a back cover that fits on the phone, with a slot for a slide positioned over the camera, which measures a colour change in the reagent. "You put one drop of blood on the biosensor slide, insert it into the holder and within 10 to 15 seconds you see the results on the phone," said Mr Choi."We have tests for cholesterol, as well as glucose, haemoglobin and uric acid, and we envisage many more – we are targeting 23 markers at present," he said. "It comes with two levels of app – one for the home user, to show you the results and enable you to share them with your doctor, and one for a professional user, that allows them to collect and record data from many patients. We see this as directed mainly at professional use – in clinics, for visiting doctors, and also perhaps on hospital rounds."The company, which is seeking distributors, has adaptor kits for various Apple iPhones and Samsung Galaxy models. Mr Choi said solutions would also be developed for other smartphones within months if there was sufficient demand."Another very exciting development we have – I would even say unique – is a PCR kit for leukaemia, which can detect down to a single RNA copy," he added. "In terms of post-treatment monitoring, with this you can really be sure that a patient is leukaemia-free with a negative reading. Other kits only detect down to three or four RNA copies."
DNA profiling on the road
Even genetic sequencing is becoming smaller, with Shenzhen MGI Tech Co Ltd, a subsidiary of the BGI Group (formerly Beijing Genomic Institute), displaying the world's first portable sequencer.Marketing Manager Erin Zhang explained how the business has grown from its beginnings in pure research to one of the three world leaders in genetic sequencing. "The research institute was founded in 1999 and in the early 2000s we were racing to publish our sequencing. We were the first to sequence the rice genome, and then in 2008 we presented the first Asian human genome; previously there was only Caucasian data. In 2011, we won approval to set up the China National Gene Bank, which of course is government-owned, but which we manage."Shortly after this the company moved from research into the commercial world. "We were doing our sequencing on US machines, but they were very large and we thought we could do better," said Mr Zhang. "So, in 2013 we bought the US company Complete Genomics. Two years later we launched our first sequencer, the BGISEQ 500. But it was with the launch of the T7 [in 2018] that we became globally competitive. This was the highest throughput machine in the world and can sequence 60 wgs – whole genome sequences – in a day."The latest commercial sequencer, launched the month before Medica, is a move in an entirely new direction. "This DNBSEQ E series is really very different. It's not just small, it's robust – so it doesn't have to sit in a lab or a clean room – and it's easy to use and maintain," said Mr Zhang. "There are other small sequencers available, but nothing that can compete with our machine at this accuracy level."The sequencer is the size of a small laser printer and is paired with the similarly sized modular "digital biolab" DNBelab D. The two can be used together or independently."We can envisage it being used in clinics or in a hospital setting where space is tight, and also for forensics," said Mr Zhang. "For example, it could be carried to a crime or autopsy site. But eventually, I can see people using this at home – instead of visiting a doctor, they could quickly run a saliva sample."Elsewhere at the show, the many small innovations that make such developments possible were also on display. The two halls of the exhibition dedicated to high-technology solutions were filled with manufacturers offering motors, pumps, precision parts, tubing, fluid control, machinable ceramics, batteries, robots, biophotonics, injection moulding, silicones and polymers – all the component parts and materials that go into analysers and sequencers.As components and monitors get smaller, Medica keeps getting bigger. This year it hosted 5,500 exhibitors, more than 4,000 of them from outside Germany, and the visitor profile was similarly diverse. Nevertheless, the organisers are adding to their existing portfolio of six fairs around the world with a new event – Medica Brazil – launching in May 2020.The 2019 edition of Medica Düsseldorf took place from 18-21 November 2019 at the Messe Düsseldorf.
Related link
HKTDC Research