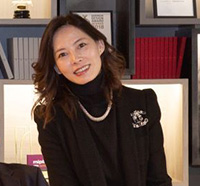 Five years after its inception in 2014, Lead8 has jumped from a start-up with a staff of eight and a single office to a company employing more than 200 people. With its network of studios in Hong Kong, Singapore, Kuala Lumpur and London and a portfolio of work covering 40 cities, Lead8 epitomises the can-do spirit of its home city – Hong Kong. Christine Hau, Co-founder and Executive Director, believes the collective strengths and experience of the founders – Chris Lohan, Claude Touikan, David Buffonge, John Denton, Meeta Patel and Simon Chua, whose expertise spans master planning, architecture, interior design, graphics and branding – have helped the firm build a reputation as a respected international design brand.
Transit-oriented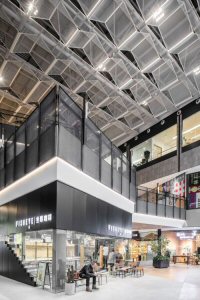 "With this as our platform, we have built relationships and an award-winning portfolio with leading property developers, owners and operators, creating and innovating together to push the boundaries of our projects," Ms Hau said."Lead8 is known as an expert in retail, mixed-use and transit-oriented development design and we have grown organically within the industry as these sectors have evolved and created new opportunities," she continued.One example she gives is the shift within the aviation sector, as owners and operators seek to extract more value from their properties through commercial and experiential opportunities. "More than 60% of revenue for airport operators comes from the commercial leasing of retail, office and advertising, so they are now looking to experienced designers to bring this expertise into airport and terminal developments," Ms Hau said.As the boundaries between sectors blur, Ms Hau explained that Lead8's expertise has been taken into new areas.Over the past 12 months, the firm has spearheaded the design of two high-end retail developments for the popular MixC brand, which is fast gaining industry recognition. The 80,000-square-metre MixC Shenzhen Bay mall in southern Mainland China followed its opening with awards from the International Council of Shopping Centers, MIPIM Asia and A&D China, while MixC Jinan, launched in September, has been welcomed as a new destination for more than 500 brands in that city. One of Lead8's most high-profile collaborations, due to be completed this year[CLK(1], is the Beijing Daxing International Airport Commercial Landside Terminal. As lead designer, the firm was tasked with delivering new thinking for the commercial terminal at the next-generation airport city. The scheme will feature a new breed of airport-based workplaces with integrated retail, dining and entertainment to capture the interest of the anticipated 100 million annual passengers at Beijing's new air hub. Cementing its name in the aviation field, Lead8 is further expanding its presence with the SkyCity project at Hong Kong International Airport (main picture). Scheduled to open in phases from 2023, the 350,000-square-metre development is set to drive the future growth of the Guangdong-Hong Kong-Macao Greater Bay Area with a design that includes not only a retail destination but a major integrated development offering first-to-market, state-of-the-art experiences. Ms Hau describes SkyCity as "a great example of how expertise for different sectors is coming together to deliver cutting-edge destinations".
Fast-growing sector
"Not so long ago, aviation developments were seen as mainly transport hubs," she said. "Today, we are seeing them transform into much more. Air travel presents huge opportunities for owners and operators of airport developments to capture the interest of an increasing cohort of passengers, visitors and their own airport communities. As such, you are seeing the aviation sector call upon expertise from designers like Lead8 who know how to create destinations which engage with visitors, are commercially successful and deliver an experience."For the Hong Kong-based Shangri-La Group, Lead8 is transforming the existing Fuzhou Shangri-La from a high-end hotel into a mixed-use urban resort in the southern mainland city of Fuzhou. The project, due to open in 2022, converts the property into a transport-oriented, multi-dimensional development with an emphasis on the wider community, featuring public green spaces and a broad mix of uses. Similarly, Lead8 announced its appointment this year to work on the One Bangkok project, a highly anticipated future development that will deliver 1.83 million square metres of integrated mixed-use development on a 16-hectare site in the heart of Bangkok. As Thailand's largest integrated development, and its first LEED Neighbourhood Platinum development, the scheme is expected to accommodate up to 200,000 people per day following its completion in 2026. Lead8 is working with a local and international consortium to complete the multi-retail component. With the retail industry continuing to push its boundaries, Lead8 has also been engaged by leading developer Hongkong Land to deliver an innovative concept in Chongqing city in the southwestern mainland for a retail development called The Ring. The project will feature one of the largest indoor botanic gardens in the mainland, uniting people with nature in a dynamic and living retail experience.
Talent hotbed
Hong Kong is Lead8's largest studio and a hotbed of talent, Ms Hau said. "The city has always been a dynamic place to live and work and it has for many years been a great talent pool, attracting many people from all over the world. I believe Hong Kong will continue to be a platform for talent, design thinking and a gateway to Asia," she said.The founders also believe culture is a big contributor to why Lead8 has been so successful. "In our company, we see success as fostering leadership and collaboration – giving the opportunity for our teams to grow both personally and professionally," Ms Hau said."Our commitment to Corporate Social Responsibility and being known as not only great architects and designers, but also model corporate citizens, is also a true passion of our team – and an important ethos. Our CSR philosophy is to contribute to design through education and thought leadership, creating ideas for the built environment and a pathway for a better community for the next generation of architects and designers."
Related link
Lead8