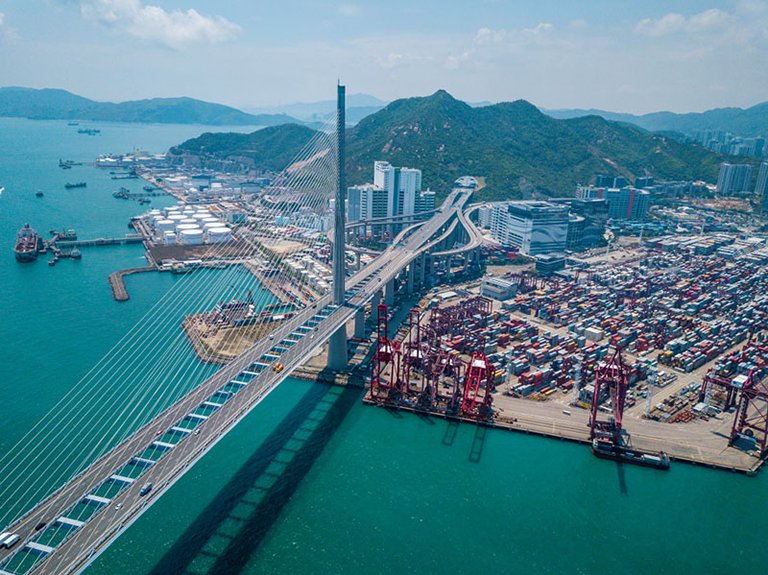 https://hkmb.hktdc.com/en/1X0AJGM2
Hong Kong Export Outlook For 2020: Strong Downside Risks as Protectionism Proliferates and the Global Economy Slows
The slowdown in the global economy and the proliferation of protectionism could see the level of Hong Kong's exports decline still further in 2020. Despite the more accommodating monetary conditions prevailing in the major economies and intermittent signs of easing Sino-US trade tension, the upcoming elections in the US and the spread of protectionism into broader economic and geopolitical arenas suggest there will be no complete resolution to the Sino-US dispute – nor in a number of other trade-related confrontations – and an increased likelihood of a deep and protracted global slowdown.
As indicated by the latest HKTDC Export Index (conducted in mid-November), Hong Kong exporters have become more pessimistic across all the major industry sectors and markets. At 18.8, the Index hit a record low – with the figure 3.5 points under the previous all-time low of 22.3 (recorded in 4Q08 at the height of the global financial crisis). The survey also indicated that 65% of Hong Kong exporters anticipate a drop in their total sales in the coming year, while the softening of global demand (cited by 37% of respondents) has overtaken Sino-US trade tensions (32%) as the primary concern over the near-term.
On the whole, Hong Kong exports are under unprecedented pressure, largely on account of operational disruption and the uncertainties arising from trade protectionism and geopolitical frictions. Against this backdrop, the HKTDC Research forecast is that the value of Hong Kong's exports will decline by 2% in 2020.
2019: Dampened Export Performance
Buffeted by sluggish global demand and unsettled by Sino-US trade tension, Hong Kong's export performance can be described, at best, as subdued. In fact, export growth turned negative as of November 2018 and, in the first 10 months of 2019, the city's total exports fell by 5.1% year-on-year.
In the US, the growth in private consumption has remained slow while private investment has been stagnant, with both of these combining to drag down import demand. In the case of the EU, economic growth has been sidelined by the uncertainties caused by US-EU trade disputes and by Brexit, all of which have yet to be fully resolved. In the meantime, the US and China continue to seek a settlement, while weakened external demand has seen the mainland's own economic growth show signs of deceleration. For its part, Japan is expected to remain on a slow growth path, amid an anticipated fall in individual spending in the wake of the consumption tax hike of October this year. By contrast, growth in a number of Asia's other developing economies looks to be maintained, largely thanks to greater regional integration and increased domestic demand.

Despite the phase-one Sino-US trade agreement arrived recently, lingering trade tensions and slackening global demand have already had a significant negative impact on Hong Kong's export performance. Since export growth first turned negative in November 2018, this downturn has only continued. In the first 10 months of 2019, Hong Kong exports fell by 5.1% year-on-year. This drop, however, is not markedly worse than that suffered by a number of the region's other economies. In the first 10 months of 2019, Singapore's exports, for instance, dropped by 6.1%, while those of Japan and South Korea fell by 5.2% and 10.7% respectively.
In terms of export destinations, Hong Kong's trade with the US experienced the most significant drop (13.2%), while its exports to the EU and Mainland China fell by 4.0% and 6.0% respectively. Exports to markets with strong supply chain connections to Sino-US trade, notably Japan (4.5%) and Vietnam (3.8%), also dropped.
Fortunately, those markets not directly caught in the crossfire of the Sino-US trade dispute have been less affected. During the first 10 months of 2019, Hong Kong's exports to Latin America, for example, grew by 3.4%, while its exports to the Middle East increased by 5.7%.

In terms of major industry sectors, electronics exports (which constitute about two-thirds of Hong Kong's total exports), dropped by 5.7% year-on-year in the first 10 months of 2019. Clothing sector exporters – many of which face increased competition from other production centres, particularly those in Southeast Asia – recorded a further decline (10.5%). The export of precious jewellery, however, maintained its momentum from last year with growth of 10.7% – the highest of all the major sectors. Exports of electrical appliances also showed an uptick (5.5%). Timepiece exports dropped slightly (2.0%) but looked healthy compared to the 27.8% collapse in the toy sector.

The Slowing Global Economy
With lingering trade disputes and weakening international demand, it's fair to say the global economy lost momentum in 2019. According to the IMF, the global economy is likely to grow by just 3.0% in 2019, the lowest level since the 2008-09 financial crisis. Although growth is projected to be 3.4% in 2020, any improvement will depend on the rebound of a number of currently underperforming developing economies, which is far from guaranteed.
In the case of the advanced economies, any growth is highly dependent on the performance of the US. Despite being bolstered by high levels of employment and an improvement in business sentiment and investment, it is, however, expected to experience only moderately-paced economic expansion.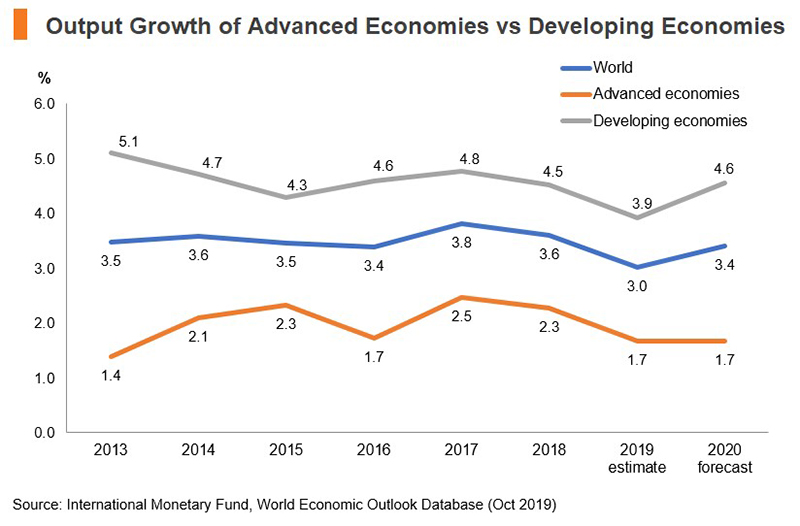 Overall, the US maintained growth of 2.1% in the third quarter of 2019. While the Federal Reserve cut interest rates three times this year, new foreign investment regulations – resulting from a Committee on Foreign Investment in the United States (CFIUS) review and set to go into effect in early 2020 – may hinder international business investment in the US. For the foreseeable future, increasing trade protectionism also looks likely to continue to restrict the growth prospects of the US economy.
The EU economy is expected to falter somewhat on account of the decline in global trade, itself the consequence of a number of ongoing trade disputes, Brexit and the elevated risk of a wider manufacturing slowdown. In particular, the decline in automotive industry production has seen the German economy notably decelerate. More promisingly, France might be on course for heightened economic growth, but only if the government's 2020 budget – which offers the prospect of more than €10 billion of tax cuts – succeeds in stimulating business and household spending. To counter the headwinds and revive the flagging economy, the European Central Bank (ECB) is looking to keep interest rates low, while also (as of November 2019) having restarted its quantitative easing initiative.
In another positive sign, Japan's highly-accommodating financial conditions and record JPY 26 trillion fiscal stimulus package should act to boost domestic demand. This is likely to be further enhanced by the substantial public investment planned to coincide with Tokyo's hosting of the 2020 Olympic Games.
Across the first three quarters of 2019, the Chinese economy maintained overall stability and is expected to meet the government's growth target of 6.0-6.5% for the year. Its weakened export performance, however, is discouraging private investment and there are calls for stronger fiscal and monetary stimulus. This may lead the central bank to ease monetary policy further, most likely by encouraging lending to small and private firms. As part of the central government's strategy for re-balancing the economy, private consumption will remain the principal driver of expansion.
While growth across the ASEAN bloc slowed in 2019, it may rebound moderately in 2020. Private investment is, however, likely to be subdued given the lacklustre export performance of many member nations. Despite this, inflows of foreign direct investment are likely to remain strong, with the Sino-US trade dispute having accelerated moves to relocate manufacturing facilities to within the ASEAN bloc, a development that has also led to an increased flow of capital goods and components. Furthermore, with the Hong Kong-ASEAN Free Trade Agreement having partially come into effect (as of June 2019), this will inevitably enhance Hong Kong's ties with the region. The likely 2020 signing of the Regional Comprehensive Economic Partnership (RCEP) agreement – even without the participation of India – should also boost investor sentiment and trade flows across the region.
A modest region-wide recovery is seeing the economies of Latin America gradually gaining momentum. Although Brazil witnessed a slowdown in 2019, its government's long-awaited pension reforms and more accommodating monetary policy are now expected to inject liquidity and bolster both business confidence and consumer spending. Mexico's economy, meanwhile, experienced meagre growth in 2019. This was due to its uncertain trade relations with the US and the mounting fiscal pressures spurred by the administration of President Lopez Obrador, which has pledged not to raise taxes or to increase the national debt. In a bid to stimulate the economy, the country's central bank cut its benchmark interest rate, a move it hopes will encourage business growth.
The emerging European economies, however, are likely to enjoy sustained economic growth. In particular, the influx of EU structural funds is expected to bolster the infrastructure and social development budgets of several developing European countries. Although renewed fiscal stimuli, stronger consumer spending and rising business confidence are also likely to support growth across the region, Poland and Hungary could come under pressure if their increasing embrace of populist policy measures sees a proportion of their EU-sourced investment withdrawn. On the horizon, meanwhile, the admission of the Western Balkans to the EU – possibly as early as 2025 – could also enhance the region's fiscal and monetary stability.
The economic outlook for the Middle East is seen as somewhat clouded, with the heightened volatility of oil prices, global trade tensions and geopolitical risks all combining to paint a less than reassuring picture. In light of the promise of increased infrastructure investment and economic transformation via a new emphasis on its non-oil sector activities, the UAE, at least, is expected to regain a degree of economic momentum. Two 2020 internationally-oriented events – Dubai's hosting of the World Expo and the G20 Summit in Saudi Arabia – will also act to showcase the region's economic development, whle enhacining the ongoing efforts to attract investment and nurture economic diversification. In addition, Saudi Arabia's Vision 2030 – a strategy that forefronts fundamental economic and social reform, while creating wider opportunities for international business partnerships – could also prove a positive factor in the revitalisation of the Saudi economy.
Risks and Challenges
Overall, protectionism is seen as the biggest threat to Hong Kong's 2020 exports, with high tariffs and lingering uncertainties set to disrupt trade and investment flows, while increasing the risk of a deep and protracted global slowdown. One potential bright spot, however, is that the latest Sino-US trade agreement may deliver at least short-term relief, though there is unlikely to be a complete rescindment of the punitive tariff regime any time soon.
Although the major economies are likely to maintain an accommodating monetary policy in response to slower economic growth, continued geo-political friction could introduce further uncertainty to trade and investment flows. Additionally, within the EU, political developments remain a major concern, with right-wing populists continuing to attract support across the region. This populist landscape is diverse and expanding and already includes France's yellow-vest protest movement, the far-right Alternative for Germany, Italy's anti-establishment Five Star Movement and Spain's far-right Vox party. If unchecked, the growing power of such right-wing populist parties may usher in a period of political and economic instability, which could easily extend across the remainder of the EU.
Hong Kong Exports: Further Decline in 2020
Despite the looser monetary policies likely to be adopted by the major economies and the intermittent progress of the Sino-US trade negotiations, it is highly probable that Hong Kong's export growth will remain under pressure throughout the entirety of 2020. Although the Sino-US trade dispute may be partially settled, the practice of protectionism is likely to prevail and broaden in its application. In order to weather this, Hong Kong exporters need to diversify their markets and production.
Taking all these various global, regional and local factors into consideration, the HKTDC Research forecast for Hong Kong's 2020 exports is a year-on-year contraction of 2%.

This forecast is in line with the latest HKTDC Export Index survey, which saw 58.5% of the participating exporters indicate their expectation that Sino-US trade tensions will have a negative impact on their exports over the near term, a fall from 61.0% in the previous quarter. The survey also found that 65% of exporters anticipated a drop in their total sales in 2020 compared with 2019, while 27% expected no change and only 9% expected an increase.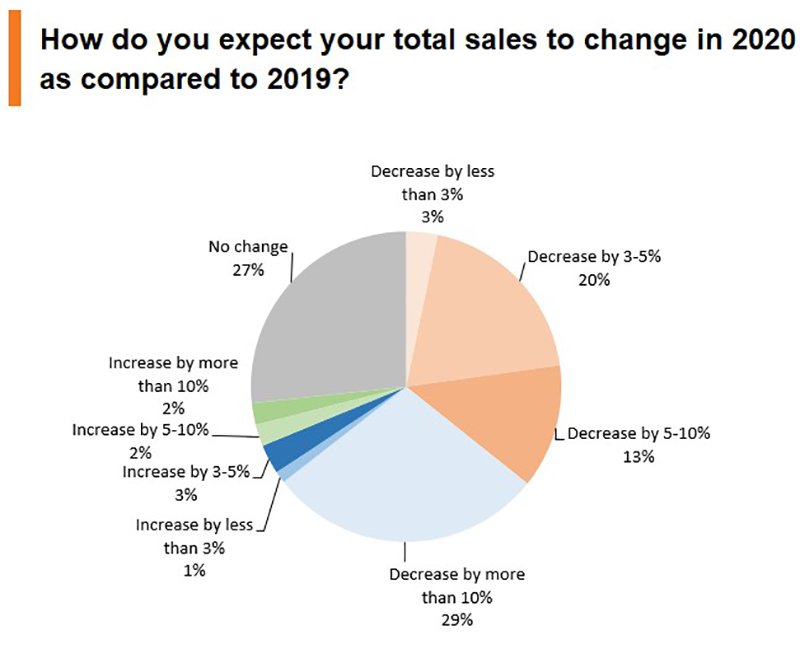 With particular regard to the key industries, traders in the electronics sector – which accounts for two-thirds of Hong Kong's total exports – remain cautious about their prospects over the next 12 months. According to a survey conducted on-site during the course of the 2019 Hong Kong Electronics Fair (Autumn Edition), with the ever-wider utilisation of Internet of Things (IoT) technology set to continue, smart home applications will be the key development area for the next generation of electronic products.
The outlook for clothing exports is also seen as a little gloomy. Inevitably, rising operating costs in mainland China and the continuing re-location of production facilities to South and South-east Asia has led to a fall in Hong Kong's clothing exports. In terms of product categories, casual wear and city wear remain the most popular fashion styles, with casual attire having become more acceptable in an extended range of scenarios.
Hong Kong's toy exports also lost momentum in 2019 and will probably remain on a downward slide over the near-term at least. In terms of more positive indicators, e-sports products and equipment are seen as potential new drivers of Hong Kong's toy exports in the coming year. This is in line with the growing demand for such products expected to be triggered by the Intel World Open, an e-sports tournament set to take place in Tokyo in the run-up to the 2020 Olympic Games.
In the case of the watches and clocks industry, this has been considerably impacted by the ever wider use of smart, digital devices. Smartwatches, many of which have been designed to be compatible with smartphones and other digital devices, will remain the key growth engine for Hong Kong's watch exports. As consumers become increasingly health-conscious, it is also expected that many may seek out smartwatches with sophisticated, built-in fitness tracking functions.
The growth in Hong Kong's jewellery exports remained consistently strong over the course of 2019. Despite gold and silver prices having rallied recently, demand for such jewellery items is likely to be sustained by continuing consumer demand. Among the market segments seen as having the greatest potential are stylish fashion jewellery, designer pieces and wedding / special occasion items.