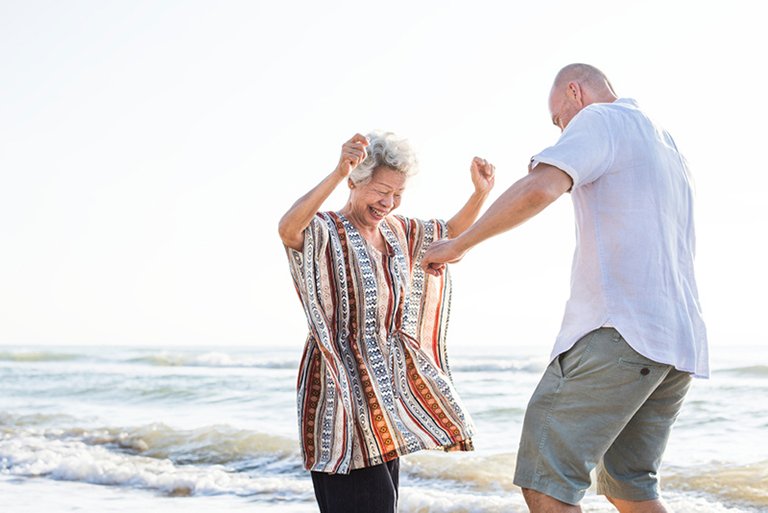 https://hkmb.hktdc.com/en/1X0AJCPB
China's Elderly Market: Servicing Middle-Class Consumers
The new generation of mainland seniors increasingly enjoy going out, which has spurred demand for consumer services. A consumer survey conducted by HKTDC Research [1] discovered that mainland senior demand for leisure and entertainment services, such as dining out, karaoke singing in KTV bars and movie-going, while health improvement activities are also popular. The per-capita expenditure on services consumption by mainland seniors ranges between RMB50 and RMB250.
The survey also discovered a rapid increase in the demand for tourism services among mainland seniors. 80% of the senior respondents said they had paid for their own trips in the past year, with group tours designed for seniors probably attracting older consumers the most.
Consumer Demand of Senior-Specific Services Grows
As income in mainland China increases, new-generation seniors have abandoned fixed patterns of living for a more independent lifestyle. The survey discovered that 90% of senior respondents agreed that they preferred outdoor activities to staying at home. In the focus group discussions some seniors said: "Life in retirement is now rich and colourful. We can join choirs and open-air fitness dancing groups."
With the growing penetration and convenience of instant messaging software, mainland seniors can frequently organise and participate in all kinds of gatherings, spurring the demand for leisure and entertainment services, most of which are paid by seniors themselves. In the past year, nearly all senior respondents had eaten out in restaurants out of their own pockets, averaging 2.55 times a month. 43% and 35% of seniors respectively had gone karaoke singing in KTV bars or gone to cinemas.
Besides going out for gatherings, mainland seniors also use services that can improve ageing conditions. For example, many senior respondents chose physical therapy and massage for pain management, averaging 2.57 times a month. About one-third of seniors had paid for hair treatment courses in salons to improve conditions of greying and hair loss. However, because these treatments usually have fairly long-lasting effects, the frequency of seniors using these services is not that high.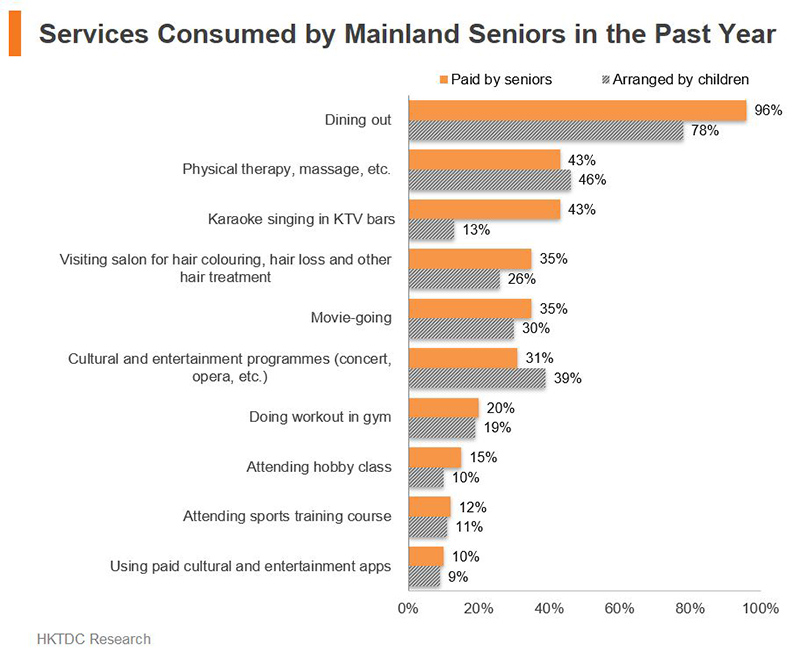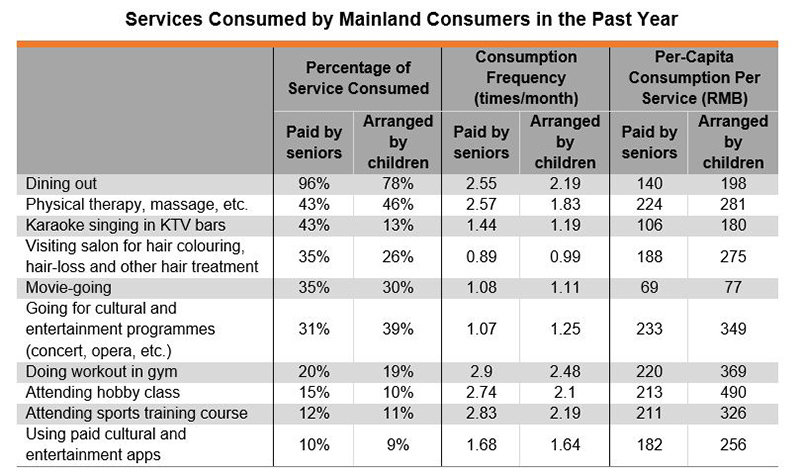 In terms of per-capita spending, children spent more in arranging consumer services for parents than seniors paying for these services themselves. Mainland seniors spent between RMB50 and RMB250 per capita on consumer services. Movie-going is the cheapest, averaging RMB69 per movie. Cultural and entertainment programmes (concert, opera, etc.) are most costly, averaging RMB233 per show. Adult children are willing to spend more on services for their parents, with per-capita expenditure on hobby class reaching RMB490, more than double the amount seniors paid out of their own pockets.
Personal Recommendation Affects Consumers' Decisions
The survey found that mainland consumers mostly obtained information on senior-specific services through personal recommendation, with 85% of seniors and 64% of their children saying that relatives and friends share consumer information with them. Personal recommendation is also the channel that affects mainland consumers most, with 61% of seniors and 41% of their children saying that information shared through WeChat Moments and QQ affects their choice of senior-specific services the most.
For seniors, personal experience is also an important channel for obtaining information on services. 38% of senior respondents said they would visit stores for information relating to senior-specific services. TV commercials, which allow consumers to see the details and selling points of services directly, including the service flow and arrangements, are also a major source of information for seniors.
The younger generation tends to rely more on online channels for information. 61% of adult children said they obtained information on senior-specific services through online service platforms/apps (such as Dianping, Meituan, Ctrip, Qunar, Mafengwo, etc). Another 32% of adult children even pointed out that online platforms/apps affect their choice of senior-specific services the most.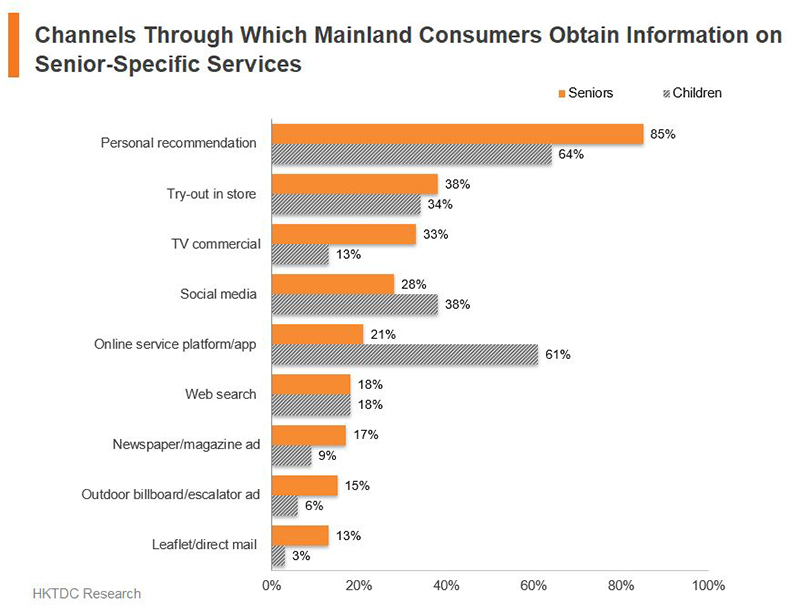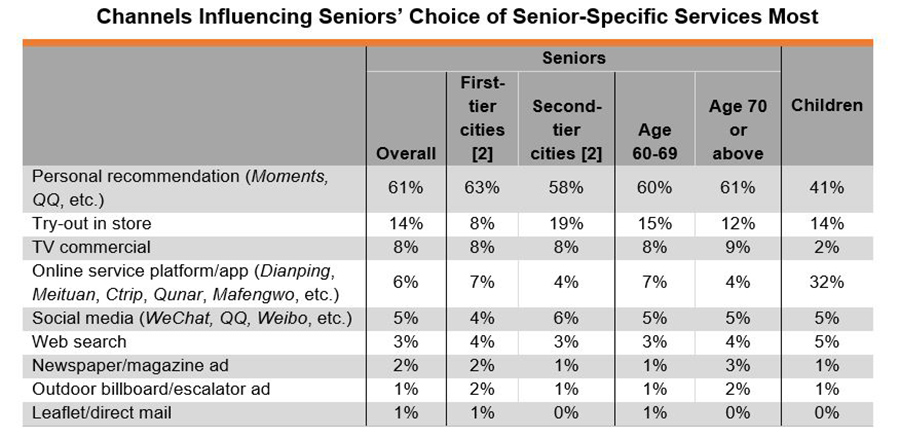 Safety First
Mainland seniors' demand for consumer services soars as their income increases and physical condition improves. About 40% of senior respondents said that enjoying retirement and having a good time is their primary consideration in services consumption. Among the senior respondents, only 14% said they consume services to kill time.
The survey showed that mainland seniors are actively choosing services rather than doing so passively to kill time. Speaking of their consumption of services, some seniors in the focus group discussions emphasised that feeling good is really what matters, saying: "The important thing is to make myself feel good."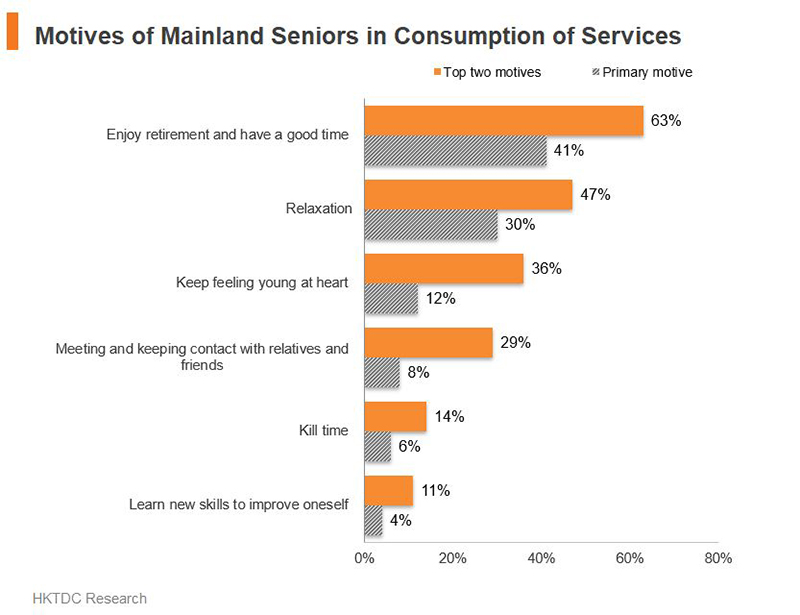 Of the various considerations when choosing senior-specific services, the survey discovered that mainland consumers care about safety most, with 24% of senior respondents and 30% of their children saying that safety is their primary consideration. Consumers are also concerned about whether the services chosen are suitable for seniors, including suitability for their age and physical condition.
Children are particularly concerned about the latter, with close to 60% saying that safety is one of their top three considerations when arranging senior-specific services for elderly parents.
The survey also showed that seniors are more concerned about the price of services than their children. 45% of senior respondents gave price as one of their top three considerations, close to three times more than their children. This is probably because children are less concerned about price than their parents for senior-specific services.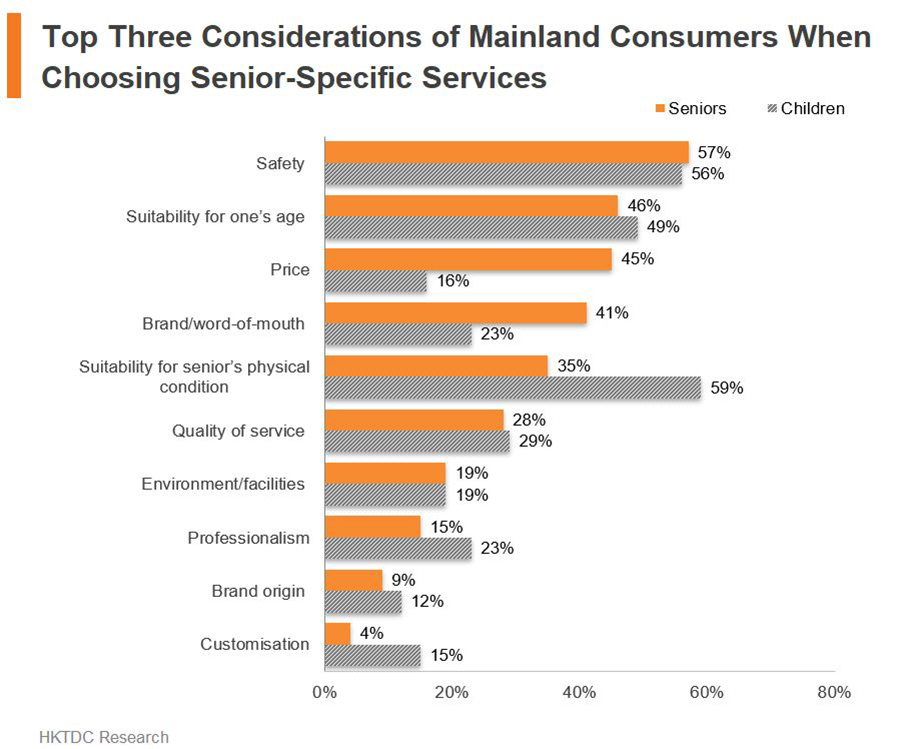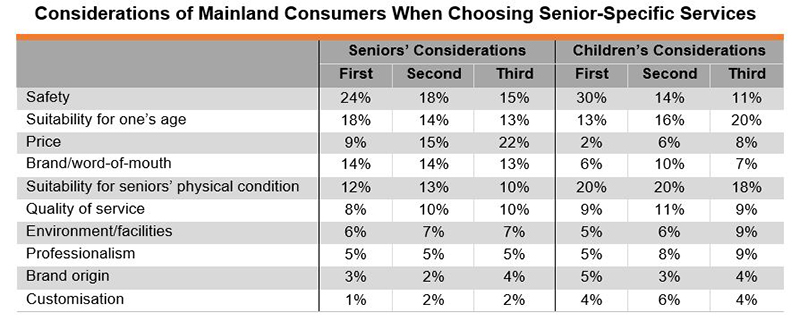 For services claiming to be suitable for seniors, mainland consumers generally recognise their professionalism, with 66% of senior respondents and 59% of their children agreeing that "senior-specific" services are usually more professional and that they are willing to give these a try. However, some seniors worried that using this kind of services would make them look old. Meanwhile, more than half of the respondents said that services claiming to be suitable for seniors are quite rare in the market and that even if "senior-specific services" are available, the choice is rather limited.

New-Generation Seniors "Travel Without Planning"
Apart from everyday services, mainland seniors also increasingly demand travel. As the social environment improves, new-generation seniors enjoy better health than their predecessors. Since their income has also increased, they are better able to travel than ever before. "Travel without planning" has become popular among mainland youth in recent years; seniors also want the fun of sightseeing.
80% of the senior respondents said they have paid for their own trips, while 86% of their children said they have arranged trips for parents in the past year. The survey showed that short trips are particularly favoured by seniors, with close to half (45%) of seniors having joined short domestic tours in the past year. Another 36% have made short domestic trips as independent travellers. In the focus group discussions some seniors said: "Staying out for one night is not too tiring and is very relaxing."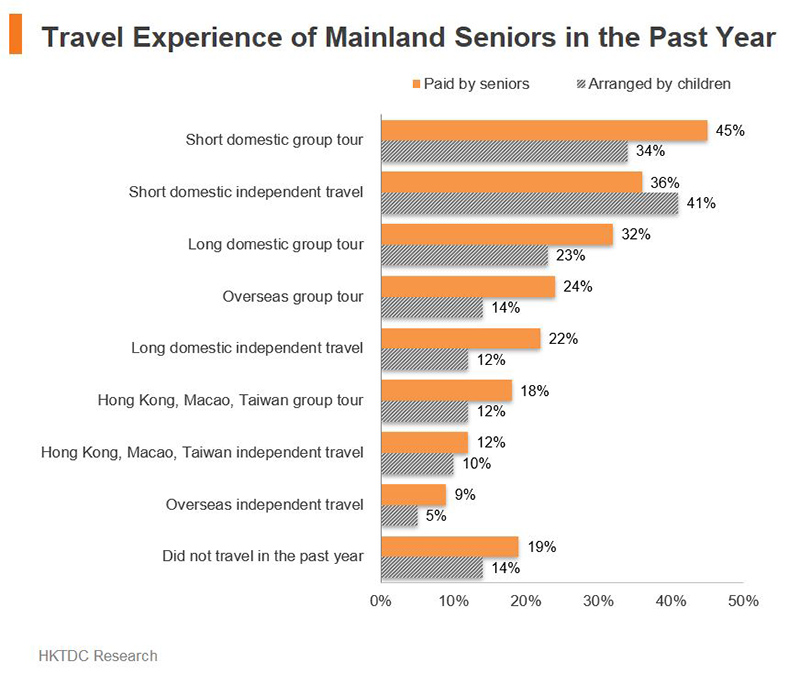 Mainland seniors' love of travel is also reflected in their travel frequency. The frequency of seniors joining short domestic tours (excluding Hong Kong, Macao and Taiwan) is quite high, averaging more than seven trips a year. Children have also arranged five to six short domestic tours for their parents. Since overseas trips involve more long-term travelling, seniors' travel frequency is relatively lower, averaging less than two times a year.
Seniors spent relatively less on short domestic tours, averaging between RMB1,000 and RMB2,000 per trip. Although children tend to spend more arranging tours for parents, expenditure remains at the level of RMB2,000-RMB3,000. A senior respondent spoke of his experience in going for a hot-spring trip in the country, saying: "We have formed a tour group of 10-plus people and each of us only spent around RMB400 on food and accommodation."
Seniors' expenditure on long domestic tours and tours to Hong Kong, Macao and Taiwan is about the same, ranging between RMB4,000 and RMB8,000. Expenditure on overseas trips is highest. Seniors paid an average of RMB14,110 on overseas group tours and as much as RMB19,741 on overseas independent travel.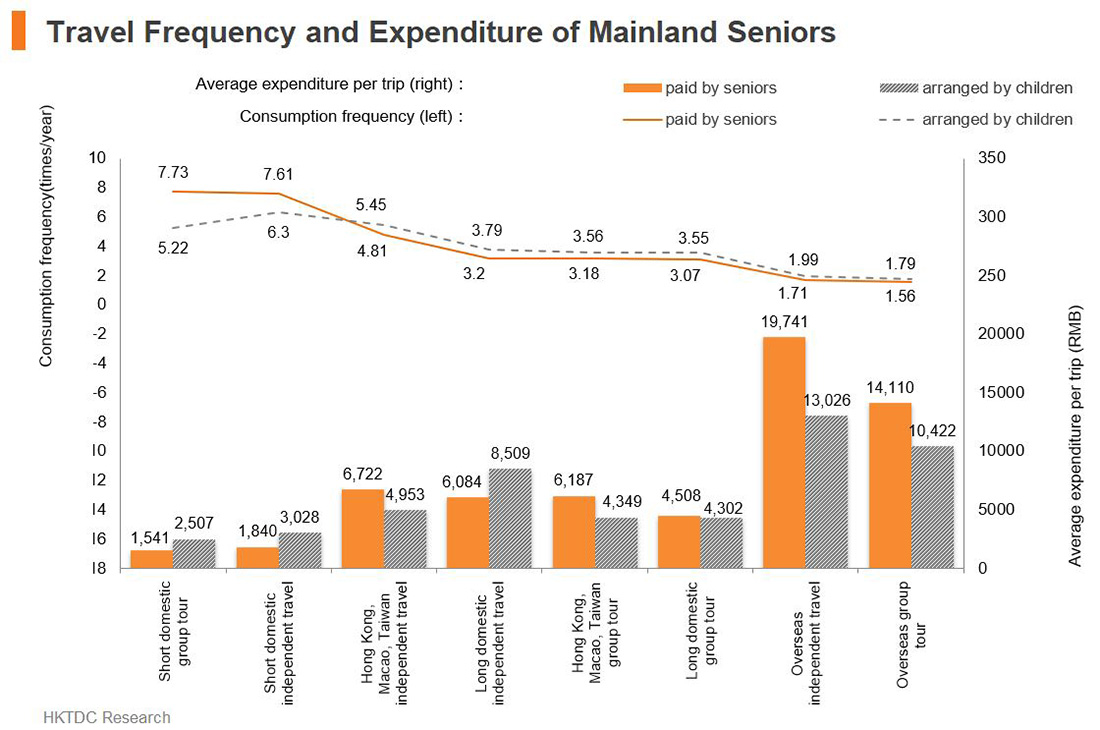 In terms of views towards group tours and independent travel, mainland seniors tend to prefer joining group tours. 76% of senior respondents said the advantage of group tours is that they don't have to bother about making their own arrangements. Seniors also like to travel with relatives and friends as a group. One said: "Once we find enough people, we can form our own group and discuss with tour agents about terms and itinerary."
Children tend to prefer arranging for parents to join group tours for their own peace of mind. However, the itinerary of independent travels is more flexible than group tours. With online booking of hotel and arrangement of itinerary becoming increasingly convenient, independent travel is set to become more and more popular among seniors.
Group tours specifically targeting seniors are now available in the market. Although the survey showed that seniors tend to resist services claiming to be suitable for them, the 'senior tour group' label may be a selling point appealing to seniors. 63% of senior respondents said they actually prefer group tours claiming to have been designed for seniors. Those who have travelled on these tours said: "The itinerary has a slower pace".
Some seniors spoke of their basic demands from group tours, including deluxe coach transport, clean and hygienic hotel rooms and appropriate arrangements for shopping. In other words, mainland seniors have a growing demand for travelling and are paying increasing attention to quality and comfort.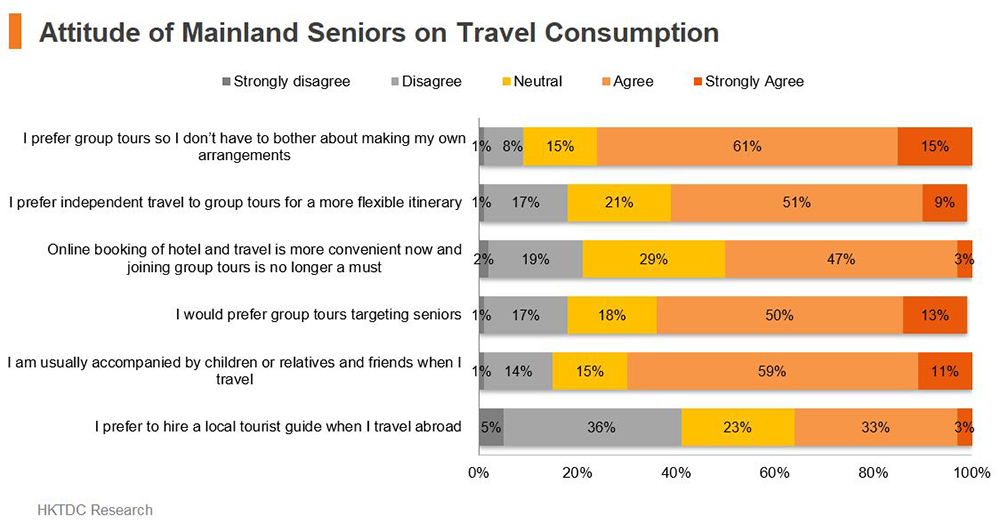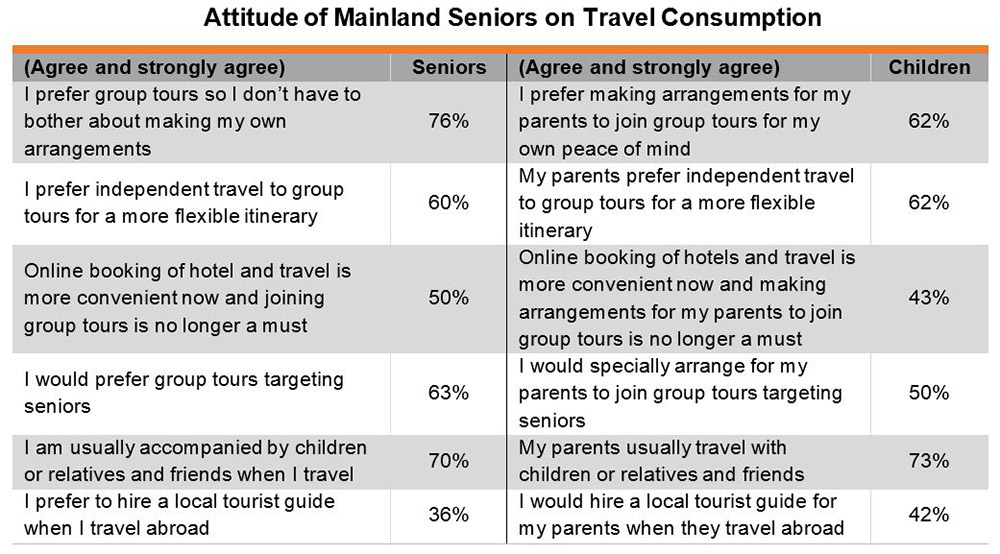 ---
[1] See Appendix for the background to this consumer survey.
[2] "First-tier cities" refer to Beijing, Shanghai and Guangzhou, while "second-tier cities" refer to Chengdu, Wuhan and Shenyang.
Appendix:
1. Methodology
The survey was carried out during May 2019 in six mainland cities. A total of 1,320 consumers were polled by interview and online questionnaire. Before conducting quantitative studies, consumer focus group discussions were held in Shanghai, Guangzhou and Chengdu. The objective of the focus group discussions was to better understand mainland consumers' preferences and attitudes about senior-specific products/services through qualitative analysis.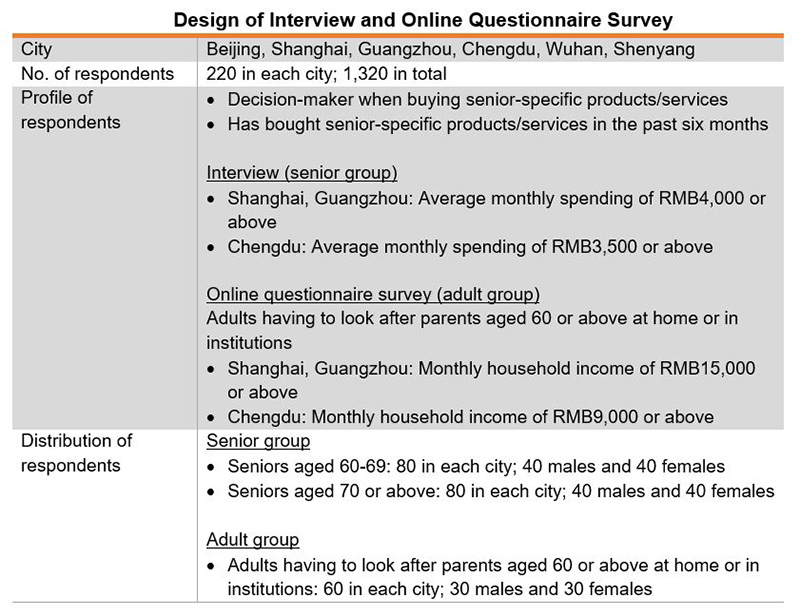 2. Background of Respondents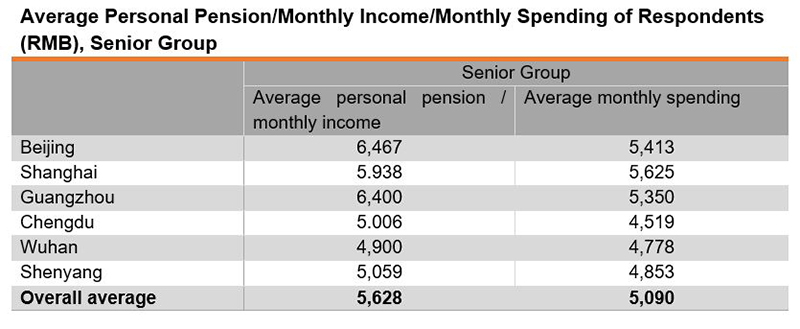 Health & Beauty
Tourism & Hospitality
Medical & Healthcare Services