https://hkmb.hktdc.com/en/1X0AJ954
China's Elderly Market: Middle-Class Product Purchasers
Chinese society is ageing fast and the 'silver' market is expanding rapidly. A consumer survey commissioned recently by HKTDC Research [1] found that mainland consumers are buying senior-specific products ranging in price between several hundred yuan and over RMB1,000. It also discovered that, in general, the unit price of an adult's purchase for their elderly parents is higher than that paid by older consumers buying for themselves. Older people also tend to use fewer shopping channels and rarely shop online. According to the survey too, mainland consumers' main concern when buying senior-specific products is safety. However, products marketed as elderly-friendly do not necessarily be popular with older consumers.
Popular Products
These days, seniors lead a more active social life than previous generations have. The survey found that they have on average 1.83 face-to-face contacts a week with family and friends. Frequent social gatherings make them pay greater attention to their looks. One of the respondents in the focus groups said: "I took a course on dressing up at an elder academy after my retirement." Purchase frequency reflects this desire among older people to improve their appearance. 94% of the senior group respondents said they had bought clothing and accessories (including clothes, shoes and bags) in the past year. 81% of respondents in the group of adults with elderly parents said they had bought clothes for them. One participant in an elderly focus group said that they had hired designers to put together outfits for special occasions.
Healthcare products, including calcium tablets, vitamins and fish oil, are also products frequently bought by seniors who are becoming frailer due to hypertension, osteoporosis, arthralgia and other health issues. They mainly buy healthcare products to prevent illness and manage pain. The adult children of elderly parents mainly buy healthcare products that are intended to help their parents live a longer life. Although elderly people and their children do not see healthcare products in the same light, they all see a need to buy these products. 70% of both senior and younger respondents in the survey said they had bought senior-specific healthcare products in the past year. Many elderly people had also bought smart electronic products, health monitors and sports equipment and goods in the past year.
The survey found that products connected to personal taste and interests were mostly bought by the seniors themselves. For example, 94% of the elderly respondents had purchased clothing and accessories for themselves, while just 81% of the adult children in the survey had bought such products for their parents. For sports equipment and goods, the difference is even greater - 38% of seniors had bought these in the past year, while only 21% of their adult children had purchased them on their parents' behalf. However, when it comes to functional products such as health monitors, rehabilitation and physical therapy products, home safety equipment and assistive devices, the percentage of purchases by adult children for their parents is slightly higher than that of seniors buying for own use.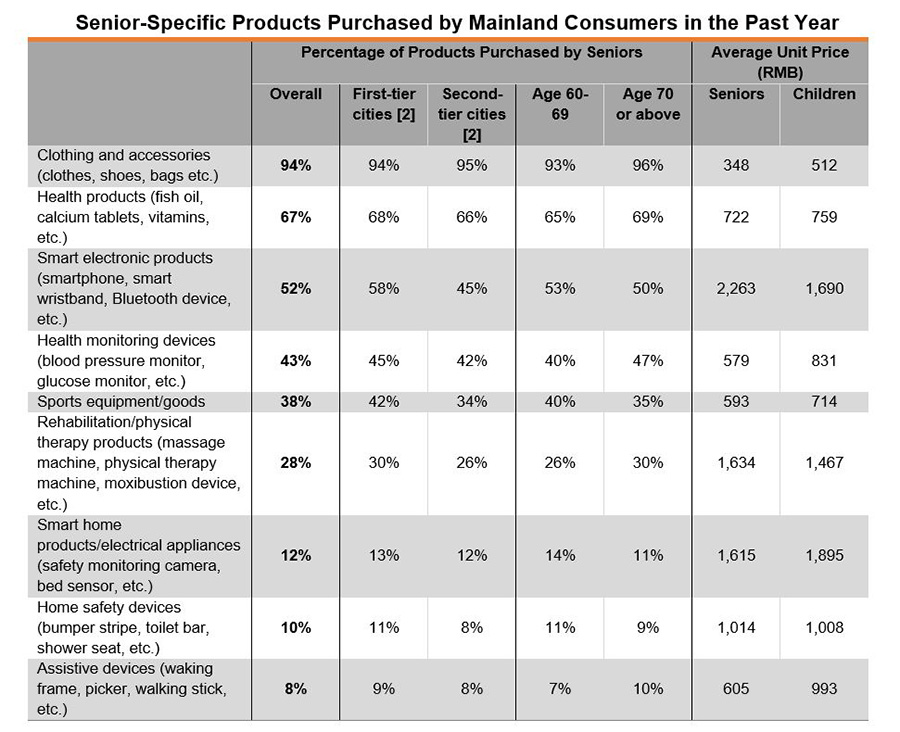 Adult children generally tend to pay higher prices for senior-related products than their parents do. For example, the average unit price paid by adult children on clothing and accessories purchased for their parents is RMB512, while seniors only spent an average RMB348 per item in that category. Adult children also paid several hundred yuan more than their parents did when buying assistive devices, smart home products and health monitors for their parents. This is not the case in all product categories however. Seniors paid RMB2,263 on average for smart electronic products, RMB573 more than their adult children did when buying them for their parents.
Shopping Channels
There are also marked differences between the channels used by seniors and their children to buy these products. Elderly consumers tend to favour a small number of channels and stick to their preference. Hospitals, pharmacies and medical device stores, for example, are the main channels used by seniors to buy health monitors, healthcare products, rehabilitation and physical therapy products and assistive devices. For sporting goods and smart electronic products, they tend to go to multi-brand stores.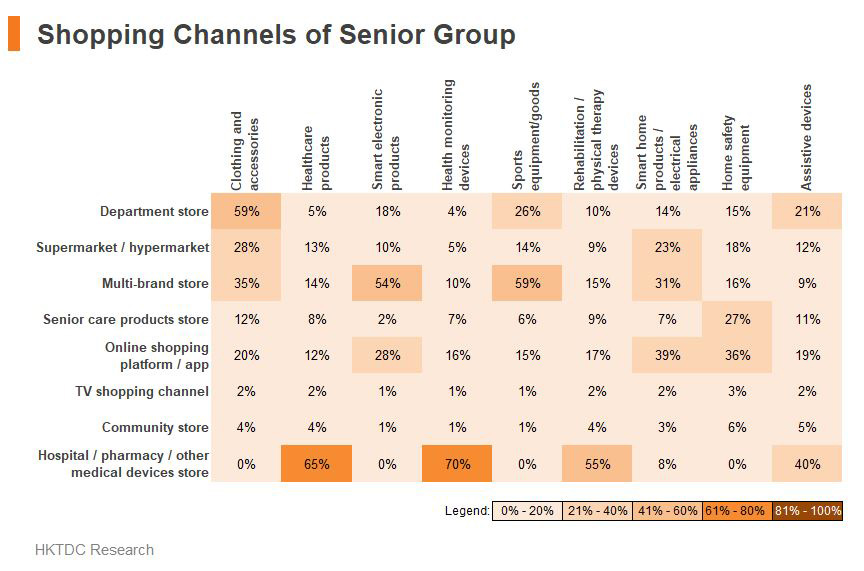 The younger respondents use a more diverse group of channels to purchase senior-specific products for their parents. When it comes to buying healthcare products, for example, 56% said they had purchased healthcare products at hospitals, pharmacies and other medical device stores in the past year, while 44% had done so from online shopping platforms and apps, 28% from multi-brand stores, and 24% from supermarkets and hypermarkets. The younger respondents also prefer to use online shopping platforms and apps to buy a wide range of senior-specific products, including smart home appliances, smart electronic products, home safety equipment, and rehabilitation/physical therapy devices. However, even though adult children use diverse channels to buy senior-specific products, they tend not to use community stores and TV shopping channels. These are not very popular among older consumers either.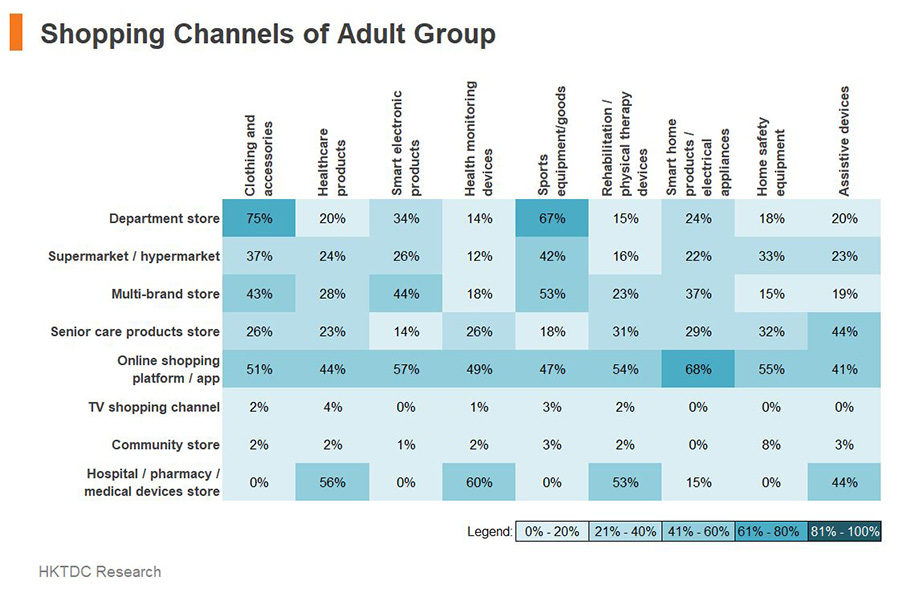 Mainland seniors seldom shop online. The younger generation seems more accustomed to online shopping than their parents are. Seniors prefer going to bricks-and-mortar stores. However, as older people become more active online, new forms of online shopping such as online group discounter Pinduoduo (PDD) have successfully spread among consumers through WeChat and other messaging apps. One senior respondent in one of the focus groups commented: "I hardly ever shopped online in the past mainly because I found it too much hassle, but PDD is very convenient to use." Elderly consumers do not resist online shopping if it is user-friendly and simple, and they can learn about the products through images and videos. Senior consumers also share product information with friends in return for rewards or discounts from stores. It seems that their shopping habits are slowly changing.
Influence from Friends
The main channel through which seniors and their children learn about senior-specific products is word-of-mouth. 80% of the senior respondents and 66% of the adult group said family and friends share product information with them. 50% of the senior group said information shared by family and friends is the biggest influence on their buying decisions. Adult children also depend on online channels when buying senior-specific products for their parents, obtaining product information via online shopping platforms/apps, online service platforms/apps and web searches.
For both groups, product displays and pre-purchase free trials are important factors affecting their buying decisions. However, the more traditional information channels, such as outdoor billboards, newspapers, magazines and leaflets, have virtually no influence at all on either senior or younger consumers.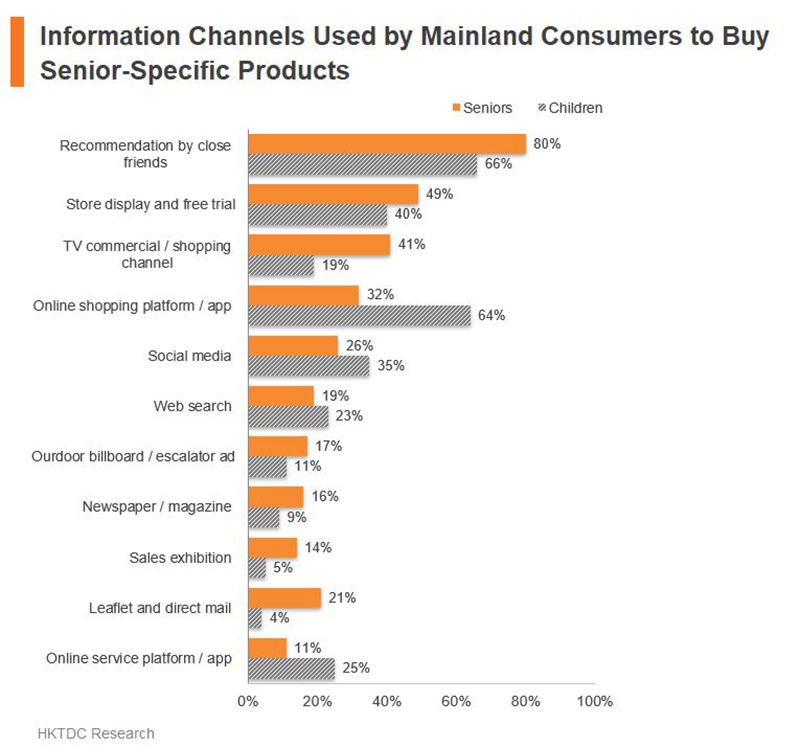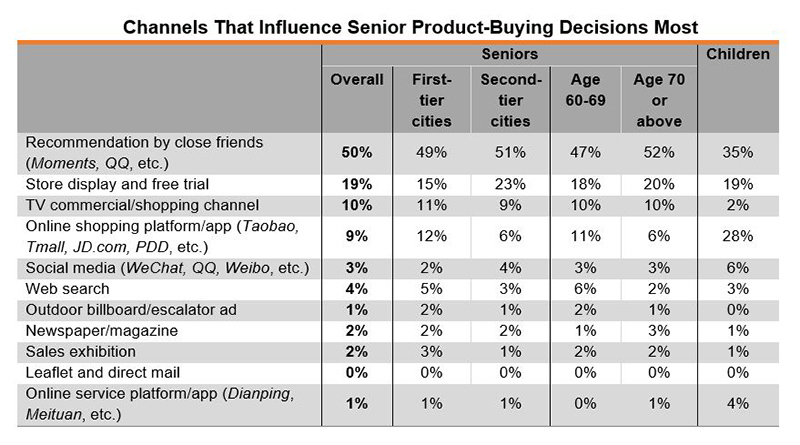 Safety First
Safety is the main concern for many of the respondents when buying senior-specific products. 18% of the senior group and 26% of the adult group said it was their topmost consideration. Reflecting the rise in income levels in China, product quality/workmanship is now also among the top three considerations of seniors making purchases. One of the seniors in the focus groups said: "Things are different now whether we're buying food, clothing or recreation. We want quality stuff and cannot just settle for cheap things." The survey also found that seniors are more concerned about price than their children are, while the adult group tends to care more about whether the products they are buying are suitable for the parent's age.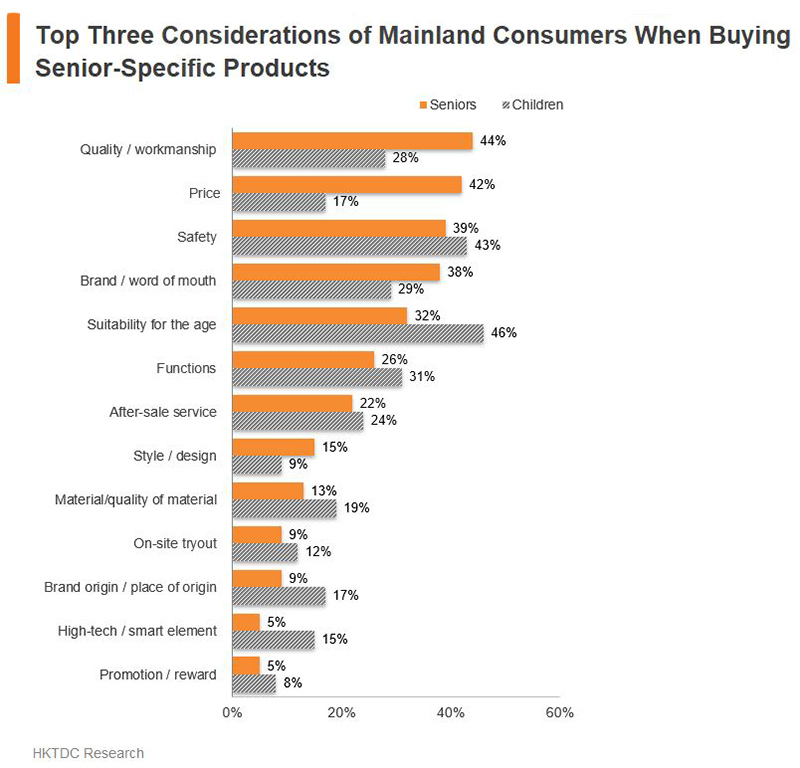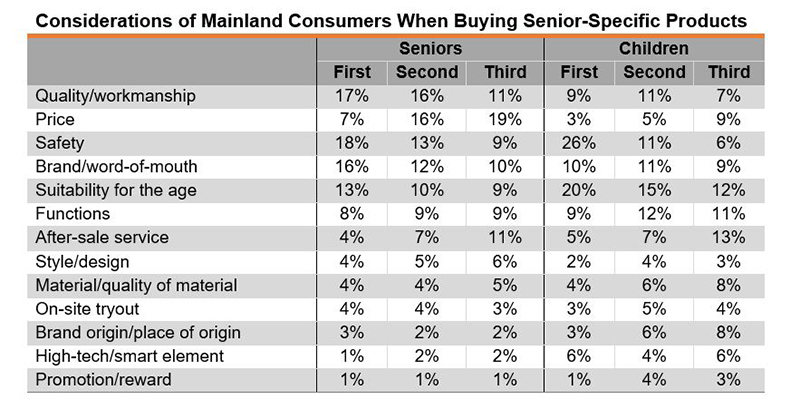 Brand is another important consideration for seniors when making purchases, especially when buying clothing and accessories. The survey found that many senior consumers hope to look good and improve their image by using famous brands. They are more inclined to choose famous domestic brands rather than international brands, partly because they know more about the quality of these brands and partly because other people will easily recognise that they are wearing something expensive.
Seniors have high brand loyalty and will not easily switch to other brands once they have found one that suits them. This is particularly true for a product like health monitors, such as blood pressure monitors and glucose monitors. Sticking with the same brand of monitor ensures that the data is consistent and dependable. Seniors also only tend to use the monitor when they have to, which means the chances of them switching brands is not high. As one of the seniors in the focus groups said: "I monitor my health more closely when I have health problems. Otherwise I don't bother much about such things."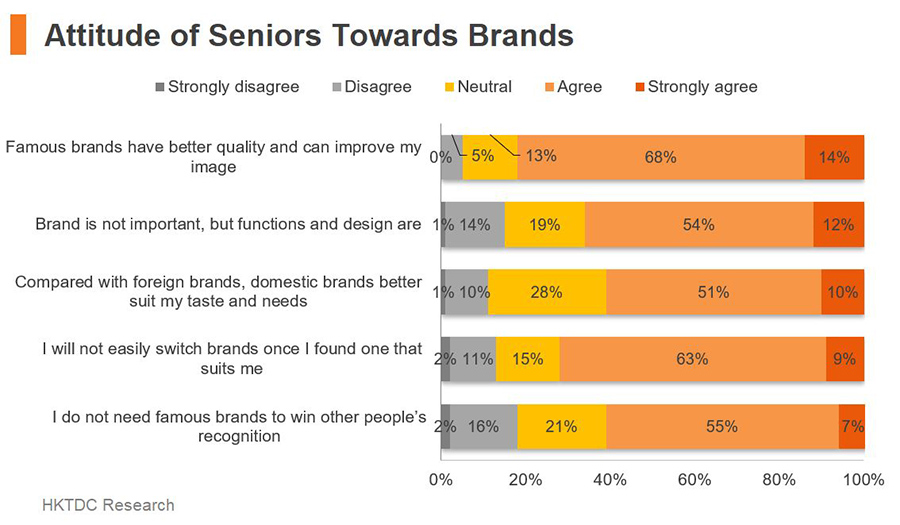 Some products are marketed as senior-focused products. However, the survey found that these are not always well received by the consumers they are targeted at. Although 71% of the senior respondents and 59% of the adult group thought that products labelled "specially for seniors" are more professional, over 50% of the senior respondents thought this kind of product often does not look very stylish and might make them look old. For example, when it comes to buying clothing and accessories, 90% of the senior respondents said they look for stylish designs which are cut in a way that suits their age. This suggests that they want products that are both stylish looking and professional.
The views of the younger respondents are not quite as strong as those of their parents. Although 48% of the adult group respondents said they hoped to see their parents look young and energetic and did not like buying products for them labelled "specially for seniors", their resistance to products claiming to be suitable for seniors is slightly lower than that of the senior group.
---
[1] See Appendix for the background to this consumer survey.
[2] "First-tier cities" refer to Beijing, Shanghai and Guangzhou, while "second-tier cities" refer to Chengdu, Wuhan and Shenyang.
Appendix:
1. Methodology
The survey was carried out during May 2019 in six mainland cities. A total of 1,320 consumers were polled by interview and online questionnaire. Before conducting quantitative studies, consumer focus group discussions were held in Shanghai, Guangzhou and Chengdu. The objective of the focus group discussions was to better understand mainland consumers' preferences and attitudes about senior-specific products/services through qualitative analysis.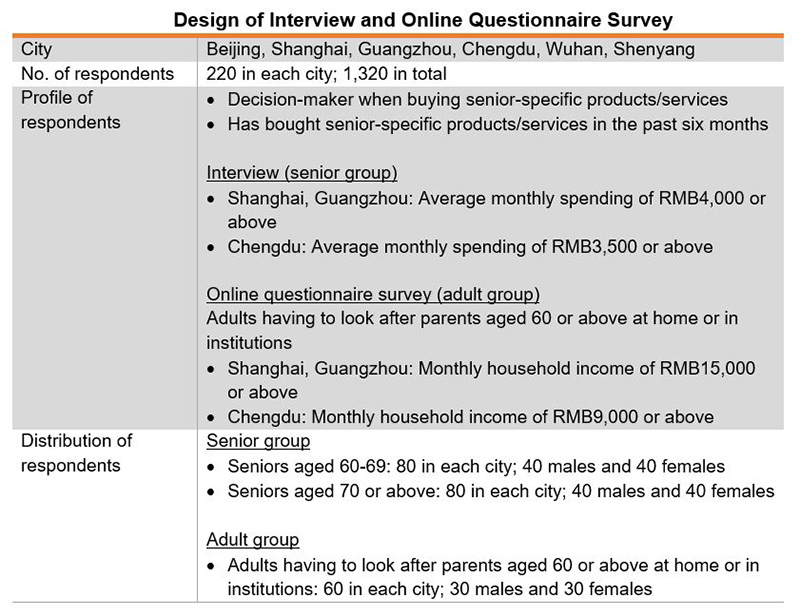 2. Background of Respondents