A feast of innovations on display at the 39th HKTDC Hong Kong Electronics Fair (Autumn Edition) early this month conjured up images of 2020s dwellings – 5G-driven smart homes where robot butlers switch from being paramedics to running 3D printers that can create anything from a pair of slippers to a dinner plate decorated with junior's drawings (assisted, naturally enough, by another cloud-enabled robot).The fair ran alongside the 23rd electronicAsia, jointly organised by the Hong Kong Trade Development Council (HKTDC) and MMI Asia Pte Ltd at the Hong Kong Convention and Exhibition Centre (HKCEC). The fair drew many visitors from across the world, eager to witness the latest gadgets and hear about cutting-edge technologies such as 5G."In the face of global economic challenges, companies around the world are becoming more eager to promote and source innovative products to maintain their competitiveness," HKTDC Deputy Executive Director Benjamin Chau said at the opening. "As the world's largest electronics marketplace, the Autumn Electronics Fair and electronicAsia together host around 4,300 exhibitors from 24 countries and regions in 2019. The HKTDC is taking the initiative to organise buying missions and strengthen its business-matching services this year to create more business opportunities."The HKTDC arranged 175 buying missions, comprising over 9,440 companies and nearly 13,300 buyers from around the world, while more than 31,000 buyers pre-registered for the events, indicating exhibitors and buyers retain their confidence in Hong Kong.
Crowd pleaser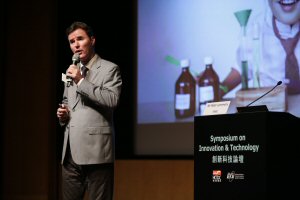 Showing that 5G is the hottest buzzword in technology right now, speakers at the symposium "Intelligent Connectivity: 5G and Beyond", held at the Autumn Electronics Fair on the second day, addressed a packed auditorium. Peter Lemmens, Director of imec Innovation Services, provided a compelling example of how 5G was used to help an entire region of Belgium with nearly 6.5 million inhabitants revolutionise their water system. "[Our] solution in Belgium was a massive deployment of very tiny sensors that can measure pH and chlorides in water, that you connect to an app on a mobile phone to monitor water quality in real-time," Mr Lemmens said, explaining that the large-scale wireless sensor network pushed by 5G now maps water reserves covering 13,522 square kilometres across the whole of Belgium. He said the design and development of innovative sensor systems had garnered intense attention in the scientific community because of the scope and speed capabilities enabled by 5G technologies. He believed it would inspire more Internet of Things (IoT) applications and enable innovative product development with a realistic time-to-market.
Safer drivers, roads
Another much lauded use of 5G is its application in smarter transport systems and for autonomous driving; the rapid processing speed can match a human operator, as well as the low latency and connectivity which permits a new generation of applications that have not been seen before.Ho Kai-leung, Strategic Wireless Technology and Project Officer at Hong Kong Telecommunications (HKT), said he did not expect self-driving cars to hit Hong Kong's roads for at least five years but they are unlocking the potential of 5G by developing intelligent transport systems that can keep drivers alert to enable a safer driving experience.Mr Ho said this is good news for the industry locally as the Hong Kong Science and Technology Research Institute received approval earlier this year from the Transport Department of the Hong Kong Special Administrative Region to hold autonomous driving vehicle trials for 5G research purposes – making it a more tangible possibility than ever before.
What will 6G bring?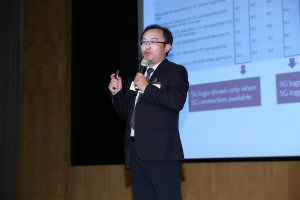 5G is rolling out in several leading markets this year and the global momentum is beginning to build. Michael Chang, CTO, Customers Operations, Greater China at Nokia Networks, said he expected that more overwhelming capabilities will exist over the horizon, and explored possibilities of what a 6G network might look like. "We've digitised the physical world; we connect machine things together," he said. "But there's one element we have not digitised: it's the biological world. How about our feelings, our emotions? Our emotions can be digitised and uploaded to the cloud."Mr Chang described the development of "wetware systems" – where human brain cells or thought processes are analogous to computer systems. Giving credence to the idea that this could be the next wave of game-changing innovation, Mr Cheng cited the example of technology entrepreneur Elon Musk, whose company Neuralink has been quietly working on a brain-machine interface with the ultimate goal of implanting devices in paralysed humans to enable them to control phones or computers.
AI, voice recognition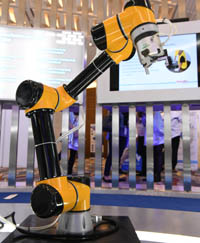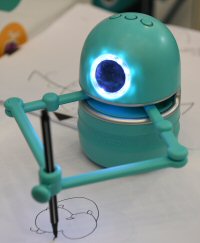 The Tech Hall, an annual highlight of the fair, saw the launch of a new AI & Voice Recognition zone to showcase the latest electronic products and innovative technologies, alongside other thematic zones such as Robotics & Unmanned Tech, 3D Printing, Smart Tech, Virtual Reality and the Startup zone. The Hall of Fame gathered the latest electronic products from more than 580 top international brands, including Switzerland's SKROSS, Italy's LAICA and ODOYO from the United States. Nine group pavilions included new pavilions from Guangdong and Nanjing in Mainland China, as well as Indian centres.
Robots featured included the U06 intelligent robot, an all-new algorithm and motion chip. The U06 robot combines the use of wheels and lower body postures to move across different surfaces, from rocky roads and carpets to lift doors, with greater movement capabilities and interactivity.Helping out in the nursery, Quincy the robot tutor – shown in the "Robotics & Unmanned Tech" zone – teaches children aged three to eight to draw by breaking down a picture into various lines and shapes.
The DONI-V13 robot vacuum cleaner supported voice control through Amazon Alexa and Google Home. Using gyroscope navigation, it enhances cleaning efficiency by building its own track record.
Start-up innovations
Among other exhibits were the AirXED X.1 smart circulation fan, which doubles as an IoT home hub, featuring a detachable smart infrared controller that can control other devices in the home.The AIMS wearable motion sensors can monitor, record and analyse youngsters' sports and health data to help with training management and efficiency evaluation.
Wearables
The PERO wearable device can go on the back or palm of the hand to control computers and smart phones using hand-gesture commands, creating a new user experience.
Healthcare electronics
The STRIG micro-vibration handheld massager, featuring an ergonomic blade design, can treat deep muscle tissue and accelerate the rate of muscle recovery by incorporating advanced micro-vibration and micro-current technologies.
Human and Health Co, Ltd from Korea displayed a spine traction massager (main picture).
3D Printing
The GenieRay 1 3D printer connects the printer to a monitor, keyboard and mouse to complete printing within three minutes. Using stereolithography technology, the printer can deliver professional quality prints and includes 3D modelling and slicing capabilities.The Tech Hall featured the debuting Nanjing 5G Pavilion which presented how 5G commercialisation would provide solutions for industries and households. Exhibits included a 5G-compatible industrial robotic arm, which could receive messages and commands in a faster and smoother way through a 5G network, and a 3D holographic smart monitor that can display more realistic 3D scenes thanks to the high-speed wireless transmission provided by 5G.The fair also featured a series of start-up-themed events including the Media Pitch Day, Startup Smart Launch sessions, Investment Matchmaking, various sharing sessions, and Meet the Mentor sessions to provide a platform where entrepreneurs can connect with potential partners. Start-up entrepreneurs also met and exchanged insights with angel investors and technological services companies under the Foxconn Technology Group.
Cutting-edge production technologies
Held concurrently with the Autumn Electronics Fair, electronicAsia presented several thematic zones including Power Supplies, Printed Circuit Board & EMS, World of Display Technology, Wireless and Sensor Technologies, Keyboards & Switches and Electronic Components. The fair provided an important sourcing platform for the upstream supply chain in the electronics industry.
Seminars cover range of hot topics
The seminar "Blockchain in Industrial IoT – the Next Big Thing?" featured experts from technology corporations discussing blockchain applications in smart communications, smart city development, and building and logistics management.
Related link
HKTDC Hong Kong Electronics Fair (Autumn Edition)