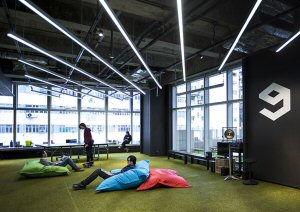 Transforming a little idea into an international platform that entertains millions of global netizens, 9GAG – founded by Hong Kong young people – encourages peers to be bold and walk their own ways.One evening in 2008, five young friends studying at three universities in Hong Kong were bored. Tired of email and texting, they wanted to find an easy way to share funny photos and videos with their friends. Shortly afterwards, 9GAG was born."It was simple: press a button and get a laugh," said Ray Chan (main picture), co-founder and CEO of 9GAG, a Hong Kong-based social media and content sharing platform where millennials around the world eagerly upload millions of memes, images and short videos every day. But 9GAG is more than a platform for sharing goofy videos or cat memes. Sharing content that matters to them connects users from all over the world and builds a global network of online friends.|"What started as a website to share funny pictures is now changing how people have fun around the world," Mr Chan said. "Whether it's at home, at school, or at work, 9GAG aims to give people a good laugh, however and whenever they want it."The ever-changing weather, dramatic landscapes and seascapes and the buzzing go-getting nature of Hong Kong naturally lend the city to imagery, giving rise to a number of talented homegrown photographers and of course, a world-leading film industry.
Rooted in Hong Kong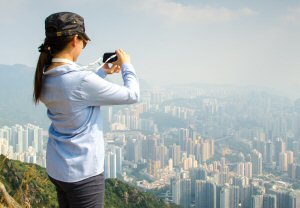 "Hong Kong is a very international city, filled with millions of ideas," Mr Chan said. "Ideas that can clash and be reborn and remixed easily. On a practical level, it's also super easy to set up a company at a very low cost and the [low] tax rate has attracted many local and overseas talents and businesses.
"It's a city with multi-lingual and multi-cultural people who are hardworking and generally smart," he said.. 9GAG has grown to entertain 150 million users around the world across many different social media platforms. It has a hosting website and content is disseminated across Twitter, Instagram, Facebook and Pinterest. Synergies with these platforms help keep 9GAG buoyant. "As most popular social media platforms are from the United States, we need to maintain good relationship with our partners there," Mr Chan said. "With the help of our investors and technology, we can still do so easily in Hong Kong."From epic sports "fails" to hilarious gaming memes, outfits of the day and adorable cats and dogs, 9GAG is a website which works on the eminently shareable nature of its content. Users in Japan will probably find the nature of the content as funny as users in Germany – where the second highest percentage of users come from.Another key market for 9GAG, unsurprisingly perhaps, is the US since switched-on, information-hungry American users are eager to hear about news in other parts of the world. "We didn't intentionally target the US," said Mr Chan. "But the market is definitely the leading force in entertainment and social media and that may explain why 9GAG grew quickly there, spreading news from around the world – it's a bit like an international school!"As we have a certain popularity in the US, people assume we are from there. When they learn we are from Hong Kong, they are generally surprised." Keeping the firm's head office firmly in Hong Kong has helped the co-founders stay true to their core business – and personal – values.
"We only need a very small team of fewer than 30 people but the ideas generated from our community are phenomenal and we can reinvest more of our profits into product development," said Mr Chan. "All of the five co-founders were born and raised in Hong Kong and most of our friends and family are here, so we are Hong Kong through and through. Our strategy is, if it ain't broke, don't fix it – so why would we go anywhere else? Hong Kong is everything to us."
FUN as a global language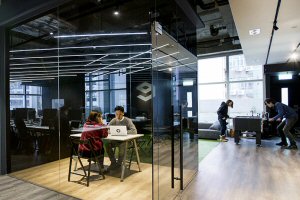 Despite 9GAG's humble roots and dedication to their beloved Hong Kong, Mr Chan said they see themselves as a global company, instead of just a Hong Kong one. In Asia particularly, they have a dedicated following."We hope to show that anyone can build a great company, regardless of the location. Fun is a common language and all people want to be happy. 9GAG is quite popular in many Asian countries, such as India, Indonesia, Thailand, Vietnam, and Singapore. So far Hong Kong is where our main operation is and New York serves as a sales office."
Tips for buddies
For Hong Kong's other young budding businesspeople and entrepreneurs, what advice would Mr Chan give? "I found a lot of business advice is merely limited life experience plus overgeneralised statements," he said."I say, find your individual superpower – what drives you and what makes you tick – and leverage that as much as you can and be successful in your own way. Also, here's one thing which drives me personally: always be 1% better than the day before."
Related link
9 Gag