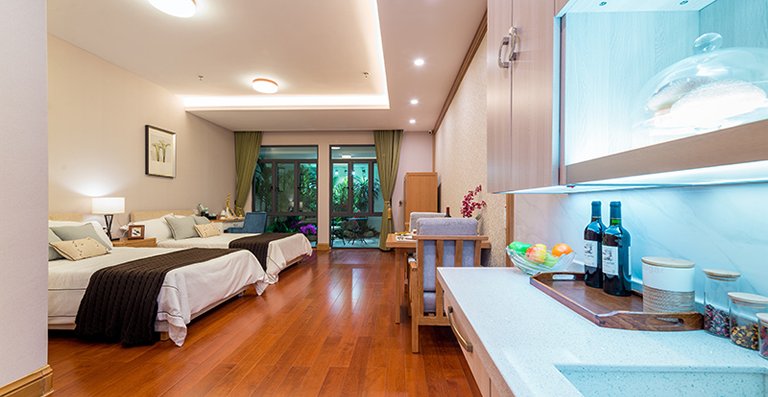 https://hkmb.hktdc.com/en/1X0AI09R
China Senior Market Case Studies: Elderly Care Set for Strong Growth
Interview with Zhou Mingmeng, Director of Taicheng Life Garden in Guangdong
As China's population aging accelerates, elderly care has become a focus of social attention. Finding a place to retire poses a major challenge, calling for plans to be made in advance. In recent years, elderly care homes combining medical care and wellness services have emerged in the market, providing the elderly with a comfortable and carefree environment to spend their twilight years. Indeed, thanks to recent changes in elderly care attitudes, senior citizens nowadays no longer object to staying in care homes.
The Taicheng Life Garden in Guangdong is an elderly care institution combining medical care and wellness services. The insights of its Director, Zhou Mingmeng, on changes in the mainland elderly care market and her experience in running a care home provides valuable references for industry players.
Pioneer in Combining Medical Care and Wellness Services
Located in Guangzhou near Foshan, Taicheng opened for business in January 2018. It collaborates with the adjoining Taicheng Life Garden Branch of Nanfang Hospital to pioneer the medical-cum-wellness elderly care model in Guangdong. Zhou said: "The mainland's rapidly aging population has led to a sharp rise in the number of elderly people in need of care services. Demands in the elderly care market are huge. After conducting research and visiting some institutions, we concluded that a model combining medical care and wellness services is the future trend. Our mind was thus set on founding a care home based on this new model."
The past few years have seen the rapid growth and transformation of China's elderly care industry. According to Zhou, a few years ago the mainland elderly care market was dominated by the traditional care model. Only a handful of elderly care homes dared trying out new integrated care models. The housing-based care model was one example, that was still in its infancy. Zhou said: "In our fact-finding visits we learned that some elderly housing units had indeed been sold, but their occupancy rate remained low. This reminds us to focus on taking care of, instead of just selling housing units to, the older people."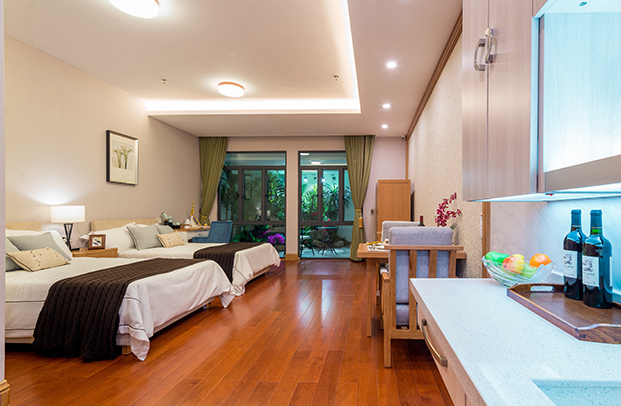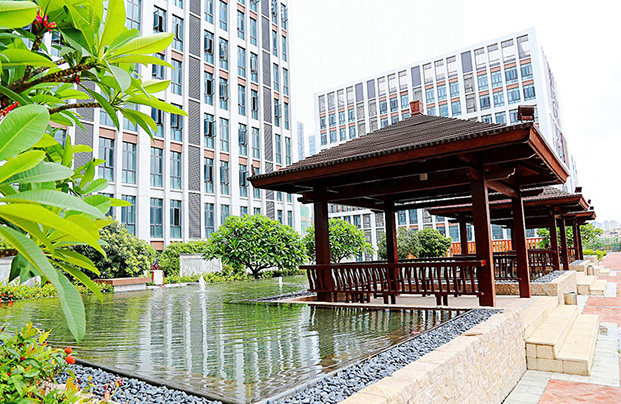 Taicheng's main service targets are those aged above 60, including the active, the severely disabled and the moderately disabled, as well as those in need of dementia or end-of-life care. While the active group live in Taicheng's care home, those with disability and dementia are accommodated in the nursing home. The two establishments are managed differently, with the architectural design and services configured in different ways to meet the physical, daily, spiritual and recreational needs of various types of senior residents.
Tenancy Options with Great Flexibility
Before joining Taicheng, Zhou accumulated a wealth of experience working in traditional care homes for more than 15 years. Over the years, what impressed her most was the change in Chinese people's attitudes towards elderly care. She said: "In the past, children reluctantly turned to care homes when they could not take care of their parents at home, but attitudes have changed. Senior citizens today do not opt for elderly care homes just because they cannot stay at their own place, rather, it is a well thought-out and planned move."
"It has even become fashionable for senior citizens to go with a couple of close friends or colleagues to check out on some elderly care homes. This is very common in Guangzhou, Beijing, Shanghai, Jiangsu and Zhejiang. In other places like Chaozhou and Shantou in Guangdong or some inland cities though, people may still hold different views towards elderly care. However, with more elderly care chain brands moving into the inland regions and greater policy support from local governments, people's attitudes are changing."
In Zhou's experience, those visiting elderly care homes in small groups are primarily senior citizens aged around 65 with self-care ability. She said: "Before retiring, they cannot spare the time and effort to think about retirement matters. In the initial few years after retirement, they are busy enjoying life. However, after 65, their physical conditions may worsen, forcing them to start thinking about plans for the future."
Zhou noted that after the visits, some older people decide to move in immediately, while others may plan to do so later. In light of this, Taicheng offers flexible tenancy plans to cater to the elderly's various needs. Zhou said: "Unlike traditional care homes, Taicheng is very flexible in admitting residents. For instance, during the Spring Festival period, some senior citizens neither wish to travel nor stay at home. We would allow them to live here for a few days.
"There are also elders from the north coming to Guangdong to spend the winter, seeking refuge from the cold weather like migratory birds. Indeed, the elderly can choose to move in here any time, and be rid of the restrictions associated with traditional care homes. Daily care, health care and recreational services are provided to our residents. To the active elderly, this is more a place for healthy living rather than an elderly care institution."
Fee schedules are also flexible, comprising two parts: a facilities and equipment fee and a basic fee. The facilities and equipment fee, to be fully paid before move-in, makes the elder eligible for a place in the care home. The basic fee covers the basic living expenses after moving in, and includes management, meals, nursing and bed space, etc. These are payable only after the elder has actually moved into the institution.
Different Management Modes to Meet Elderly's Varying Needs
Zhou pointed out that the elderly's expectations are constantly increasing, saying: "In the past, the older people were happy as long as they had a place to stay. The elderly nowadays are increasingly concerned about the quality of living. They do not just seek a simple life, but aspire to live healthily and vibrantly. We encourage positive aging here. While aging is inevitable, we should do our best to stay healthy and active to delay the onset of diseases and physical decline."
Taicheng strives to meet the active elderly's desire to learn and enhance themselves as well as their entertainment needs. For disabled elders and those with dementia, professional services are provided, allowing them to lead a dignified life and preventing their conditions from going downhill. For instance, professional rehabilitation services are arranged for elders suffering from muscular dystrophy to help improve their health. A special care zone for the elderly with dementia comes with environmental design which slows down the decline in their condition.
At Taicheng, the living area for the active elderly is the elderly care home, which currently houses some 420 seniors. Designed and fitted out to suit the elderly's habits and needs, the area provides residents with a pleasant and relaxed living space. The furnishings within the rooms are specially designed, including pull-down kitchen cabinets to facilitate safe access to utensils, barrier-free bathrooms with skid-proof features and an intelligent meal ordering system offering diversified meal choices and delivery service.
The nursing care home houses dementia sufferers and disabled elderly, accommodating some 250 at present. There is emergency access between the nursing care home and Taicheng Life Garden Branch of Nanfang Hospital to provide timely medical assistance to residents. The rooms are specially fitted with facilities for elderly in need of nursing care. There are, for example, personal cabinets and half-height partitions to safeguard privacy yet allowing interaction among neighbours, as well as imported high-end intelligent facilities, like smart toilets and fully-automated bathing devices. There, residents can enjoy a tidy and comfortable nursing environment, and lead a more dignified life.
Protecting Elderly's Safety with a User-Friendly Approach
According to Zhou, Taicheng, manned by a professional team, is the only elderly care establishment in Guangzhou and Foshan, or even the entire southern region, offering combined medical care and wellness services. Seamless interface between the two services is achieved through the close link from the nursing care home to Taicheng Life Garden Branch of Nanfang Hospital. Meanwhile, given that the institution is situated at the border of Guangzhou and Foshan, transport to downtown areas is also convenient. Intelligent facilities are deployed to strike a balance between providing an elderly-friendly service and ensuring safety.
Taicheng adopts an open plan design, where residents can freely move around and take part in various recreational facilities in the activity centres. Residents wear a smart IC card for access to different areas of the establishment. The seniors' whereabouts are monitored through the IC card to prevent them from getting lost. Hence, safety improved without having to impose too many restrictions causing a nuisance.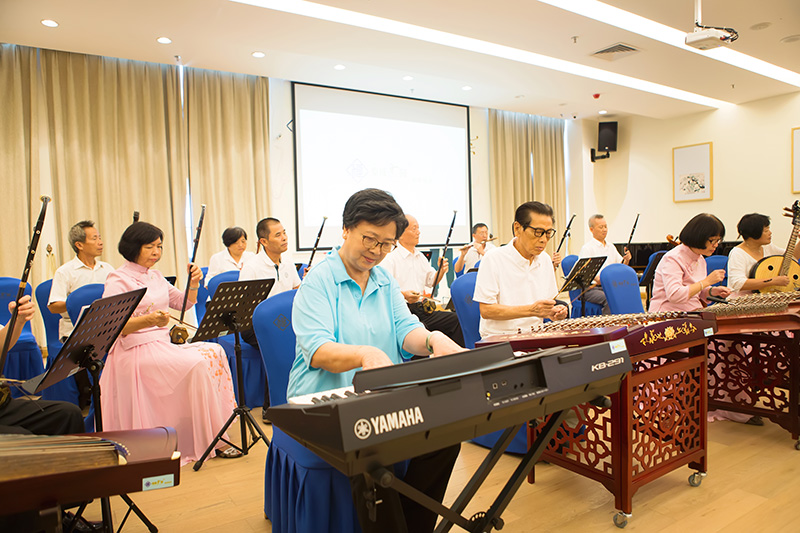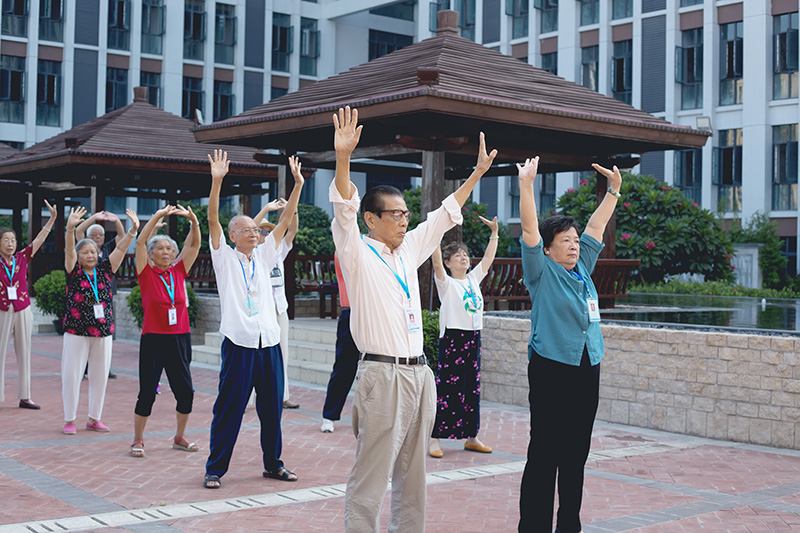 Every senior citizen undergoes a detailed health check-up before moving in. If he/she is assessed to be physically fit and upon family members' consent, the elderly can return home or travel to the town freely. Zhou said: "A number of items are covered in the pre-admission health check-up to fully assess the elderly's physical conditions and capabilities. For instance, observing the elderly's speed in walking back and forth over a distance of three or 10 metres can tell us how long it will take for him/her to cross the road. Such data is used to assess whether the elderly should be permitted to go in and out of the institution freely."
Further Segmentation in the Market
With the rapidly aging population in mainland China, the number of those in need of elderly care has shot up. People born in the 1940s and 1950s were subject to the then prevailing one-child policy. Such single children often cannot take proper care of their parents, who then have to depend on the social elderly care system. As such, the mainland elderly care market has grown exponentially. An industry chain has taken shape, covering various facets in the elderly care sector, including planning, packaging, design and construction of elderly care projects as well as elderly products and service provision. Every segment in the chain is growing fast.
Looking ahead, Zhou believes that the elderly care market will undergo further segmentation, saying: "At present, some industry players provide services covering several segments, but I believe there will be further market segmentation in future. Some may specialise in planning for elderly care home construction, others in home care services or elderly products. In the elderly products market in particular, there will be more meticulous divisions, say in smart products, home care products, wearable products and daily necessities, etc.
"The mainland market is characterised by its huge population and massive size. Even a small segment of the market would mean a great pool of target consumers. Currently, there are already market players doing an excellent job in targeting certain segments."
To Zhou, elderly care is a sunrise industry, spelling enormous market potential. In particular, the development of the Guangzhou-Hong Kong-Macao Greater Bay Area offers a golden opportunity for Hong Kong businesses to venture into this market. Those in elderly care in Hong Kong and the mainland respectively may do well to complement each other's advantages.
While Hong Kong businesses are adept at introducing advanced overseas equipment and technology and raising funds, their mainland counterparts have advantages in terms of land, low labour costs and connections with the government. Joining hands to leverage each other's strengths would certainly bring good opportunities to both sides.