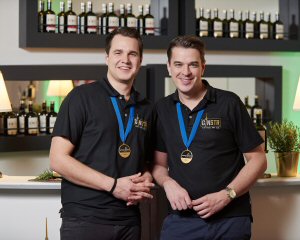 Refined with plant material from Stuttgart and mineral water from Cannstatt, German artisanal gin brand Ginstr has already established itself as one of the spirits industry's rising stars, having won a gold medal at the World Spirits Award 2018 and the Gin and Tonic Trophy, where 400 jurors voted it the best gin to accompany a tonic over more than 600 other brands at the International World Spirits Competition (IWSC) last year. The independent German gin brand was additionally awarded a double gold medal at the China Wines and Spirits awards (CWSA), the biggest spirits competition in the country. The start-up was founded by friends Alexander Franke and Markus Escher, who set up their distillery in Stuttgart in 2016, where they continue to produce the gin by hand, with each bottling round limited to 711 bottles. "To start with, we were making gin for our friends, and selling 50 or 60 bottles per month, or two to three bottles per day, and the company was being run from a garage. In Germany, all the barkeepers wanted it – they were hysterical about the product, and it was very often sold out," he recalls.
Debuting at Ozone
The brand is still modestly sized – with a team of seven in place – but it is not short on ambition, having launched at one of the world's most celebrated bars, Ozone at Ritz Carlton Hong Kong, earlier this year, following its double-gold medal at the CWSA. It is now a permanent fixture on the menu after Mr Franke was invited to officially hand over the first bottle to bar manager Oscar Mena. "We have a nice collaboration and a signature drink [created by] Oscar," said Mr Franke, adding that the gin is also available to purchase on Hong Kong site The Bottle Shop. Proving the city is acquiring quite a taste for artisanal gin, Ginstr will soon meet with the Hong Kong Jockey Club. "There are not so many gin brands on the Hong Kong market, and no gin is being made in Hong Kong. Hong Kong people know a lot about whisky, but gin is a bit new to them."In addition to Hong Kong, Ginstr has made impressive inroads into the Asian market, as it's currently available in Mainland China, Macao, Singapore, Vietnam, Korea, Thailand and Taiwan. Many Ginstr customers are based in Asia but the entrepreneur is keen to carry on meeting existing and prospective customers face to face. "It's very important, talking to clients, and they are impressed when they see that the founders are visiting them. I'm not a big fan of employing salesmen, or working with a sales agency… for us, getting the personality [of the brand across] is important," he said.
Partnering with Mercedes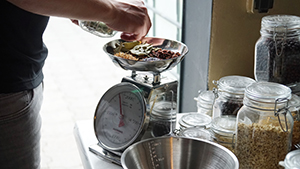 Like most small businesses, one of the biggest challenges for Ginstr was taking on a diverse range of responsibilities, something the two founders continue to do. "At first, it was more like a hobby, and it was set up very simply, with Marcus and me doing everything ourselves, from decanting the gin into the bottle to acting as delivery boys." Nevertheless, the pros of being business owners definitely outweigh the cons and Mr Franke is proud of how far the start-up has come. "The bigger brands see us as enemies … we're a very little brand, but we're offering something refreshing, and they're a bit scared. We're very little fish in a shark tank." Despite the company's diminutive size, it still managed to attract the attention of Mercedes – the brand's museum is located in Stuttgart – producing a limited edition gin for the Mercedes-sponsored ATP Cup, of which it is now an official partner. "We produce one edition of 711 bottles per batch, and it usually sells out on the day it goes on sale," said Mr Franke. The gin has even received the thumbs up from the German government, with the justice minister giving Ginstr as a gift to government officials from other countries.Continuing in a similar vein, Ginstr is in talks with several football clubs, including one from the mainland and another from the Hong Kong Premier League about producing limited edition gins for its teams. It has already produced a limited edition gin for football team VfB Stuttgart – it is an official partner of the team – featuring the team's emblem, which is limited to 1893 bottles per season. Ultimately, Mr Franke believes that it has created a great-tasting gin, and he doesn't want to play around with the product save for releasing the odd special edition. "At the moment we only have this one gin, but we want to keep the quality, and I think it would be hard to do it better … we don't want to lose that handcrafted style, which we might do if we made more bottles, and larger quantities. Sometimes it means we're sold out, or the delivery times are a little bit longer, but we hope clients understand that it's because we make the gin by hand at our own distillery, and we want to keep on doing that."The beverage industry worldwide will make a bee-line for Hong Kong for the HKTDC International Wine & Spirits Fair at the Hong Kong Convention and Exhibition Centre, on 7-9 November 2019, organised by the Hong Kong Trade Development Council. In 2018, the event drew 1,075 exhibitors.
Related links
Ginstr
The Bottle Shop