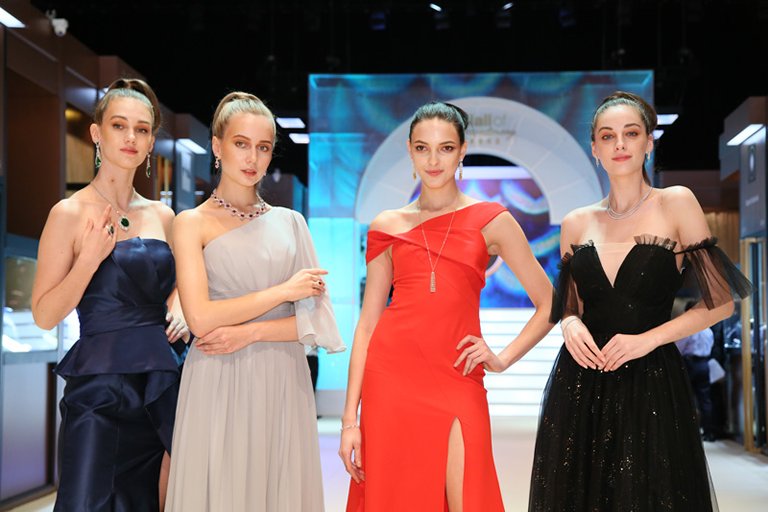 https://hkmb.hktdc.com/en/1X0AH6PT
2019 Product Trends From The HKTDC Hong Kong International Jewellery Show Survey
White Gold Tipped To Gain Ground, As Solitaire-Melee Diamond Design Trend Continues
A poll of 1,347 buyers and exhibitors at the Hong Kong International Jewellery Show 2019 and the Hong Kong International Diamond, Gem and Pearl Show 2019 suggests that karat gold will remain the most popular precious metal in 2019, with white gold making a comeback, followed by rose gold.
The responses to our survey indicate that diamonds will also continue to be in great demand this year. In terms of the 4Cs of diamond grading – Cut, Clarity, Colour and Carat Weight – the most popular specifications are likely to be round-cut, high purity (flawless-VVS2), white, and one carat. Other than diamonds, jade and aquamarine are also anticipated to keep doing well in 2019, while emerald is expected to lose popularity.
Popular Precious Metals and Gemstones
Most respondents to our survey expect karat gold to remain the most popular precious metal in 2019, with white gold in particular making a comeback. After falling below 50% for two straight years, the proportion of respondents who believe white gold will be a favourite choice of consumers this year jumped to 54%. Rose gold (39%) and yellow gold (36%) are the second and third most hotly-tipped metals, respectively. Platinum is also expected to remain in vogue as it secures the top-three position it held since last year despite its popularity falls slightly to 36% this year from 37%.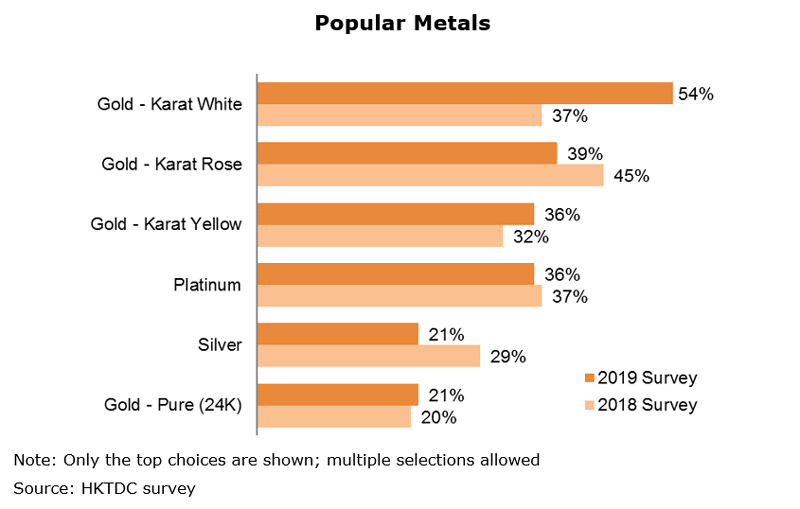 Despite a seven percentage-point decrease from last year, diamonds continue to be the most popular choice of gemstones in 2019, backed by 54% of survey respondents. Aquamarine (18%), jade (17%) and pearls (15%) are also among the most popular gemstones, while the proportion of respondents favouring synthetic gemstones (10%) is on the rise for a second year running. However, the numbers opting for emeralds are significantly down, from 13% to only 6% this year.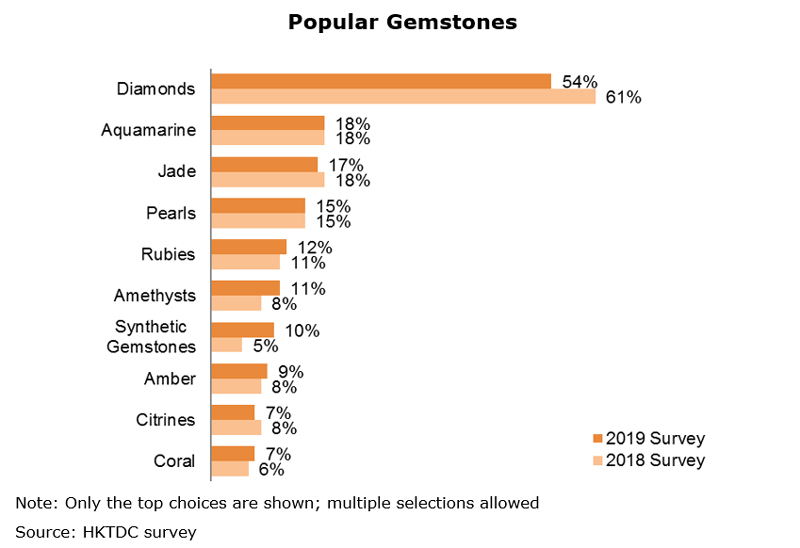 While 67% of those surveyed say they believe natural jadeite will continue to be the most popular type of jade in 2019, the popularity of more affordable "B" is on the rise for the second consecutive year. Pearl traders take a similar view and in fact expect more affordable Akoya pearls to replace South Sea pearls as customers' top choice.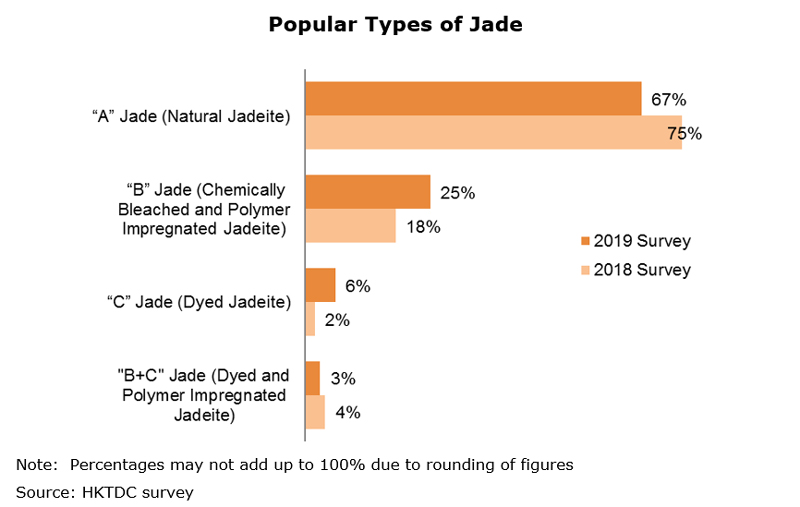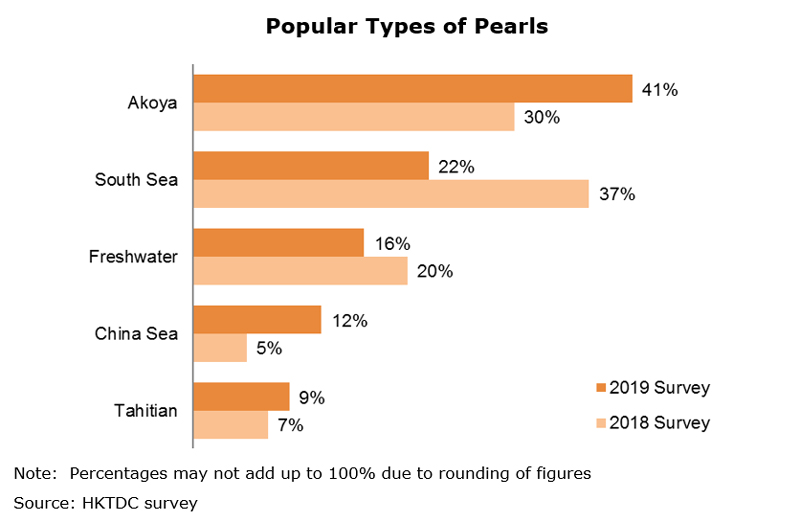 Diamond Trends
When it comes to diamond jewellery design, traders show a growing consensus around solitaire rings with diamond melee, a design that 55% believe will be the most popular among customers, up from 47% in 2018 and 33% in 2017.
However, traders are less unanimous in relation to diamond settings. Prong is identified as the most popular setting by exhibitors (36%), compared to just 8% of buyers, while pave-set diamonds are seen as the most popular by 38% of buyers, compared to just 5% of exhibitors.
Notably, the popularity of channel-setting is on the rise among all respondents in our survey, rebounding to 17% from 10% last year. At the same time, respondents opting for micro-setting are down significantly, from 21% to 6%.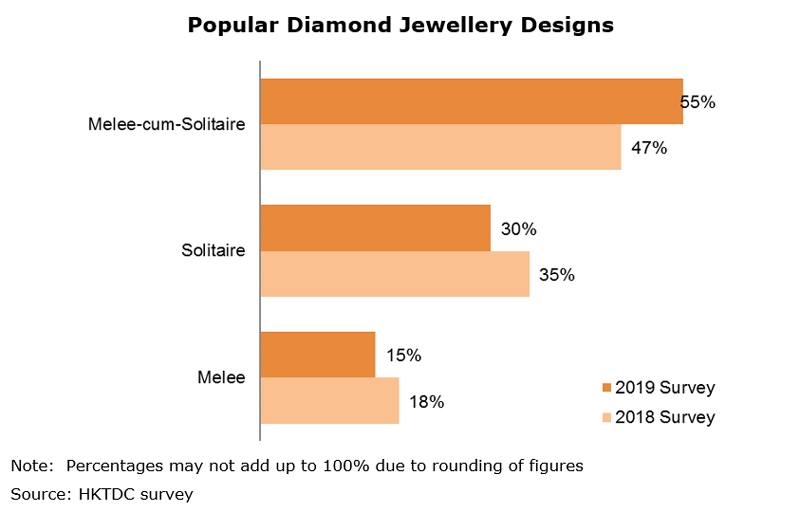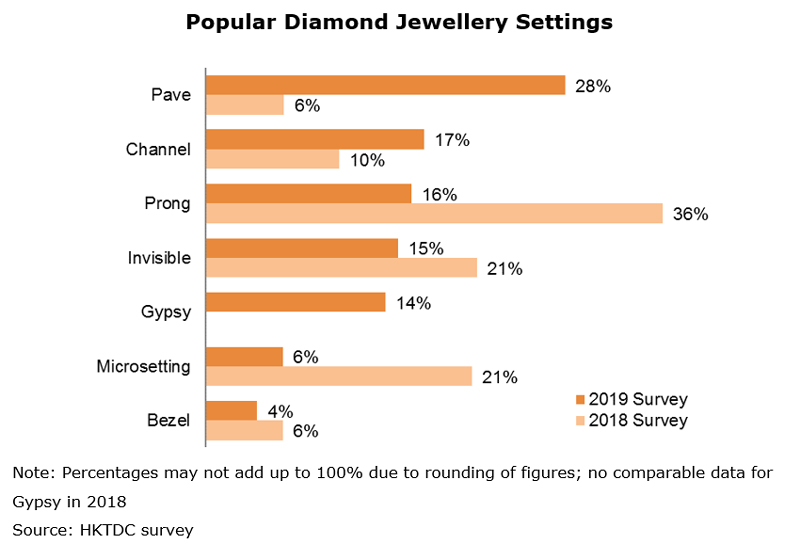 In terms of diamond carat weights, 1 carat is viewed as the most popular weight, with 43% of all respondents opting for it this year, followed by 50-99 points, as chosen by 24% of respondents. This shows that diamond traders expect a growing concentration in consumer preference around the two main diamond carat weights.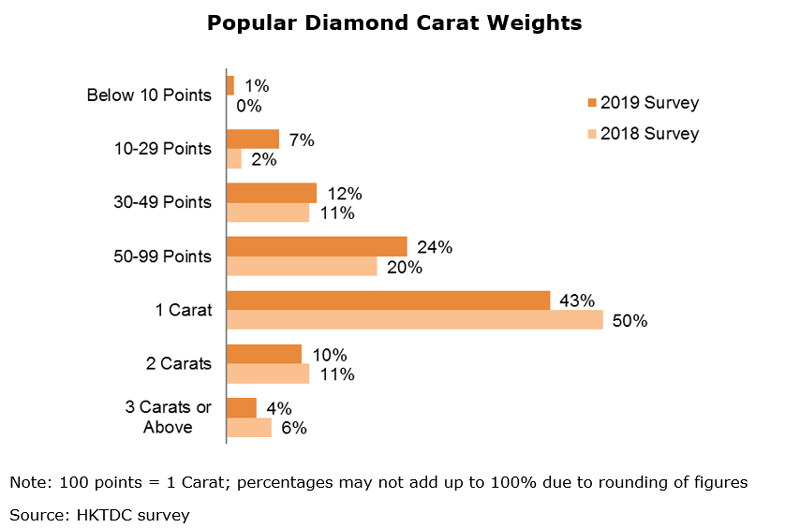 This phenomenon also appears to be true with regard to diamond colour, with 85% of respondents anticipating high demand for white or colourless diamonds.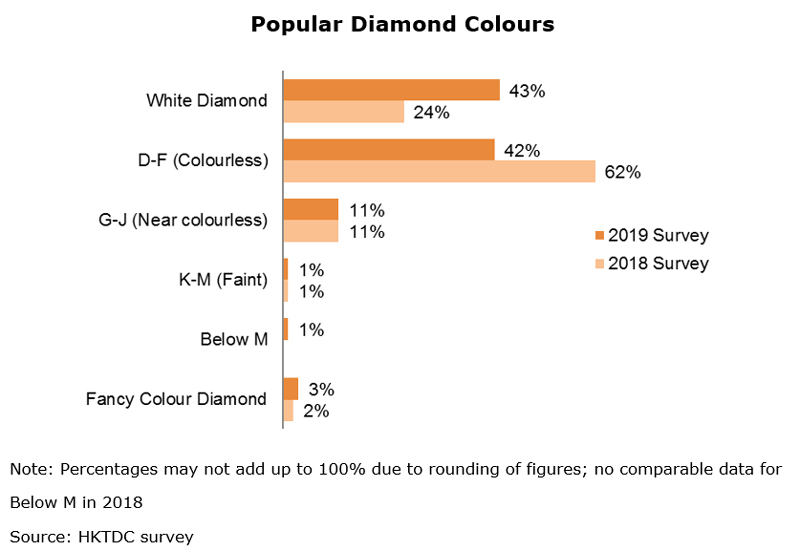 In terms of cut, traders are more evenly spread. Round-cut diamonds take the highest vote-share at 26%; however, this is down from 30% in 2018, 31% in 2017 and 71% in 2016. This year, idea/perfect and baguette cuts gain ground to become the second and third most popular cuts, driving heart-cut diamonds down to fourth place.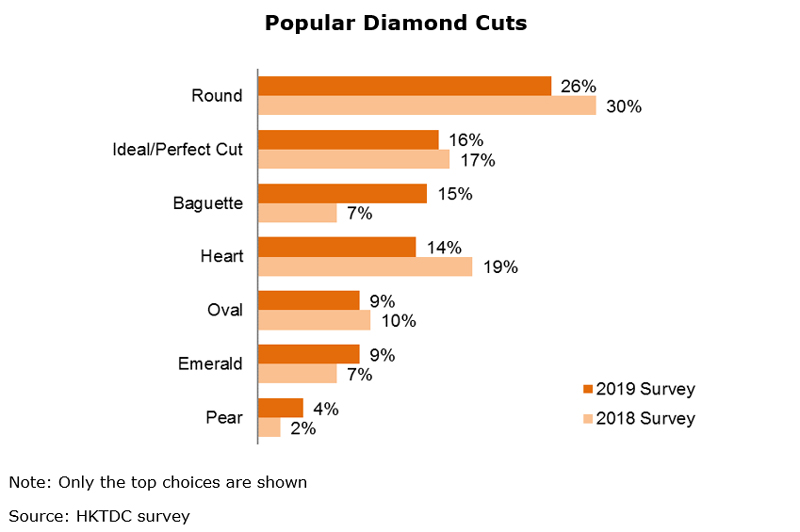 As far as clarity is concerned, a clear majority (71%) of respondents expect diamonds of high purity (flawless-VVS2) to be the most popular in 2019, a similar forecast to last year.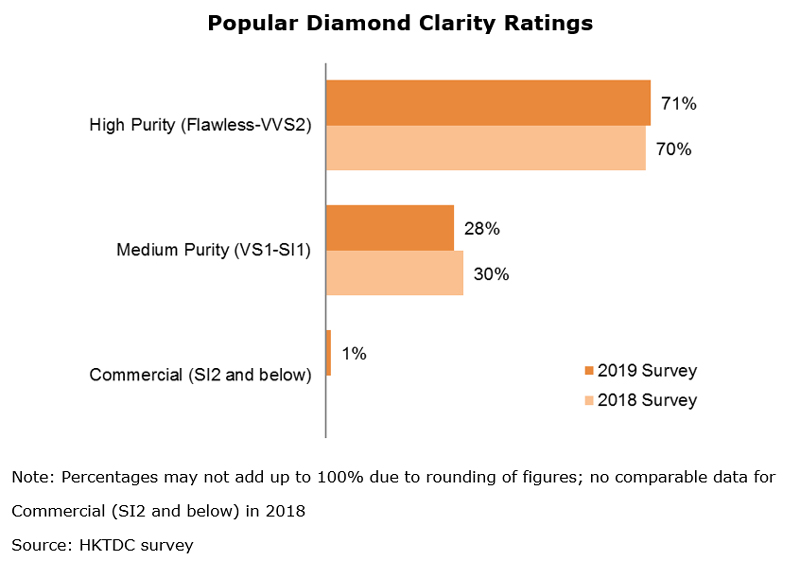 Profile of Respondents
509 exhibitors – 36% from Hong Kong, 44% based in Asia (excluding Hong Kong), and 20% from the rest of the world
838 buyers – major markets in mainland China (51%), Hong Kong (42%), Asia excluding Hong Kong and mainland China (41%), Western Europe (26%), and North America (21%)
The Hong Kong International Jewellery Show 2019 and the Hong Kong International Diamond, Gem and Pearl Show 2019 took place from 26 February-4 March 2019 at the Hong Kong Convention and Exhibition Centre and the AsiaWorld-Expo respectively.