The tech-savvy and big-spending 20-somethings and teenagers of Mainland China were in the spotlight at the Hong Kong Trade Development Council's (HKTDC) MarketingPulse conference, held at the Hong Kong Convention and Exhibition Centre.More than 50 globally renowned marketing executives, advertising gurus and digital marketing experts from nine countries and regions converged at the second MarketingPulse in Hong Kong to examine brand promotion strategies, share success stories and offer practical marketing insights. Over 1,400 corporate executives, marketing and advertising agency as well as brand representatives attended the annual signature industry event.
Brand marketing hub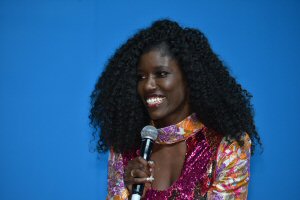 Margaret Fong, HKTDC Executive Director, said: "As Asia's trendsetter and creative capital, Hong Kong's extraordinary allure has attracted many top marketers, brand managers and advertisers to the city. Marketing practices are constantly shifting. To stand out, brands must accurately identify market trends and leverage the latest marketing technologies to create impactful brand stories."The opening remarks at the conference were delivered by Bernard Chan, Under Secretary for Commerce and Economic Development of the Hong Kong Special Administrative Region.The event featured an array of thematic seminars, workshops and dialogue sessions exploring topics such as innovative brand management, ground-breaking brand campaigns, which also included esports marketing, influencer promotion tactics, the social value of brands and the latest digital marketing strategiesThe seminars included one focusing on members of Mainland China's "Generation Z"– born in and after the mid-1990s – who are highly active on social media platforms, have a penchant for distinctive personal styles and possess strong consumer power. Panellists shared on the key ways to winning the hearts and minds of this unique demographic. The speakers included Jude Chan, Head of Digital & Innovation of Zenith China, Publicis Groupe; Fu Peng, Director of International Business Department of JiangXiaoBai; Li Hui, Partner of Shanghai Yitiao Network Technology Co Ltd; and Fu Yudong, General Manager of South China Marketing Centre, Ocean Engine.
Brand supremoes share 'secret sauce'
The first seminar of the event, "Dear Brands, Let's Sail to the Future!", showcased a heavyweight panel of speakers who shared their "secret sauce" for developing successful brand stories.Featured speakers included Endeavor Chief Marketing Officer Bozoma Saint John, who was once named among the 50 Most Creative People by Ad Age and is regarded as one of the most prominent marketing and pop-culture icons in the United States today. She previously headed the marketing efforts of major corporations such as Uber, Apple Music and PepsiCo.Ms Saint John recounted some of the marketing stunts that helped to push her brands, from inviting Beyonce to perform at the Super Bowl and promoting Apple Music's breakup song services through private chat messages between three famous black actresses, to featuring two superstar athletes sharing their thoughts on cultural differences during an Uber ride. These stunts caught consumers' attention and raised discussions on cultural issues relevant to society as a whole."I am addicted to popular culture!" declared Ms Saint John. "I am always fascinated by the latest and most trendy things and would like to know how they come to be and how they connect with history. People working in the marketing sector represent various cultural differences between different places. We have to know its meaning, why it comes to be, and how cultures interact in order to use popular culture as a marketing tool." She pointed out that there are currently tensions in society which make it important for marketers to understand different communities well and build connections through various emotions in order to avoid controversies such as cultural appropriation.
Scare tactics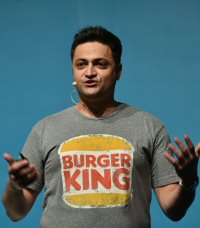 "Great ideas should be scary," Marcelo Pascoa, Head of Global Brand Marketing at Burger King, told the same seminar. "When new things come to be, it is often associated with fear. So, my advice to marketers is: be very afraid! If you sleep well the night before your project launches, then the promotion wouldn't be too spectacular."Mr Pascoa's projects are known to be bold and daring, even making fun of competitors in the market. One example was a marketing stunt in which people were asked to open the Burger King app at a McDonald's to win a free burger. As a result, there was a huge leap in interest in the Burger King app and it became the most downloaded app on the store. He said that knowing your work aligns with the brand value is key when facing challenges and criticism. "My biggest fear is being irrelevant. Marketers live in fantasies where they control everything, but social media has proved that we cannot control everything."
Storytelling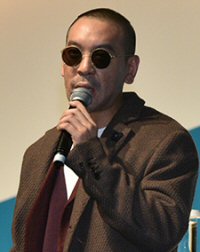 One of Hong Kong's best-known creative talents, Juno Mak, Creator at Kudos Films Ltd, began shared his experience in the entertainment industry and explained how marketing became part of his everyday life. "We do not need to be a businessman to do marketing, as we are already marketing ourselves in our daily lives − our sitting posture, our favourite colours, and our watches, these are all making a promotion out of a life. When you know yourself better, you will know how to do marketing," he said.Mr Mak also made the bold suggestion that we should abandon two things –resumes, and thoughts that come from the mouth, not the head. "Things you write in your resume are tasks completed in the past. But we have to think: what's next? We should also give up on thoughts that come from our mouths, as they might be copies of other people's ideas. Thoughts should come from your head − a creation that you agree with."
Jonathan Mildenhall, co-founder and CEO of TwentyFirstCenturyBrand and former Chief Marketing Officer of Airbnb, offered the audience a whole new definition of marketing in the 21st century. "Marketers create assets for the company, including its finance, consumers, employees and cultural assets. Marketing with a clear focus creates unparalleled value," he said.Storytelling techniques are key to any marketing campaign, he emphasised. "I am 100% a supporter of emotional storytelling. If a marketing campaign does not contain a story behind it, it is only market pollution. Stories help us build a signature super-brand that people care about." He shared his experience at Airbnb to illustrate how consumption begins with emotion − for example, bringing the room in a Van Gogh painting to life, or sharing true stories from the community to bring out cultural values. "We rationalise our choice of consumption after we create the emotion," he explained.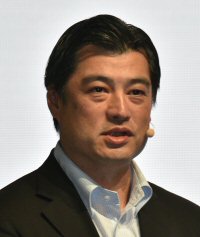 Keiei Sho – Executive Officer, General Manager of Overseas Business Division at Calbee, Inc – distributed his company's popular grilled corn sticks to conference attendees to demonstrate how market tastes can change. "People used to say that the corn sticks were too hard and that consumers would not like them," he said, before revealing that sales were now in the US$300 million to US$400 million region. Mr Sho recounted Calbee's history, explaining that after the second world war, Japan was left with devastated industries and faced food shortages. Calbee stepped in to make prawn crackers using flour left behind by the United States Army and shrimps from the Seto Inland Sea, which proved to be a hit.The company continues its creative legacy, recently working with 47 Japanese prefectures to launch a successful campaign by developing 47 different flavours of chips. "We collaborated with local governments to learn about local tastes, hoping to know what would resonate with consumers, while showcasing promotions from various prefectural governments on the back of the bag," he explained. Using its advantages in the areas of food safety and convenient packaging, the brand has continued to push the envelope by launching breakfast food items to attract Chinese visitors and promoting Kyoto's breakfast culture using online celebrities.
Michelle Cordeiro Grant, founder and CEO of lingerie brand Lively, said it is an experience-focused brand with its retail stores devoting only 30% of the space to products and the rest used for events such as hip-hop experiences and movie nights. "Lively is an organism with a human soul," she said. "Normally, females purchase underwear once or twice a year, while our consumers purchase underwear on average four to five times per year. This shows that they are purchasing not out of their 'needs', but their 'desires'. This is key to how we create our market share," said Ms Cordeiro Grant. Embraced the concepts of female empowerment and body acceptance, the brand has created a new definition of what sexiness means, building a label that brings community, experience and products together. Advocating "high style and comfort", the brand has been communicating with 100 brand ambassadors right from the start to learn about consumers' needs and elicit useful feedback. Many of Lively's new underwear lines are launched in accordance with customer preferences.
Tech-led marketing creativity
MarketingPulse also explored the digital transformation that is reshaping the industry and the challenges brought about by new technologies and new business models. The "Agencies in the Era of Transformation" session gathered several top minds from the advertising industry to share their creative processes to transform brands and examine the future role of advertising agencies. At another technology-related seminar – "Data: New Currency for All (Consumers & Brands)" – Andy Ann, founder and CEO of the NDN Group, and Derek Kwok, Head of Google Marketing Platform, Greater China & Korea at Google, shared ways in which new technological tools can facilitate marketing efforts.
Practical insights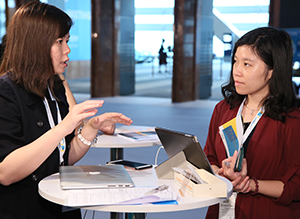 The "Have Your Say!" session featured a panel of speakers that included Lok Chi Hou (Sixtycents), founder and CEO of Manner Culture Ltd, a company that boasts more than four million fans on its social-media platforms; Vincent Tsui, founder and CEO of Toast Communications Limited; Richard Juan, Filipino TV star and online personality, model, actor and host; and a group of young Hong Kong marketers. The panellists spoke with the novice marketers about the business opportunities − and challenges – that popular culture presents for marketing.New at this year's MarketingPulse were the Digital Marketing Workshops that presented participants with practical marketing strategies. Marketing representatives from highly regarded international brands such as Google, Baidu, LinkedIn, Cloudbreakr, 360 Search and iClick discussed a range of topics that included video and search-engine marketing, influencer marketing, digital marketing trends in the mainland and the establishment of personal brands.The MarketingPulse exhibition zone showcased 36 companies engaged in digital-marketing strategies, tech-driven advertising and marketing solutions, video production, e-commerce, project management and public relations strategies. In addition, an on-site, one-on-one business matching service was offered for brands and exhibiting marketing agencies to explore collaboration opportunities. The HKTDC also organised a variety of networking events for brand and marketing representatives to exchange intelligence and forge collaborations.
Related link
MarketingPulse