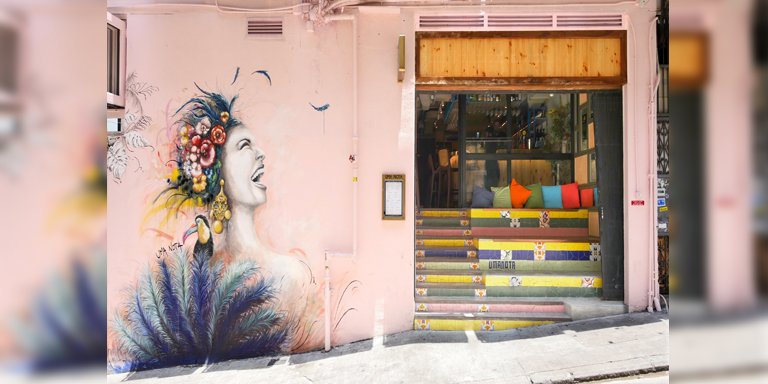 https://hkmb.hktdc.com/en/1X0AFXCX
Japanese-Brazilian Fusion Spreads Wings
Brother-sister duo set up their family (and dog) friendly concept restaurant in Hong Kong before taking it to their home country, France.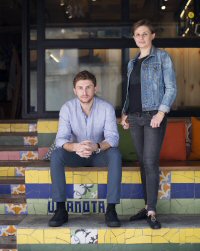 For the people of Hong Kong and now Paris, restaurateurs Alex and Laura Offe are putting on a party. And in their spirit of generous hospitality, everyone is invited.

"We wanted to create not just a restaurant, but a space where people whether friends or business colleagues would drop by and make it their go-to place for a drink, or dinner, or just a snack," Mr Offe explained.

"If you want to bring your kids or your dog, they are welcome as well."

This is the essence of the siblings' young brand of edgy street-food restaurants, being assembled under their start-up company Meraki Hospitality Group. It began with Uma Nota, their Brazilian-Japanese fusion restaurant opened in Central in March 2017, and continues with BEDU, a modern Middle Eastern restaurant and bar, opened August 2018.

In a nod to their former homeland, France, the long-time Hong Kong residents opened a second branch of Uma Nota in Paris in July 2018.

With their unique food and beverage concepts already proving successful, the Offes have a vision to eventually build a global brand.
Dreaming Big
Like their parents before them, the siblings both had a background in hospitality before teaming up to start their own business.

"We got our passion for food and beverage business from our parents who held senior positions in the industry, but if our father had one regret, it was that he never opened his own restaurant," Ms Offe said. "We wanted to make his dream come true. His little dream became our big dream."

They knew it wouldn't be easy. Mr Offe said: "One amazing thing about Hong Kong is its cosmopolitan restaurant scene. This puts Hong Kong on the map globally, and is also what makes Hong Kong so attractive to operators. But because it's so competitive, we needed to come up with ideas to differentiate ourselves."

The street-food concept was settled on because it is fun and accessible.

"Having lived all over Asia where street food is predominant, we wanted to launch restaurants that are more affordable, open to everyone whether young child, business person or senior, and are more comfortable for people for all walks of life," said Ms Offe.
Weekend Initiatives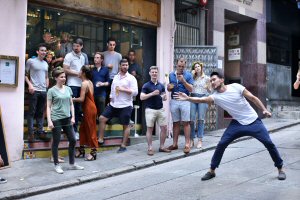 Japan has influenced South American street food since the mass migration of the early 1900s, a fact not so well known outside Brazil. Uma Nota introduced the famous Nipo-Brasileiro cuisine to Hong Kong, and to spice up the weekday offering, a Carnaval Brunch held once a month transforms the restaurant into the full Rio party, complete with music and dancing.

Soon, BEDU will launch Sunday afternoon sessions, transforming the premises into a Bedouin chic campsite to wind down the weekend with friends and family.

The Carnaval Brunches "are packed every time", says Ms Offe, because people in Hong Kong are looking for experiences. "How do you create an impact? It's about creating experiences for people, and being able to escape to Rio for a few hours in our fast-paced, dynamic city."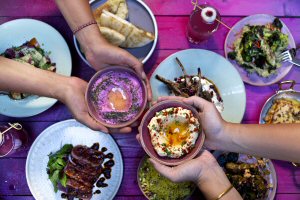 Engaging the local community is another strategy implemented from the outset.

"The only way to do that was to bring the community into the business," Ms Offe continued. So a local artist, French-born Elsa Jeandedieu paints a mural outside each venue (these artworks are now a signature of the brand); a local bakery makes its special-recipe bread; and plateware is hand-crafted by a local ceramist.

Wherever possible, produce is sourced from local farms, which also aligns with the company's sustainability goals and business strategy.

All bags, take away containers and off-site catering events utilise recyclable containers and utensils sourced from Vegware. Single-use plastic is pared back to a minimum, and glass bottles are recycled in partnership with a local waste-management business. Once a water filtration system is installed as planned, no more bottled water will be offered.

Though it's not their main motivation, the siblings believe these environmental initiatives add value to their brand, and will also improve cost efficiencies in the long run. "It helps the environment, and it helps us financially," said Mr Offe.
They've also introduced a loyalty programme which is proving successful with customers.
Loyal Workforce
Another strategy pivotal to their business plan is building a loyal workforce.

"If you want to deliver a good service, you need great individuals on your team," Mr Offe said. "We pay a lot of attention to developing our talents, teaching them well and taking good care of them, so they will want to grow with us." This strategy is based around family values, Ms Offe added. "We celebrate the fact that we are all together and doing a great job. Everybody contributes and feels important."

While the current focus is to develop their brand, the founders' vision stretches to international expansion in cities such as New York, London, Melbourne, Singapore, Shanghai and Bangkok.

"Everyone wants to party," said Mr Offe. "Our ultimate dream is to open a hotel, and develop other concepts."

Hong Kong provides a perfect starting point because the market is so competitive. "It forces you to push your boundaries, be creative, cost-effective, and come up with new ideas that are one step ahead of everyone else," said Ms Offe. "We feel that if we are successful here, we can be successful anywhere."

To date their three ventures have been financed by family backing but expansion will require outside investment. The siblings will begin seeking investor partners in 2019 but they are already fielding interest from people wishing to join the party.

"Of course, being approached by investors is great," said Ms Offe. For a start-up with an innovative edge, that's quite an achievement.

Related Link
Meraki Hospitality