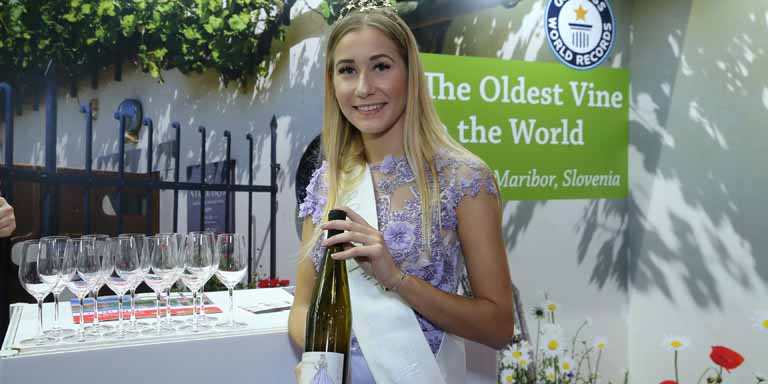 https://hkmb.hktdc.com/en/1X0AFN03
Wine Lovers Flock to Fair
Hong Kong's role as a wine hub is strengthened as a major drinks expo draws more than 1,000 exhibitors.
Long known as a foodies' paradise, Hong Kong is also making a name for itself in the world of wine, with the crowds flocking to the 11th HKTDC Hong Kong International Wine & Spirits Fair underlining the point.

Following the Hong Kong Special Administrative Region (HKSAR) Government's decision to eliminate all duty-related customs and administrative controls on wine in 2008, wine imports have leaped seven-fold – from HK$1.6 billion in 2007 to HK$12 billion in 2017. The city has developed rapidly as a wine trading and distribution centre, serving as a gateway for wines entering the Chinese mainland. Hong Kong has many advantages as a wine trading hub, with wine-related businesses – including auctions, retailing, warehousing, catering and logistics – developing alongside wine trading and distribution.

Opening this year's event, Hong Kong Trade Development Council (HKTDC) Executive Director Margaret Fong said: "Gathering 1,075 exhibitors from 33 countries and regions, the 11th edition of the fair showcases an extraordinary variety of wines and spirits from around the world. We are particularly pleased to welcome new exhibitors and pavilions from New Zealand, Norway, Peru, Sweden and Switzerland."
Global Interest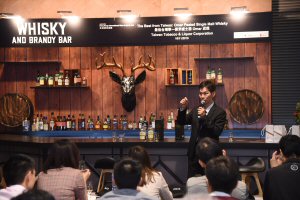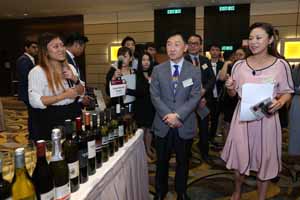 By the end of the three-day fair, nearly 19,000 trade buyers from 73 countries and regions had attended. More buyers came in from a number of important markets, including Japan, Singapore, New Zealand and Russia. The Public Day on Saturday drew more than 24,000 visitors.

Benjamin Chau, Deputy Executive Director of the HKTDC, said the fair saw exhibitors offering a wider array of wine and spirits for buyers from around the world. "This year we saw exhibitors promoting a greater variety of drinks than ever before, including spirits such as whiskies, gins and rums from Peru, Mauritius and Finland, as well as sakes and fruit wines from Japan and baijius and yellow wines from the Chinese mainland," he said.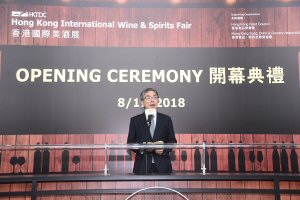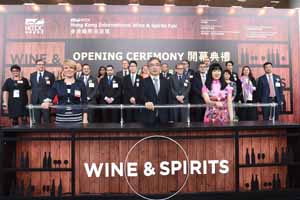 At the opening, HKSAR Acting Financial Secretary James Lau noted the city's advantages as a wine-trading hub. "Not only do we charge no wine duty, GST [goods and services tax] or VAT [value-added tax], Hong Kong is also well known for our world-class commercial infrastructure for the wine industry and business to thrive. We have multi-talented wine and culinary professionals, sommeliers, and the world's first wine storage certification scheme, just to name a few.

"Now, speaking of the market of the mainland, which is indeed our top wine re-export destination, we have shipped more than HK$2.2 billion worth of bottles in the first eight months of this year. Apart from our obvious proximity and our thorough knowledge of the mainland market, wine traders based in Hong Kong can also enjoy instant customs clearance when they move the wines into the mainland under our wine customs facilitation scheme."

Dignitaries opening the fair included Aleksandra Pivec, Minister of Agriculture, Forestry and Food of the Republic of Slovenia. The mediaeval city of Maribor in Slovenia is home to the world's oldest vine, which has been producing grapes for more than four centuries. The city's Queen of Wine Ana Protner (main picture) showcased vintages from the country.

Slovenia sent 15 exhibitors to the fair; fellow Balkan nations Romania, Bulgaria, Croatia and Serbia were also represented.
Near and Far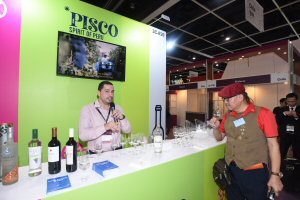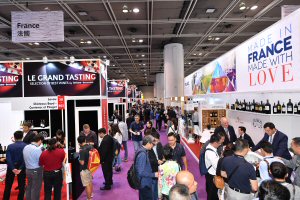 Group pavilions joining the fair for the first time included those from Ningxia, a key grape-wine growing region on the mainland, and Sichuan. Overseas pavilions included those from the Czech Republic, Japan and Peru.

The fair was not confined to drinks. The World of Olive Oil debuted at the Vinitaly Pavilion to promote premium olive oils.

The movement towards organic foods is reflected the world of drink, with an Organic Wine and Spirits Corner featuring a range of organically produced beverages for visitors to try.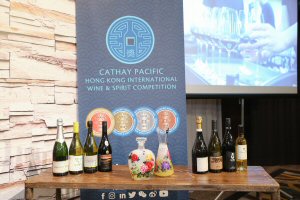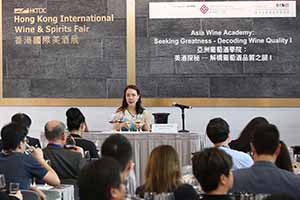 The Wine Industry Conference was held on the opening day under the theme "Driving Growth: The Flourishing Asia Wine Market". The 10th Cathay Pacific Hong Kong International Wine & Spirit Competition Award Ceremony was also held during the opening evening's cocktail reception. The HKTDC organised more than 70 events during the fair including seminars discussing key industry issues such as "Go beyond 42 Customs Districts: Leap on the Wine Express to the Mainland Market" and "Think Like an Insider: Secrets of Wine Sourcing".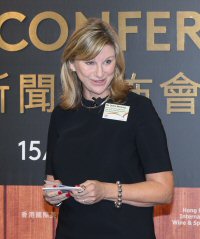 Following a successful debut in 2017, the Asia Wine Academy, co-organised by the HKTDC and the Hong Kong Polytechnic University School of Hotel and Tourism Management, returned for the 2018 fair. On the theme of "Seeking Greatness: Decoding Wine Quality", Masters of Wine Jeannie Cho Lee and Sarah Heller shared their insights on Italian and French wines, exploring how wine style, region and production method affect wine quality and assessment methods.

Members of the public flocked to the fair on its final day, when events included "Discovery of Key French Wine Regions", which featured Master of Wine Debra Meiburg; "An Introduction to Key Sake Styles", where visitors learned more about sakes; "West-meeting-East: Comparing Wine & Sake"; and whisky-tasting seminars with popular whisky brands such as "Highland Park presents 'The Orkney Single Malt with Viking Soul'".
Expanding Market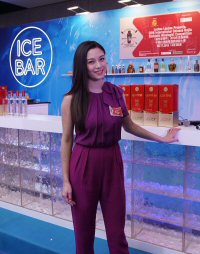 Demand is growing on the mainland, especially for low- and mid-range mass-produced products, and the fair provided the perfect place for traders looking to source wine products. Charles Wu, General Manager, Hunan S E M Trading Co., Ltd, said: "French and Italian wines remain the popular items among mainland consumers, followed by those from Spain, Australia and Chile. The Hong Kong International Wine & Spirits Fair is a good place to find new wines to enrich our offerings. I have already placed an order worth US$100,000 for red wines with an existing supplier from Italy and also found a new Italian supplier and a Spanish winery for a selection of red wines. I expect to purchase wines valued at about US$100,000 from each of them."

The HKTDC is organising the Hong Kong Wine Journey citywide promotion again this year, putting together about 90 wine-related activities in November. In addition to enjoying free corkage at selected restaurants, the public can take part in a series of wine tastings, themed tours and wine-pairing events, among others, to enjoy an amazing fine wine experience.

For details, please refer to the Hong Kong Wine Journey map [http://hkwinefair.hktdc.com/dm/2018/publicDay/en/citywide_en.html] or the event website [http://hkwinefair.hktdc.com/dm/2018/publicDay/en/hkwinefair_en.html].

Related Link
Fair Report