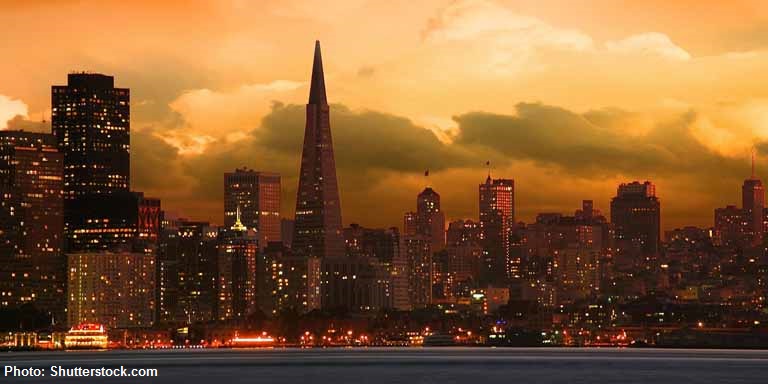 https://hkmb.hktdc.com/en/1X0AFHST
China Chases America's VC Crown
San Francisco, the traditional home of start-up funding, has already lost its top-spot status to Beijing when it comes to megadeals.
The United States has always been the home of venture capital (VC), which appeared in its modern form in Boston in the 1940s and soon moved its focus to Silicon Valley and the San Francisco Bay area.

There has recently been much soul-searching that the country is losing its edge, with other centres of gravity appearing. While the US in general and San Francisco in particular remain undisputed global leaders in VC, in one key aspect the country and city have already lost their crowns. Beijing is global capital of the megadeal – mature VC deals worth more than US$500 million.

The Center for American Entrepreneurship released a report in October detailing growth in VC over the past 15 years, and noted there has been an explosion in activity over the past five years. Deal volume worldwide has risen from 8,600 deals worth US$52 billion in 2010 to 14,800 deals valued at $171 billion in 2017.

Much of the expansion in activity has been in cities outside the US, especially in Asia with China in the lead. The US is still king but has gone from accounting for 95% of VC activity in the mid-1990s to two-thirds in 2012 and now just more than 50%. China gained the most with nearly a quarter of global VC investment. India plus the United Kingdom account for 9%; Germany, France, Israel, Singapore, Sweden and Japan account for a further 9%.

And Chinese cities lead at the heavy-hitting end of the spectrum – seven of the top 20 megadeal cities are Chinese and numbers one and three (Beijing with 43% and Shanghai with 9%) accounted for more than half the megadeals in the 2015-17 period. Rounding out the top five were San Francisco (18% of the global total), Hangzhou (6%) and Bangalore (5%).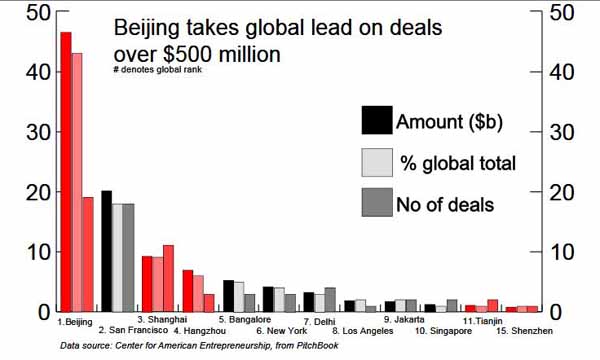 Counterbalancing the whales, minnows seem to be few and far between in China. When looking at start-ups at the angel or seed-funding stage, when individuals or small groups of private investors sponsor early-stage start-ups, the report found the sole Chinese city in the top 50 is Beijing with 106 such deals in the 2015-2017 period, just 0.44% of the worldwide total. In contrast, traditional leader San Francisco had 1,998 deals, more than 8% of the total.

The report found start-up and VC activity is centred on cities rather than countries with just 24 centres accounting for three quarters of global VC investment despite having just 4% of the global population. The top six cities alone draw more than half the world's VC investment despite having just 1% of the population. The expansion in VC activity has been even more lopsided – four cities account for more than half the VC investment growth in past half decade; the top 13 provided three quarters.

Chinese cities also lead in terms of growth – three of the 10 biggest contributors to the global expansion in VC funding between 2010-12 and 2015-17 were Chinese, with Beijing's $65.61 billion increase contributing 20.5% of global growth.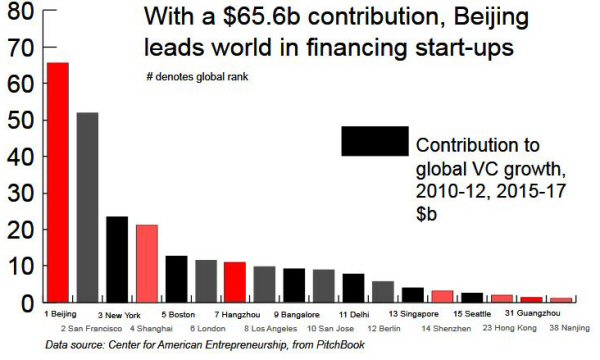 The report took snapshots of VC activity during three three-year periods – 2005-2007; 2010-2012 and 2015-2017 – and derived most of its data from VC financial data tracker PitchBook.
The report identifies 62 cities as established global start-up hubs, and describes six as superstar hubs – the San Francisco Bay Area is the undisputed leader, followed by New York and London. Beijing is the only Asian city in this category and one of just two non-American ones. Los Angeles and Boston are the other two superstars.

The next group of established hubs – elite global start-up hubs – comprise 13 cities of which just four are in the US, three each are in India and Europe while Shanghai and Singapore represent Asia, with Tel Aviv the sole Middle Eastern centre. These 13 cities account for nearly a fifth (18%) of global venture capital investment.
The 20 advanced global start-up hubs, the third tier in the top group, comprises include just eight US members. The Asia-Pacific's seven cities in this category include three from China – Hangzhou, Hong Kong and Shenzhen – and one from Southeast Asia – Jakarta – while there are four from Europe and one (Toronto) from Canada. These 20 cities account for 11% of global venture capital investment.

The 23 distinguished global start-up hubs round off the VC premier league of which just one (Guangzhou) from China and one, Kuala Lumpur, from Southeast Asia. This category includes one more from the Middle East (Dubai) and the sole South American city in the top tier, Sao Paulo. These 23 hubs account for 5% of global venture capital investment.

The report also identifies 30 emerging global start-up hubs, where Southeast Asia (Bangkok, Ho Chi Minh City and Manila) makes a mark. Many such hubs have seen meteoric growth over the past five years, with capital raised jumping more than 7,000% in Bangkok and more than 2,000% in China's tech hotspot of Hangzhou. All the top six cities for VC growth between 2010-12 and 2015-17 – Jakarta, Sofia, Dubai and Tianjin make up the balance – recorded growth of more than 1,000%, or 10 times.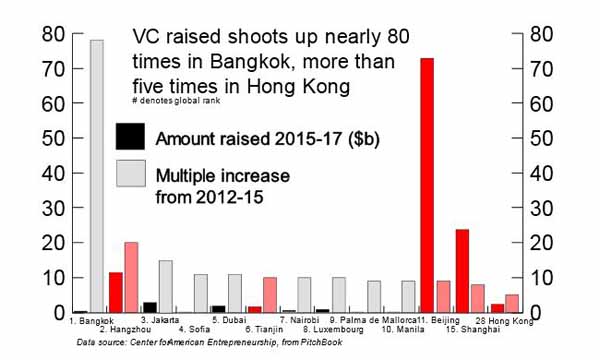 The report was compiled by Richard Florida – professor at the University of Toronto's School of Cities, author of The Rise of the Creative Class and The New Urban Crisis – and Ian Hathaway – Research Director at the Center for American Entrepreneurship. The compilers emphasised that, as well as spreading beyond the US, start-up globalisation has been spiky, concentrated in a handful of high-performing cities with just 24 accounting for three-quarters of global VC investment.

In a foreword to the report, Brad Feld – Managing Director of Foundry Group and resident of thriving start-up hub Boulder in Colorado – described the pace and breadth of the start-up revolution as remarkable. He describes Boulder's success drivers as a major research university, highly educated workforce, three national laboratories and flagship companies in computing and life sciences. Rich cultural, social and natural amenities also play a role. Another key factor is the inclusive nature of the community, people are willing to help others without expecting anything in return.

While welcoming the globalisation of start-up activity, Mr Feld feared that the growing tendency for entrepreneurs to build their innovations at home, rather than move to the US as they had done for many years, would blunt the nation's competitiveness.
Related Links
Center for American Entrepreneurship
Global Startup City
USA
Hong Kong
Mainland China
North America