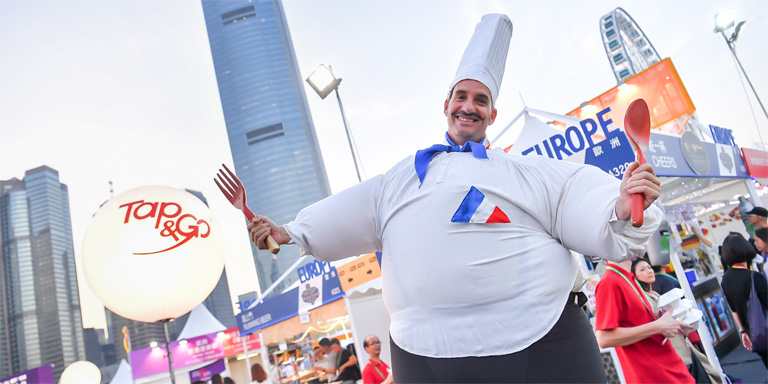 https://hkmb.hktdc.com/en/1X0AF8QM
Wine, Dine and be Merry
Hong Kong has an early taste of the festive season as this gourmet fest celebrates its 10th birthday.
Gourmets from near and far will gather this month for the 10th edition of the Hong Kong Wine & Dine Festival, a flagship event on the city's culinary calendar.

Over four days, from 25-28 Oct 2018, the Central Harbourfront will be transformed into a global fine wine and food emporium. Showcasing more than 430 booths, the festival will be 20% bigger than last year's event.

Featuring participation from some 30 countries and regions, the festival brings high-profile international chefs and industry experts to host master classes, tastings, and devise wine-pairing meals. The exotic array of beverages includes samplings of everything from single-malt whiskies to single-origin coffee roasts that will keep palates refreshed.

As they graze, festival-goers will be entertained with live music and fun activities. Meanwhile, exhibitors at this high-traffic event gain ready access to potential B2C and B2B customers.
International Exposure
Zhang Jun, Vice Chairman & Chief Executive Officer of China Construction Bank (Asia), title sponsor for a fifth consecutive year, noted how the Hong Kong Wine & Dine Festival has developed into one of the largest outdoor wine and dine events in Asia, with much global exposure. "We are happy to see it rated as one of the top 10 wine and dine events in the world by international media," he said.

Peter Lam, Chairman the Hong Kong Tourism Board, organiser of the event, said "years of concerted effort" had propelled the festival into one of Hong Kong's signature events. The 10th anniversary edition would be a "mega birthday party", offering new experiences to locals and visitors, he added.

"We will also take this opportunity to step up our promotion of Hong Kong's wine and dine offerings in various source markets, and collaborate with our trade partners to attract visitors to participate in this extravaganza, as well as enriching visitors' in-town experience," Mr Lam said.
Michelin Delights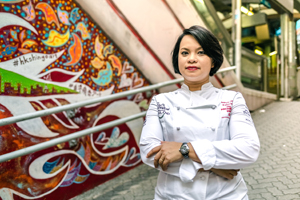 Among the highlights, five Michelin-starred chefs coming from France, Thailand, Taiwan, Singapore and the Chinese mainland will collaborate with two prominent Hong Kong chefs to create a "10-Michelin-starred Dinner" in the Tasting Room – a highly anticipated, eight-course wine-pairing banquet.

Chateaus from various countries and regions – including Burgundy, Croatia and Russia – will make debut appearances, while two new series especially tailored for the wine connoisseur are the Wine & Dine 10th Edition Specials and 2009 Vintage, featuring selections from Robert Parker's 100-point red wines.

The International Street Eats zone includes Jiu-Wu Beef Noodle from Taiwan and local delicacies from seven regions, including Korea, Europe and Latin America. The Coffee Fiesta zone is the place to find some of Hong Kong's most famous coffee and pastry shops.

Popular attractions returning include the Robert Parker Wine Advocate Pavilion, a quality wine tasting experience from established classics and rising stars to off-the-beaten-track producers; and FeedMe Lane, where visitors can discover Hong Kong's most current culinary darlings.
Trade Participants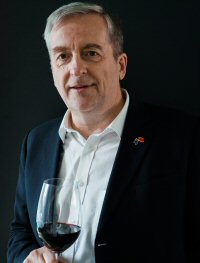 Overseas organisations also have treats in store. Thomas Jullien, representative of the Bordeaux International Wine and Dine Festival Organisation, which is co-organiser of the festival, looks forward to bringing "the finest wines from Bordeaux for the enjoyment of our friends in Hong Kong and visitors from different parts of the world".

Wine Australia, participating for the third year, is planning a fun and educational experience in its precinct.

"The Made Our Way Bar will be the central hub and provide festival patrons with a chance to engage directly with 12 wineries from around Australia," explained David Lucas, Wine Australia's Regional General Manager.

The Refreshing Sparkling, White and Rosé booth, and the Rich and Bold Red booth, will give festival goers a chance to explore a collection of Australia's regions and varieties that will take consumers on a journey of discovery, he said.

"Satellite bars will focus on the most popular varieties in Hong Kong from a regional perspective, with the Barossa and McLaren Vale wine regions showcasing the best of their regions with curated wine flights. In the Grand Pavilion, the Best of Australia booth will showcase some of Australia's premium, iconic wines and finest examples of region and variety," Mr Lucas said.

He regards having a presence at the Hong Kong Wine & Dine Festival as a great opportunity to exhibit the quality and diversity of Australian wine in a fast-growing market. "Over the past few years we have seen great enthusiasm from consumers at the festival and there's been an obvious desire to learn more about and try different varieties of Australian wine," he said.
Related Links
Discover Hong Kong Wine & Dine Festival
Hong Kong International Wine & Spirits Fair
Catering Services
Food & Beverages