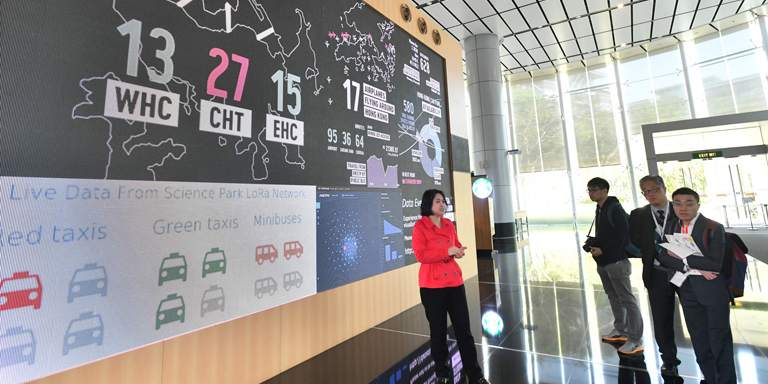 https://hkmb.hktdc.com/en/1X0AF6F3
Smart Solutions for Fast-paced City
Science parks, utilities and innovators team up to realise smart-city dream.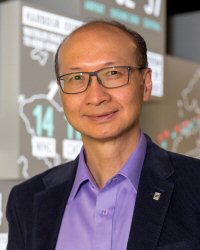 Since the local government released its Smart City Blueprint in December 2017, Hong Kong has been on course towards becoming a world-class smart city.

The vision to streamline city management, improve people's quality of life and be a leader in sustainability focuses on six major areas: Smart Mobility, Smart Living, Smart Environment, Smart People, Smart Government and Smart Economy. As identified in the blueprint, the key lies in making use of innovation and technology (I&T).

Achievements forecast for the next five years were ambitious but have been progressing steadily thanks to collaborative efforts between public and private sectors, and the community in general.

Many of the future technologies necessary to achieve these goals are being developed at Hong Kong Science Park, designated pilot site for the government's Smart Region. The park is part of the Hong Kong Science and Technology Parks Corporation (HKSTP).

Peter Yeung, Head of Electronics & ICT Clusters, Smart City Platform, HKSTP, outlines some of the progress to date.
Industry Partners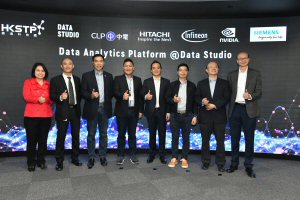 "March 2018 marked the launch of our Data Analytics Platform, a collaboration between HKSTP and leading technology partners Siemens, Hitachi Vantara, CLP Holdings, Infineon and NVIDIA to accelerate adoption of smart-city solutions," Mr Yeung explained. "The partners have provided access to data, hybrid cloud, data-centric tools and software to harness the power of big data and Internet of Things for developing data-driven innovation."

The platform was an extension of the Data Studio launched in February 2017 as a neutral and secured platform for corporations to share data and co-create with the developer community. By 31 July 2018, the Data Studio had attracted more than 7,000 visitors and 760 registered developers who built 832 applications, Mr Yeung said. It housed 283 datasets of various disciplines such as health, finance, environment, education and transport for fostering the development of multiple apps.

To advance smart-city concepts, eight multifunctional smart lampposts had been installed in Science Park with Internet of Things (IoT) technologies developed by partner companies. Their function was to collect data on the external environment (such as weather conditions, and pedestrian and traffic flow), provide light-emitting diode lighting, and allow quick-charging for electric vehicles.
Meanwhile, a number of projects have been conducted at The Sensor Hub, an open platform for testing the latest sensor technologies to improve quality of life, including air, water and weather sensors.

The Smart City Digital Hub, designed to accelerate development of smart-city applications and solutions specifically for Hong Kong, had also been active since its launch last December in collaboration with Siemens. "The open lab, consisting of the Smart Mobility Test Bed and Smart Energy Lab, allows experts to carry out R&D to tackle city challenges such as traffic congestion, public safety, energy saving and city planning," Mr Yeung said.
Greener Power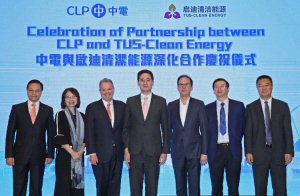 On the green energy front, power company CLP Power Hong Kong Limited (CLP) is introducing the Feed-in Tariff (FiT) Scheme and Renewable Energy Certificates (RECs) on 1 Oct 2018 to encourage the community to participate in renewable energy development.

"According to the government's Hong Kong Climate Action Plan 2030+, it estimated that Hong Kong has about 3-4% of realisable RE [renewable energy] potential arising from wind, solar and waste-to-energy," a CLP spokesperson said. "We believe both the FiT scheme and RECs will help encourage local RE development which will contribute to the share of cleaner energy in the fuel mix for Hong Kong."

With its long-standing track record in building and operating electricity supply infrastructure, CLP is also contributing its expertise via a joint venture with the Chinese mainland's TUS-Holdings Co., Ltd (TUS). The partnership between their respective subsidiaries – CLP Smart Energy (China) Limited and Beijing TUS-Clean Energy Co., Ltd – aims to develop and deploy new-energy and smart-city technologies amid growing demand for digitalised energy infrastructure and services on the mainland.

A CLP spokesperson said the cooperation between the two companies would have a synergistic impact on the development of innovative energy solutions, thus contributing to the evolution of smart-city developments in Hong Kong and the mainland. Initial focus of this partnership would be in southern China, especially the Guangdong-Hong Kong-Macau Bay Area.

Richard Lancaster, CEO of CLP, said the Bay Area – positioned to be a global hub of innovation, finance, shipping and trade – will "obviously become a connected network of smart cities enabled by digitalisation. To achieve this we will need clean, reliable and efficient energy infrastructure supported by innovative customer services," he said. "With our strengths combined, TUS and CLP are well positioned to capture the business opportunities that emerge."
Construction Prowess
Hong Kong is also showing its capabilities in regard to smart building.

Hong Kong-headquartered isBIM Limited (isBIM), a leading building information modelling (BIM) data consultancy in the Asia Pacific, is at the forefront, working with government, leading property developers, architects, contractors and construction education institutes to adopt and implement BIM across various sectors.

Anthony Lam, Director, isBIM, explained that BIM could help the construction industry build a smarter Hong Kong: from the design stage where the technology enabled greener, more sustainable and user-friendly buildings; to fulfilling health and safety requirements on site, monitoring progress and identifying efficiencies; as well as facilities management.

Mr Lam said an increasing number of developers and architects implemented smart building designs. The visible signs of this included transforming decorative elements into green features such as shading, while advanced sensors on rooftop solar panels collected temperature and sun-path data from the Hong Kong Observatory and automatically adjusted angle and direction to maximise sunlight absorption.

Another innovation being adopted in Hong Kong developments was virtual reality, he said. "The data integrated BIM model provides an immersive environment for users to experience how the whole building will be like visually when it is completed, hence everything is predictable and user experiences can be enhanced."
Transforming Buildings
"The whole idea of BIM is to transform and digitalise all information and data of a particular building," Mr Lam said. Such data could be used in various ways – such as simulation, visualisation, optimisation, comparison, monitoring and analysis.

"The more building information is gathered and digitalised, the bigger the Hong Kong buildings database will become," he added. "Such big data can also be used as records or references when the building is being demolished or redeveloped."

Projects where isBIM has deployed the technology for smarter development include the Hong Kong Science Park phase 3, public housing development for the Hong Kong Housing Authority, the Innovation Tower at Hong Kong Polytechnic University, and West Kowloon Cultural District.

To find out more about smart cities and smart businesses, have a look at the Hong Kong Trade Development Council's Smartbiz Expo [http://hkmb.hktdc.com/en/1X0AF2YW/heads-up/SmartBiz-Expo-Brings-Hi-tech-Solutions-to-SMEs].
Related Links
CLP
Hong Kong Science and Technology Parks
ISBIM
Environmental Protection
Information Technology
Technology