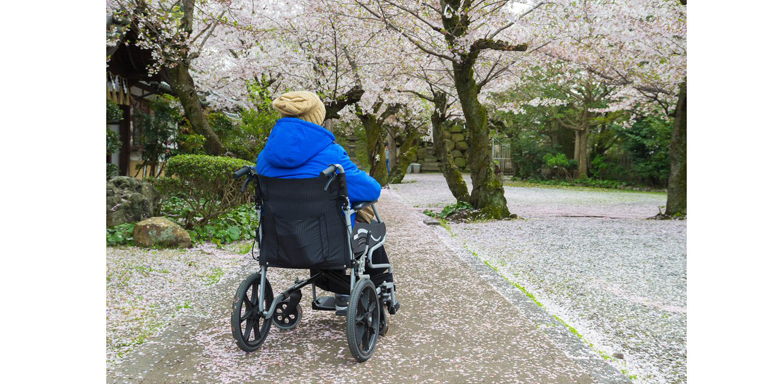 https://hkmb.hktdc.com/en/1X0AESZP
Asia Looks to Japan and Europe for Elderly Care Models
The Ageing Asia forum hears how countries facing "silver tsunami" rethink facilities such as nursing homes as dealing with ageing population moves to top of governments' agendas.
With drastically changing demographics set to transform many Asian countries into elderly centric economies, the Ageing Asia event looked to learn the lessons of nations that have already successfully managed this reinvention.
Falling birth rates and rising life expectancy have resulted in nearly every developed nation having a disproportionately large elderly (65 and older) population, a demographic shift that many have yet to address. In Asia, the problem is particularly acute. Japan, for instance, has the highest proportion of elderly citizens in the world; many other countries in the region do not trail far behind.
Seemingly, within the span of just one generation, issues such as dementia and elderly care provision have shot to the top of many governments' agendas. It was against this increasingly frenetic backdrop, then, that this year's International Ageing Asia Innovation Forum – the eighth such event – opened its doors.
Chairing this year's conference was Lam Ching-choi, Chairman of the Hong Kong Elderly Commission and a member of the Special Administrative Region's Executive Council. Opening proceedings, he detailed the questions attendees at this year's event needed to consider, saying: "How can we better empower, employ and engage older people? As people live longer lives, will 70 become the new 50? Or 80? Or 90? Overall, how can we best meet the needs of an increasingly ageing Asia, one where the overwhelming desire of many elderly citizens is to spend their remaining years with their families and in communities they are familiar with rather than in a hospice or a nursing facility?"

Succinctly spelling out the scale of the challenge that lies ahead, Professor Hiroyuki Murata of Tohoku University's Smart Ageing International Research Center (SAIRC), said: "By 2030, there will be 34 super-aged societies in the world, predominantly in Europe or Asia. These are countries where more than 20% of the population will be over the age of 65. Japan is already one such society, with Hong Kong, Singapore, South Korea and Taiwan set to be in the same situation by 2025, while China and Thailand will not be far behind.

"In Japan, the thinking used to be that old people were 'someone else'. Now that thinking has changed and it's more 'it's me and my family'. One direct consequence of this is the demand for more local nursing homes, with few welcoming the prospect of being dispatched to some remote spot in their later years.

"Similarly, prior to 2005, 'dementia' was considered a dirty word, with the condition seen as untreatable. Now it is more often described as 'challenging', while being viewed as something that can be treated and even cured. Not so long ago, it was seen as taboo to even talk about end-of-life issues, now such discussions are seen as only practical. Overall, the mindset has shifted from unwilling acceptance to finding ways to ward off the worst effects of growing old."

As part of his presentation, Prof Murata highlighted the way Japan is looking to accommodate the needs of its increasingly elderly population. This has seen a number of shopping malls redesigned to make them more elderly-friendly, as well as the introduction of keep-fit classes specially tailored to the needs of the 65-plus age group.
Dealing with Dementia
Despite the success stories highlighted by Prof Murata, there are a number of areas where Japan has had less success in meeting the needs of its expanding pensioner class, most notably in specialist nursing and dementia care. Turning the spotlight on these particular challenges, Mikoio Okumura, Chief Executive of Sompo Care, a Tokyo-based nursing-care group, said: "In Japan, there are now 68,000 centenarians, 440 times more than there were in 1963. The years in which a person remains healthy, the healthy lifespan, has kept pace, with about 12 years of end-of-life ill health expected for women and nine years for men.

"The demand for nursing care, then, has skyrocketed and cannot be met domestically, especially as the workforce is shrinking. There are now just 2.2 working adults for every elderly person. This means that, right now, there is a 50,000 shortfall between the number of caregivers needed and the number available. By 2035, it's estimated that the shortfall will be more like 680,000. Already there are 3.5 job openings for every nurse.

"Then there is dementia, which today costs Japan US$138 billion a year. For our part, we've taken a three-stage approach to addressing the issue. Firstly, we provide dementia screening for all our 20 million customers. We then collect data from our 20,000 elderly care customers and assess which activity, diet or combination of the two best enhances cognitive ability, using this as the basis for future treatment. Finally, we have incorporated AI [artificial intelligence] and other digital technologies into the support regime we offer in nursing facilities and in patients' own homes."
Singapore's Seniors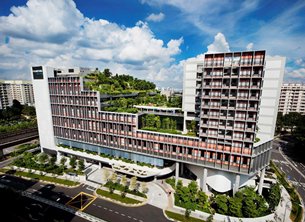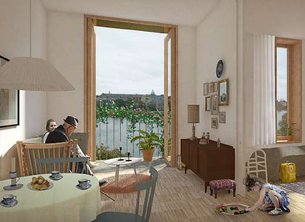 With the problems Japan has had to address proving something of a wake-up call to other countries likely to soon find themselves in the same situation, a number have already begun to take a proactive approach to readying themselves for this dramatic shift. Among these nations, Singapore is seen as one of the best-equipped to weather its own particular "silver tsunami".

Outlining the country's strategy, Amy Khor, Senior Minister of State for Health, said: "By 2030, one in four Singaporeans will be 65 years old or older, with the number of resident seniors expected to have doubled to more than 900,000. In light of this, we are only too aware that we will face growing demand for healthcare, a problem that will be compounded by a lack of family support and an overall reduction in the size of the workforce, with an increased fiscal and care burden falling on an ever-smaller number of young people. All of this, however, shouldn't detract from the headline good news – healthy life expectancy is increasing.

"Our approach has been to increase accessibility to healthcare by adding capacity in a sustainable manner and enhancing the quality and affordability of care. To that end, we have added 1,700 acute hospital beds, 1,200 community hospital beds, 5,300 nursing home beds and expanded our healthcare workforce by 36%. In order to cater to the needs of the stay-at-home elderly, we have the facilities to support an additional 4,200 patients in their own residences, as well as the capacity to look after a further 2,900 people via our day-care centres. At the same time, we are also looking to build dedicated communities of care."
Nursing Homes of the Future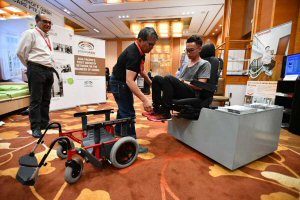 One of the first of these communities was the Kampung Admiralty Project, which officially opened in May. Liak Teng Lit, the project's Co-chair, detailed its special features: "Kampung Admiralty consists of two blocks of studio public apartments, 100 in all. They are S$100,000 (US$73,300) each, come with all the latest silver-age technology and only Singaporeans aged 55 or above can buy one.

"There's also a big community plaza, food outlets, a hawker centre, a medical centre, a supermarket, shops and banks, as well as child and day-care facilities. Above it all, there's a community rooftop garden with a community farm and more than 100 fruit trees. There are activities for the young and for the old and there are spaces for solitary medication and spaces for communal activities."

While such bespoke communities are still a novelty in Asia, in certain parts of Europe they are now an established part of the overall elderly care regime. One country that has pioneered this approach is Denmark, with the northern city of Aalborg seen as taking one of the most progressive stances on elderly care in the world.

Outlining the city's strategy, Councillor Thomas Krarup, a former member of Aalborg's Elderly and Disability Administration, said: "While Aalborg is one of the happiest cities in the world, as with the rest of Europe it reached a point when its existing healthcare system was no longer sustainable. It was at that point that a decision was taken to move away from the costly and labour-intensive nursing-home model and to start investing in quality of life.

"Essentially, we set out to build the Nursing Home of the Future and we didn't build it in some remote location but in the heart of the city instead. It has its own restaurant, a fitness centre, medical and dental facilities, a library, free Wi-Fi and – in a deliberate move to boost integration and interaction – it is publicly accessible. There are 75 two-bedroom apartments in all, each with a mobility aiding ceiling-mounted hoist system and smart floor sensors.

"Basically, we redefined the very notion of what a nursing home should be. Our guiding precept was a desire to create a space where the elderly would feel at home, but which also came with all the resources and reassurance offered by a formal healthcare facility.

"Did it work? Well, from a financial point of view, we cut our elderly healthcare costs from US$3 million a year to US$1.5 million a year. At the same time, the level of satisfaction expressed by our senior citizens rose from 20% to more than 70%. We're now looking to establish a second community, with this one having more of a focus on the needs of dementia sufferers."

The 2018 International Ageing Asia Innovation Forum took place from 15-16 May at Singapore's Marina Bay Sands Convention Center.

Related Link
Ageing Asia Innovation Forum
For more China market opportunities, please visit: http://research.hktdc.com