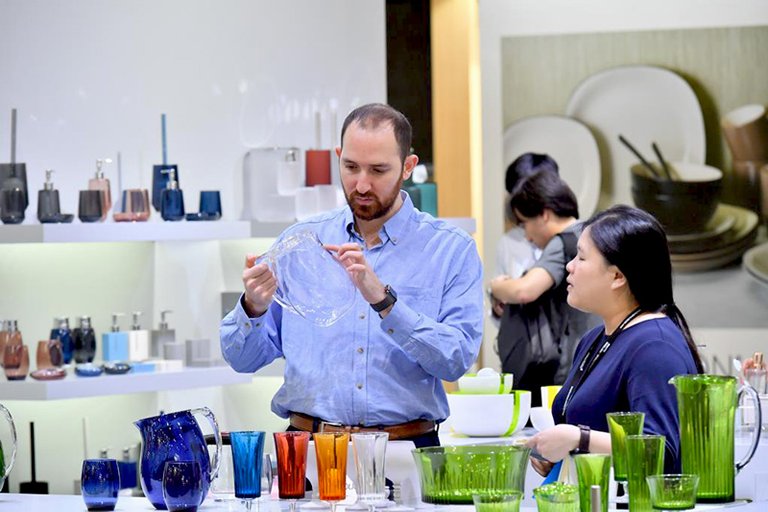 https://hkmb.hktdc.com/en/1X0AE4BD
Hong Kong Houseware Fair Survey 2018: Kitchenware and Gadgets Lead the Way
The housewares sector showed strong signs of optimism according to the results of a survey conducted at the recent HKTDC Hong Kong Houseware Fair. Kitchenware and gadgets category was seen as holding the most potential among survey respondents, while simplistic design style was found to be on-trend.
There was growing confidence in the prospects for growth in well established markets such as Europe and North America, while mainland China continues to be the hottest emerging market. The poll also indicated significant growth in online retailing engagement in the housewares sector, with the proportion of respondents using e-tailing more than doubling year on year.
Signs of Growth for 2018
Similar to 2017, both buyers and exhibitors took a positive view of sales performance in 2018. Exhibitors were more confident than buyers for future sales prospects, with more than half the surveyed exhibitors (52%) anticipating an increase in sales during 2018, while only 31% of buyers expressed the same view. However, only 4% of buyers expected a drop in sales in 2018, compared to 9% last year.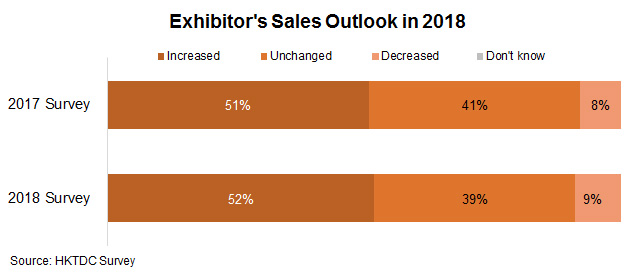 The majority of surveyed exhibitors (59%) expected production cost pressure to continue in 2018. While 57% of the surveyed buyers expected their sourcing prices to remain unchanged in the coming year, 42% expected increases. Most respondents expected FOB selling or retail price to remain unchanged, with 46% of exhibitors and 73% of buyers sharing the view.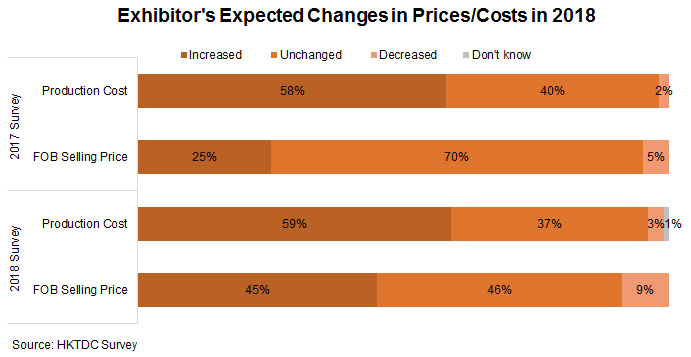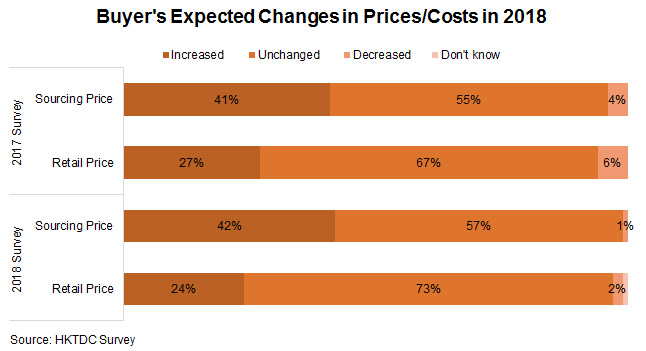 Overseas Markets Show Strong Growth Potential
The growth prospects in overseas market are looking up for 2018, according to the industry players surveyed. Buyers were asked to rate specific markets on a scale from 1 to 5, with '1' indicating that the market was seen as 'very unpromising' while '5' was 'very promising'.
Overall, the response was optimistic, with improved confidence in most major overseas markets, scoring average ratings of between 3.19 and 3.64. Western Europe was ranked the most promising among traditional markets, with a substantial increase from 3.37 last year to 3.64 in 2018, followed by North America (3.62) and Korea (3.46), although confidence in the Japanese market showed a clear decline.
For emerging markets, mainland China continued to be regarded as the most promising for housewares, although the rating dropped to 3.59 from 3.67 last year. Other emerging markets were also viewed as good prospects, with Middle East and India rated higher than in 2018.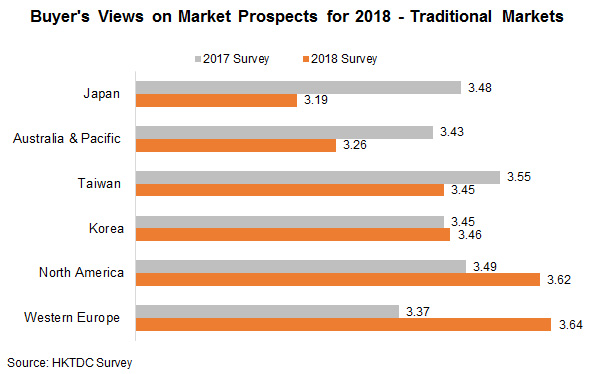 Minimal Concerns Over US Trade Disputes
Despite tensions between China and the United States, buyers were confident of overall export performance, with more than half of the buyers (69%) expecting no impact from trade disputes. Exhibitors were less optimistic, however, with 47% expecting no impact and about one-third forecasting a slightly negative impact.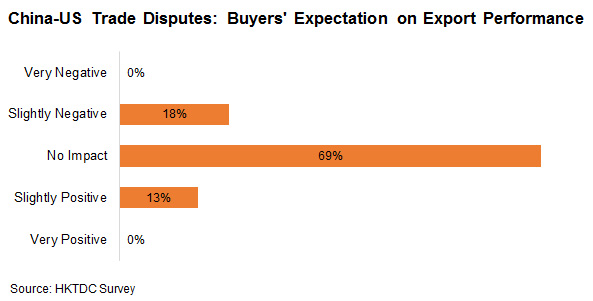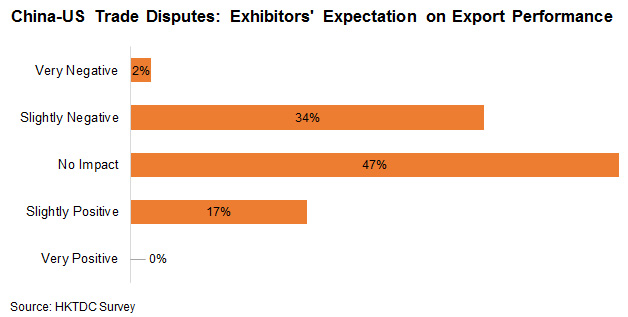 Great Expectations for Kitchenware and Gadgets
This year, the 'kitchenware and gadgets' category is seen as having the highest growth potential, with 15% of respondents naming it top pick – a five percentage points increase over last year. Eco-friendly products (14%), which came top in the 2017 survey, ranked second this year. Among other categories seen as promising were interior décor and handicrafts (12%), furniture (10%) and tableware (7%).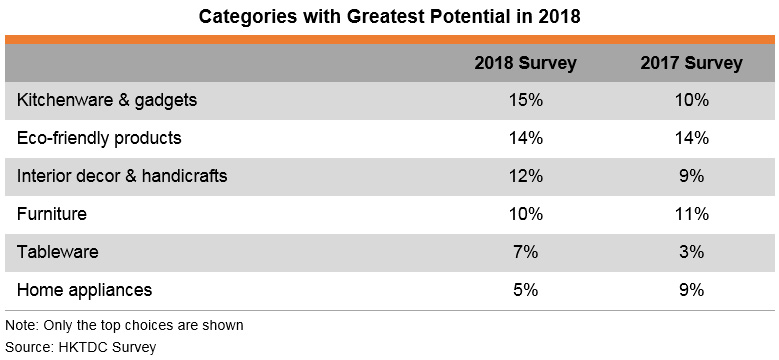 Simply the Best – Low Key Designs are Top Performers
Simple design styling continued to be popular this year, with 45% of both buyers and exhibitors endorsing this approach, the same as 2017. There was also strong preference for multi-function products (42%) and trendy design (40%), a marked rise from 29% and 30% respectively in 2017.
The rise in health awareness has helped to drive increased demand for healthy lifestyle products albeit still at a low level, rising from 2% in 2017 to 6% this year. One exhibitor selling kitchenware and gadgets indicated that kitchen tools for small homes are gaining popularity, as the size of the average family is getting smaller.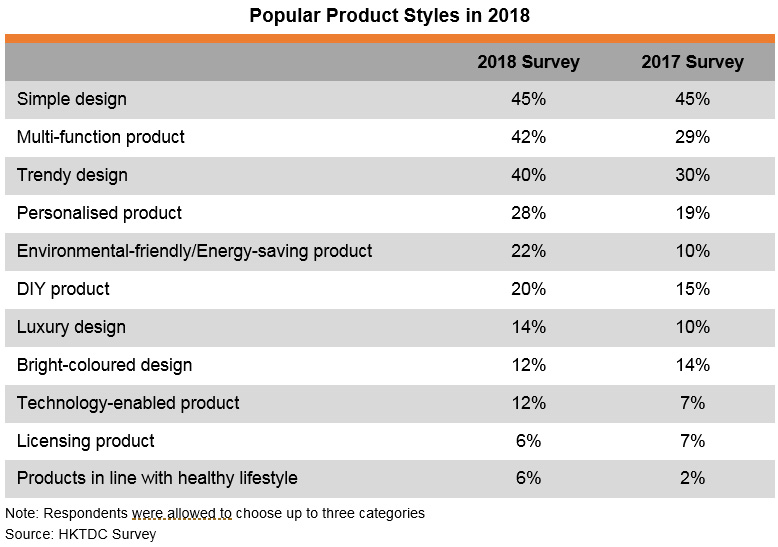 Scramble for Online Retail
Greater engagement with online retailing was observed in 2018, with 44% of respondents engaged in e-tailing, a significant jump from 18% in 2017. Of those not engaged in e-tailing, 15% would consider future involvement, surging from 7% last year, indicating higher interest from companies in the housewares sector.


Kitchenware and gadgets continued to be the e-tailing star performer, with 25% of respondents seeing the category as likely to benefit from availability online. Tableware has gained popularity through the e-tailing channel, rising from 6% last year to 19% this year. Other popular online retail items included interior decor and handicrafts (21%), furniture (16%) and gardener and outdoor accessories (13%).
Rising Costs and Instability are Biggest Worries
Despite the rosy view of sales prospects, the survey revealed housewares players' growing concerns about the rising cost of doing business, fluctuations in raw material costs and global trade instability. 51% of respondents cited rising operating costs as the biggest challenge in 2018, up from 42% last year. Other major challenges included price fluctuation of raw materials (46%, up from 40%), fluctuations of global economy (39%, up from 26%) and keen competition within the industry (28%, up from 21%). The unpredictability of market trends and consumer behaviour, although outside the top five concerns mentioned in the survey, was sharply up, rising from 8% in 2017 to 20% this year.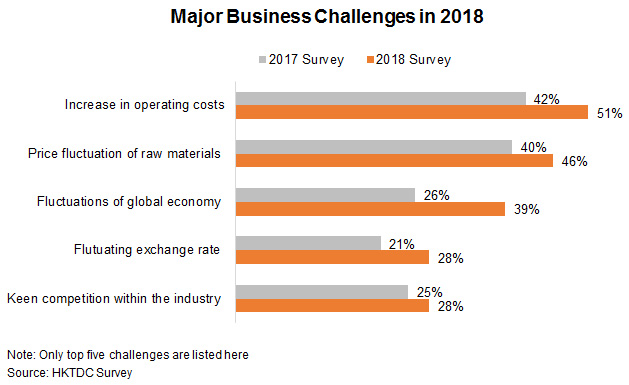 Respondents' Profile
The HKTDC Hong Kong Houseware Fair was held from 20-23 April 2018. During the event, HKTDC canvased opinions from 544 housewares professionals, made up of 314 buyers and 230 exhibitors.
Of the 314 buyers surveyed, 45% were based in Hong Kong, with the remainder based overseas. The leading selling/export markets named by respondents were non-China Asia (44%), mainland China (41%) and North America (40%).
Among the 230 exhibitors canvased only 17% were based in Hong Kong, with the remainder based overseas. Their leading markets were Asia (46%), Western Europe (37%) and mainland China (34%).