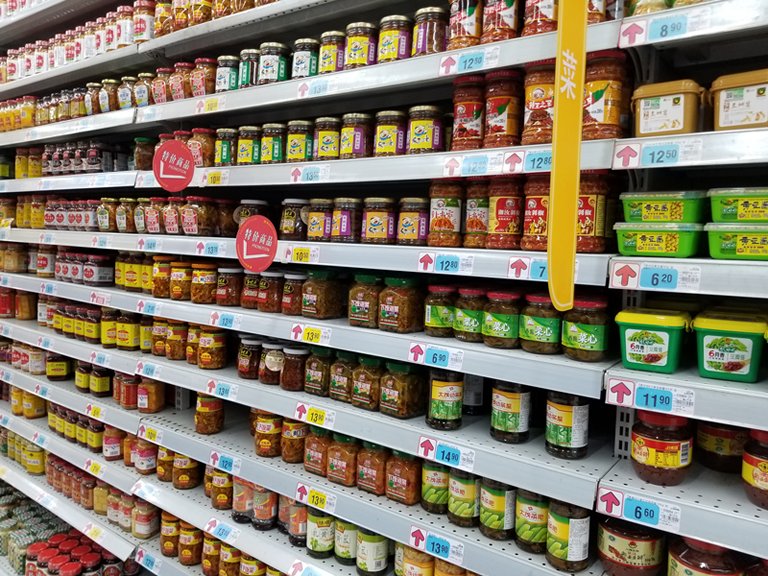 https://hkmb.hktdc.com/en/1X0ADQWY
China's Packaged Food Market: Consumer Seasoning Preferences
Today's mainland consumers dine out more often, and are becoming increasingly demanding of taste in home cooking. This has boosted the seasonings market growth potential. A recent survey conducted by HKTDC Research on the mainland packaged food market [1] shows that respondents bought an average of 3.44 types of seasonings in the preceding six months, a big jump from the 2.12 found in a similar survey in 2013. The purchase rates of organic seasonings and sauces, international-flavour seasonings, and high-end seasonings have all registered substantial growth.
Specialty Seasonings Much Sought After
Today's mainland consumers dine out more often, and are becoming increasingly demanding of taste in home cooking. From focus group discussions, it was found that respondents are eager to cook food at home that tastes like restaurant dishes, such as curry chicken, spicy fish, sweet and sour fish etc. Many respondents have tried making different kinds of special sauces, but are always disappointed by the result. Hence, they are willing to buy ready-made "seasoning packets" and cook "specialty dishes" following the packet instructions.
The respondents are also interested in cooking popular dishes of other regions or countries, driving the demand for seasonings. Some respondents from Shanghai joked in the focus group discussions that Shanghai is a modern city ready to embrace different things from the world over, and its people are eager to first "imitate" and then "modify and localise" different foreign dishes in an attempt to create new tastes.
Focus group discussions indicated that as people become more and more eager to cook "main dishes" at home, the demand for special sauces and cooking instructions is bound to shoot up. The desire to become an "able housewife" and show off one's "cooking skills" has also encouraged consumers to try new dishes and sauces.
The survey found that 48% of respondents have purchased international-flavour seasonings and sauces in the past six months, a jump from the 30% found in the 2013 survey. The proportion of respondents having bought high-end seasonings has also climbed significantly from 14% in 2013 to 43% now. In the past six months, the average respondent purchased 3.44 types of seasonings, a marked growth from 2.12 in the 2013 survey. The higher the monthly household income, the higher also is the percentage of respondents buying high-end seasonings and sauces. Respondents in the 20-30 age group are buying more ready-made seasoning packets than their counterparts in other age groups.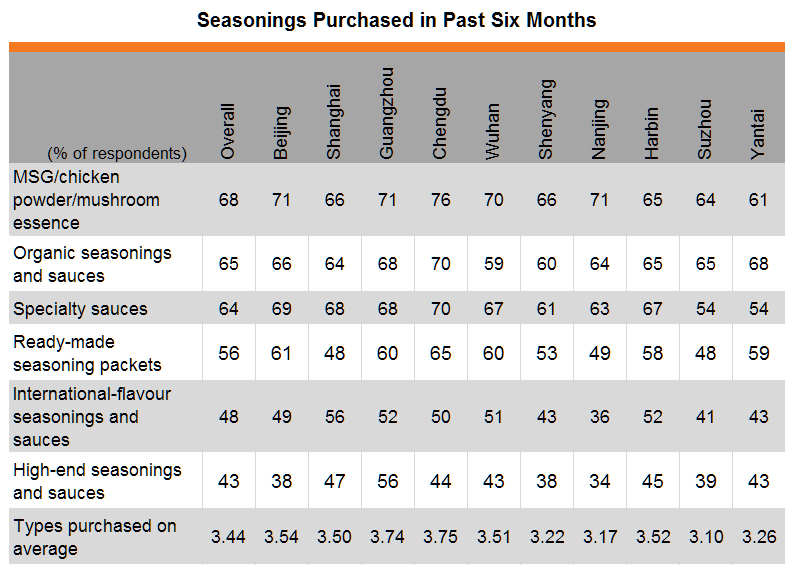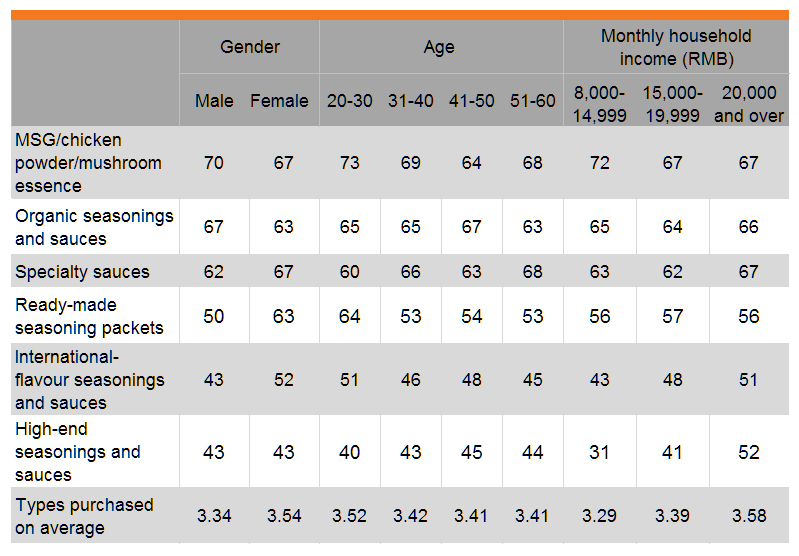 Considerations in Buying Seasonings
The survey found that texture and flavour, brand and word-of-mouth recommendations, and the raw materials used in production are consumers' top three considerations in buying seasonings and sauces. However, compared with 2013, the importance attached to texture and flavour has dropped significantly. And compared with findings of the 2013 survey, the attention paid to packaging design / small packs / convenient and hygienic, quality certification, and new products / new flavours has increased markedly.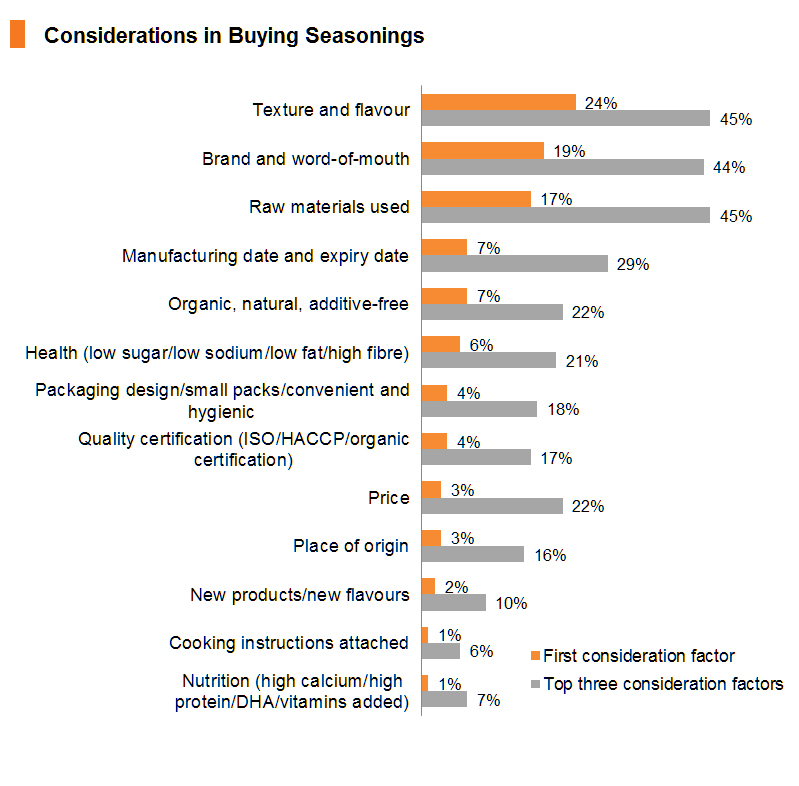 Demand for Organic and Healthy Seasonings on the Rise
As people attach more and more importance to quality, organic and green products are gaining popularity in the seasonings market. Many of the focus group participants pointed out that as people become more health conscious, flavour enhancing agents such as MSG are considered unhealthy and are used less and less. Even the use of chicken powder has dropped. The survey found that although 68% of respondents still purchase such products, only 14% of them reckon that their purchase frequency has increased over the last two to three years, a rate lower than the purchase frequency of other seasonings. Among the top three considerations in purchasing seasonings, "organic, natural, additive-free" and "healthy" account for 22% and 21% respectively.
Appendix
Survey Background
Thanks to rapid urbanisation and rising incomes, China's packaged food market has grown steadily over recent years. Today, mainland consumers place more emphasis on "food safety" and "healthy diet". A more westernised lifestyle also has an impact on packaged food market development, offering opportunities for Hong Kong and international brands keen to enter or further expand into the mainland market.
The economic and social environment on the mainland has undergone significant change over recent years. To provide a useful reference for Hong Kong companies interested in venturing into the mainland market, HKTDC Research conducted a consumer survey in October 2017 to gauge the changes in consumer preferences, spending mentality and trends of the mainland packaged food market. This updates the findings of a similar study commissioned in 2013.
Packaged foods consist of numerous varieties. The survey covers five major categories, namely dairy products, seasoning products and sauces, snacks, grains, oils and dried products, and convenience food (including chilled and frozen food).
Methodology
The survey was carried out during October 2017 in 10 major mainland cities. A total of 2,400 consumers were polled by online questionnaire. Before conducting the questionnaire survey, six consumer focus group discussions were held in Shanghai, Wuhan and Chengdu (two in each city). The objective of the focus group discussions was to further understand mainland consumers' spending mentality by way of qualitative analysis.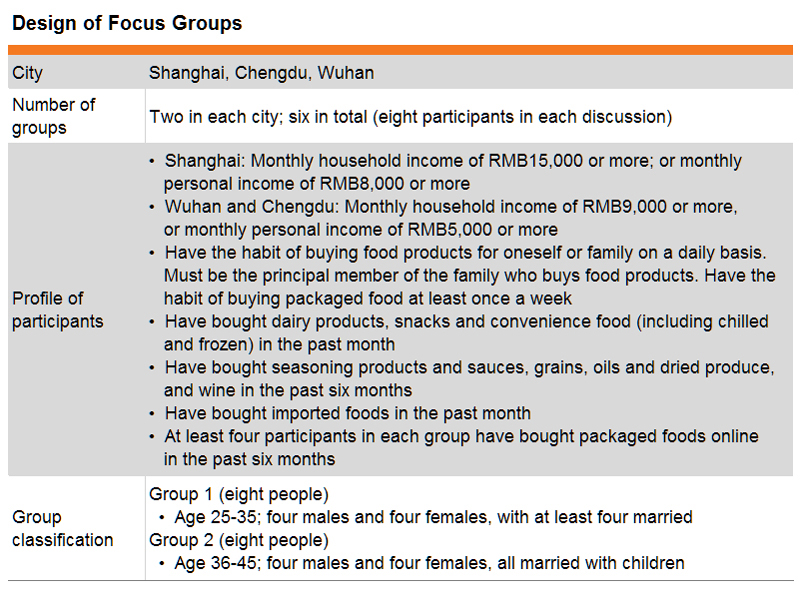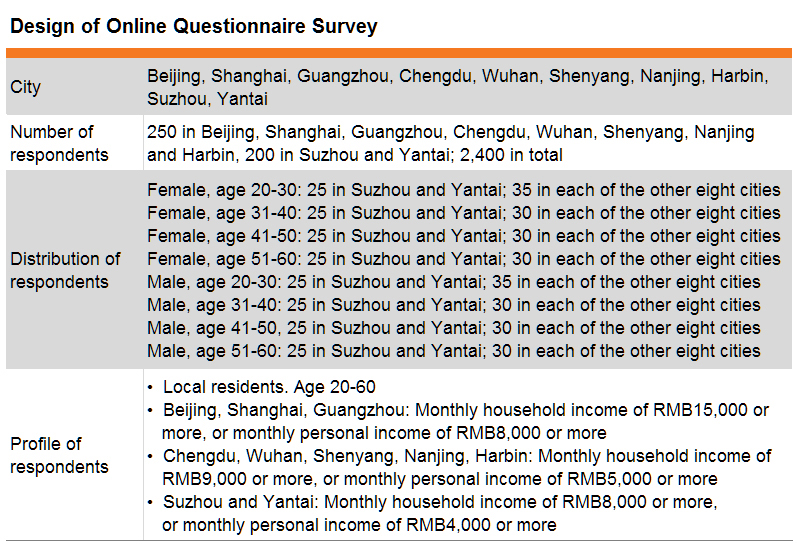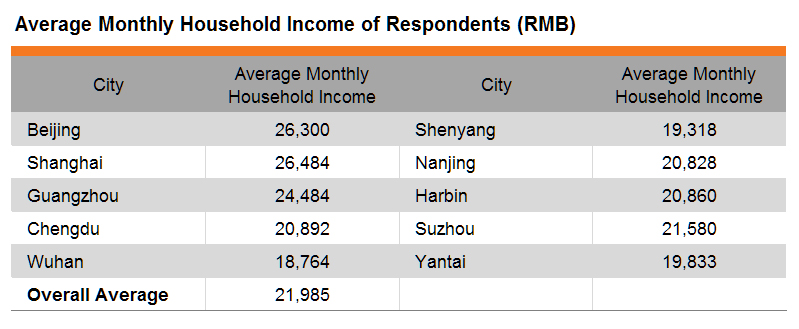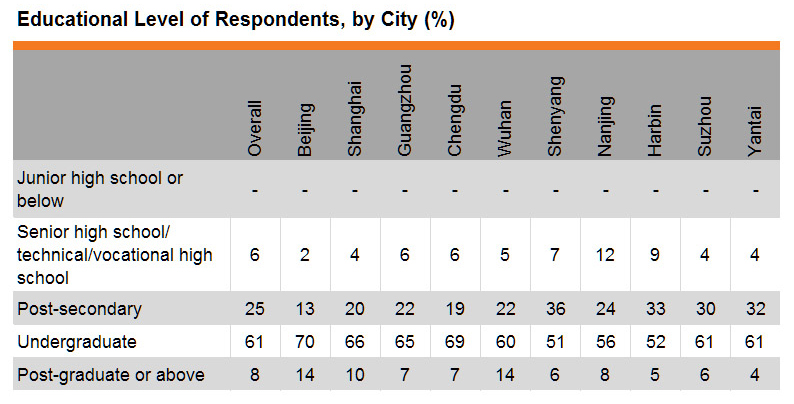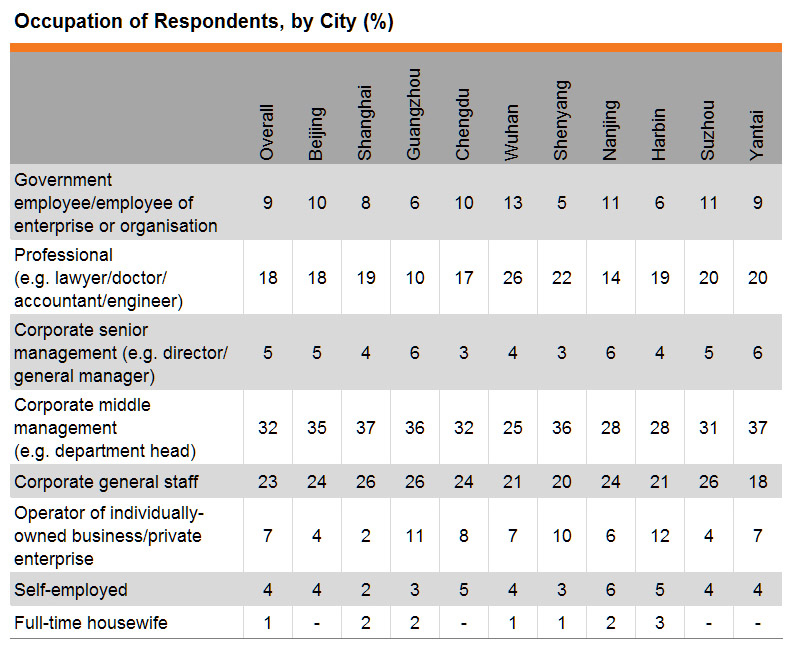 ---
[1] See Appendix for details of the survey. See China's Packaged Food Market: Major Consumer Trends, China's Packaged Food Market: Defining Characteristics (Part 1) and China's Packaged Food Market: Defining Characteristics (Part 2) for details of major consumer trends and characteristics of the market.
Mainland China
Mainland China