https://hkmb.hktdc.com/en/1X0ACEM8
Toy Story
Hong Kong-based Bioserie aims to help make the baby-toy market a safer place with its eco-friendly toys.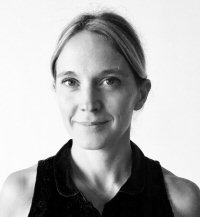 Set up in 2010, Bioserie started out making phone covers using bioplastics, which are made from organic biomass sources. One of the company founders, Kaya Kaplancali, discovered the material's potential while working in supply chain management for a major computer accessories manufacturer. Sensing that the material had plenty of potential, Mr Kaplancali , along with friends Stephanie Triau, Bora Samman and Sandeep Chauhan, who all knew each other from working in Hong Kong, launched Bioserie with an eye to eventually expand into the baby toy market.

"I'd recently had kids around that time and noticed that there weren't many eco-friendly toys on the market," said Ms Triau, who previously worked in luxury and media management. "They were mostly made from wood, rubber and eco-fabric, and some of them weren't that appealing in terms of colours or convenience. More often than not, when presented with options, young kids go for brightly coloured plastic toys as they tend to be more appealing to the eye. They're the easiest to find as they crowd shelves, and some parents may prefer them because they're easy to clean," she says.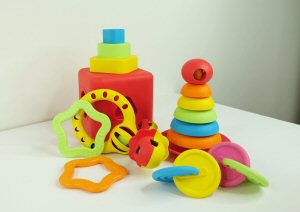 Bioserie teethers, rattles, interlocking disks, two-in-one stackers and shape-sorting cubes are constructed from a special blend of modified PLA (polylactic acid) that is free from petrochemical additives. Unlike oil-based plastic toys, Bioserie's products are free from potentially harmful substances such as BPA, PVC, phthalates, styrenes and heavy metals – as well as materials that have yet to be fully banned.

"We've always been committed to use the best of green science and to do the utmost possible to get to market products that are free of harmful chemicals associated with petroleum," says Ms Triau. "The recognition we got internationally by experts in the field of biotechnologies and sustainability with our smartphone cases emboldened us to take the next step – which was already in our mind at the time when we founded the company."
Raising Awareness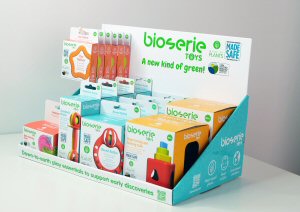 The decision to set up headquarters in Hong Kong was based on the founders' experience living in the city. "It's unbeatable in terms of convenience and flexibility, and for anything related to tech, people are very efficient," says Ms Triau.

The main challenges of establishing the business have been two-fold, she says. "The first has been sourcing the materials themselves, as bioplastics is an emerging sector, and it's not usually used exclusively, but blended with regular plastic to meet regulations and because of its mechanical qualities," she says.

While Bioserie is committed to creating wholly bio-based products, which ultimately has a higher value to consumers, marketing plant-based plastic can be difficult, she notes. "People are becoming more aware of petrochemicals, and regulations are changing as people realise the harm they can do. But it can be hard to make the consumer understand what you do when they see your product on the shelf. Many companies advertise the fact that their product is BPA-free, but that's forbidden anyway, at least in some countries and for some products," she says.

Bioserie has received several third-party certifications, including from the US Department of Agriculture's Biopreferred Program and the new MADE SAFE certification, also from the US. "We're also attending trade fairs in the toy and baby sector and plan to do more online advertising next year," she adds.
Global Appeal
With the company's early products receiving positive response, Bioserie plans to launch a dinnerware line by the end of 2018. Revenue is currently split fairly evenly, with 39 per cent of sales coming from Europe, another 35 per cent from the United States, and the remaining 26 per cent in the Asia-Pacific region, where the products are available in Hong Kong, Taiwan, South Korea and Australia.

"We do particularly well in the Netherlands and Scandinavia as I think people are more eco aware there. The Netherlands is also very receptive to innovation, and there are plenty of small stores in the toy and baby sector there that are looking to deliver something out of the ordinary," she says.

In Hong Kong, there is growing interest in these kind of products, and the start-up has been working with local distributor, Care n Love, in the last two years. "Their consumer base is expanding, and there's definitely a market for bioplastic toy. It just takes time for people to get on board," says Ms Triau, adding that Bioserie products will soon be available at Mothercare stores in Hong Kong. While the product range can also be purchased online, Ms Triau says the company is focused on building its retail presence globally to allow customers to appreciate the sensory appeal of its products.

"We would consider co-branding with bigger brands as we have the technology, but don't have the resources to scale fast, she says. "Toys are a demanding and competitive sector – space on shelves is not easily gained."
Related Link
Bioserie
Turkey
Hong Kong
Middle East